The promotions are in line with the firm's strategic growth plans for 2022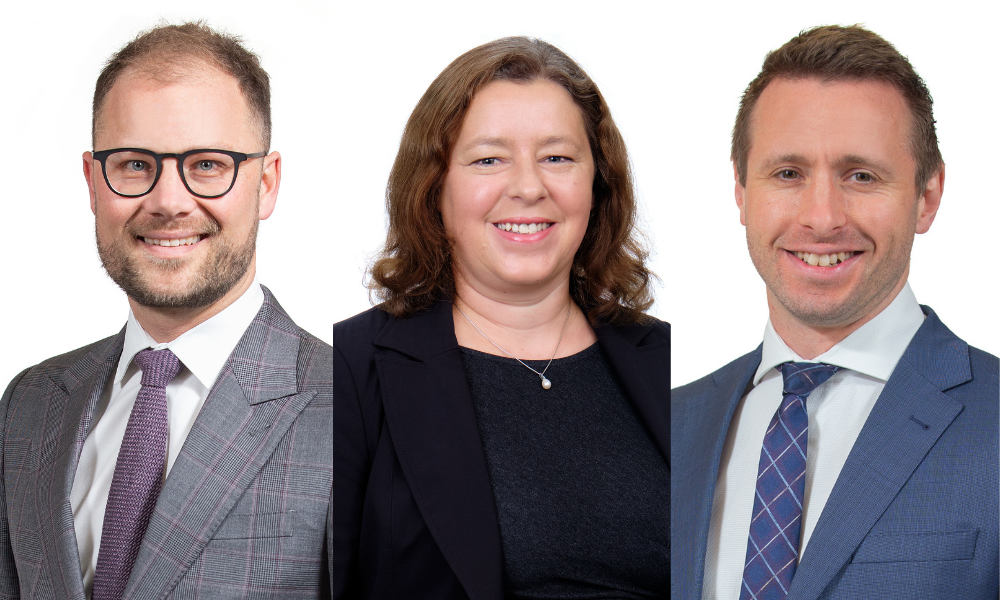 Three senior lawyers have risen to the partnership level at Dentons Kensington Swan.
Campbell Featherstone, Silvia McPherson and Ezekiel Hudspith step into their new roles as partners effective next year. Featherstone is part of the corporate and commercial team in Wellington; McPherson practises with the Auckland private wealth team; and Hudspith works with the Wellington environment and planning team.
"Campbell, Silvia and Zeke are leaders in their fields. Each of them have established reputations as pragmatic advisers who add value to their clients' projects," Dentons Kensington Swan chair Hayden Wilson said. "Their appointments reflect our ongoing commitment to increasing our talent base to continue to meet our clients' needs in this changing world."
Featherstone focuses on commercial, technology and privacy/data protection law (including GDPR) issues. He has worked with global technology companies, government departments and commercial entities.
He initially joined the firm as a law graduate in 2008 before relocating to London for a five-year stint. He returned to New Zealand in 2018.
McPherson is a specialist in asset protection, business succession planning, trust and charity law. She brings a wealth of experience from the UK, where she worked with high-net worth individuals, trustees of private, statutory and commercial trusts, financial institutions and charities.
Hudspith concentrates on matters related to all aspects of the Resource Management Act and related legislation. He has also handled issues associated with freshwater management, three waters infrastructure and water allocation.
He has helped clients to secure resource consents and designations. He has also drafted submissions on changes to district and regional plans.
"The world continues to face disruption and uncertainty; these appointments reflect that Dentons Kensington Swan has the talent at the highest level to support our local and international clients on their most complex matters," Dentons Kensington Swan CEO Charles Spillane said. "I'm delighted to announce these appointments. They come at a time when we are continuing to grow in New Zealand as part of the world's largest law firm."