Her firm's focus on mental health nurtures Caitlin McConnel as a litigator with clinical depression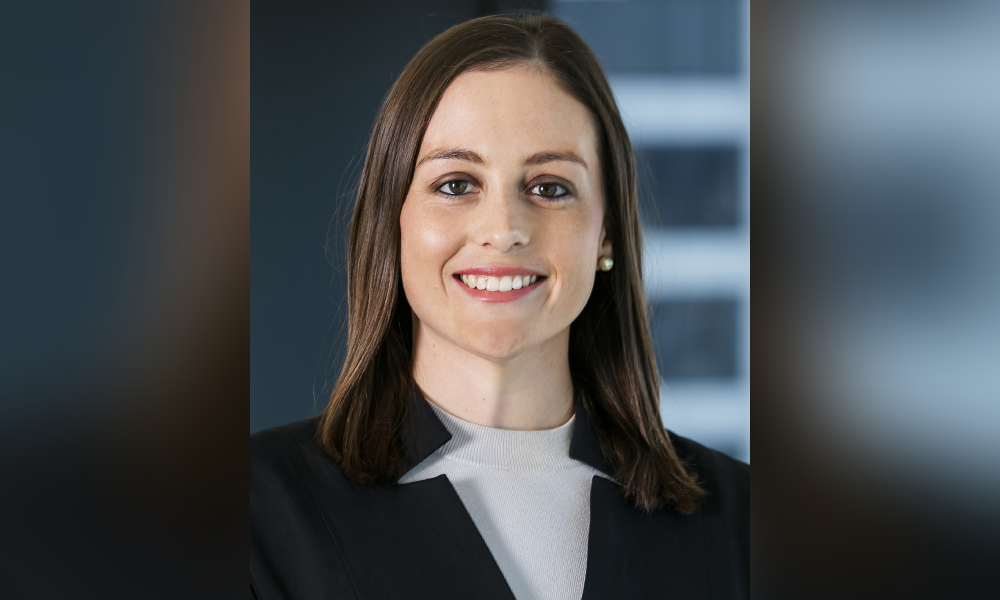 Caitlin McConnel believes that in any profession, the support given by an employer to their employees is vital. As a litigator diagnosed with clinical depression, mental health support in particular is an area she is passionate about.
The Clayton Utz senior associate, who was named one of Australasian Lawyer's Rising Stars last year, pointed to the firm's appointment of its first national mental health manager in 2019 as an example of the firm's prioritisation of mental health – an initiative that she says is "life-changing" and "life-saving."
In this August 2020 interview, McConnel discusses being a mental health first aider at Clayton Utz, her love of agriculture, her thoughts on the pressures faced by the judiciary and navigating the challenging economic environment created by the COVID-19 pandemic.
What made you choose a career in law?
I have always been very determined and quite competitive, so it comes as no surprise that my practice in law now is as a litigator! I actually did a dual degree in law and finance, and originally held aspirations of becoming a stockbroker (on Wall Street, of course). However, throughout my degree I was fortunate to work as a law clerk, as well as undertake work experience with a Queen's Counsel in Brisbane. These experiences ignited my love of litigation and advocacy.
What do you love most about your job?
I love that I work for a firm and with a team that actively encourages my passion for agriculture. This unwavering support has enabled me to not only contribute to Clayton Utz as a member of the agribusiness and food industry group, but has also afforded me with the opportunity to engage with our flexible work arrangements, enabling me to work remotely from my family property – and spend some quality time with my cattle!
I think our firm is unique in the sense that we have developed and nurtured a culture of respect and understanding; one which enables individuals to pursue their passions and not just be another "cog in the wheel."
What is going on at the firm? Are there any new programs and initiatives that you're particularly interested in?
Clayton Utz has made mental health a priority as part of its broader health and wellbeing initiatives. This dedication is highlighted by the appointment of our very first national mental health manager. I am honoured to be a part of the initiative as a mental health first aider and advocate. I'm grateful to work for a firm that actively encourages mental health awareness, and nurtures those of us with mental illness, just as they would any individual undergoing rehabilitation for a physical ailment.
This is in circumstances where, and somewhat contrary to the outgoing countenance that is often associated with being a litigator, I actually suffer from clinical depression. As a result, to work for a firm that encourages candour when it comes to mental illness is life-changing, and significantly in my experience, life-saving.
What has been your proudest accomplishment in the last year or so?
It's been a big year of milestones, so it's difficult to pick just one! I was recently promoted to senior associate at Clayton Utz, and also graduated from the University of Melbourne with a master of laws (with honours), in which I tailored most of my research papers to exploring issues pertaining to agriculture. Earlier this year, I was also recognised as one of the top 50 early-career lawyers in Australia as an Australasian Lawyer 2020 Rising Star.
What should the profession and law firms focus more on?
The individual. Whether it's law or any other profession, I believe that it is of the utmost importance that all employees are happy, healthy and supported in their work. Yes, we all have a job to do, and no, we're not going to love it every day. But the more supported employees feel in the workplace – whether it be in their day-to-day role, or even just through an acknowledgment of their extra-curricular passions or family commitments – the happier, healthier and more productive they will be in their work.
What challenges are particularly pressing in the country's legal industry?
Although dispute resolution practices such as mediation or strict civil procedures have endeavoured to mitigate the scale of litigation before the courts, it is clear that our judiciary is struggling under the sheer volume of matters – regardless of the jurisdiction. I strongly believe that as our population continues to grow, so too will the penchant – or need – for litigation. As a result, I consider that greater investment should be made in either expanding the judiciary or tightening legislative/civil procedures.
What are you looking forward to the most in the coming year?
Navigating the current recession as a restructuring and insolvency and commercial litigation lawyer. I have heard enthralling stories from my colleagues and mentors who were practising during the global financial crisis, so it will be interesting to see how our economy – and how our practice in law – compares to their experiences from over 10 years ago.