Bree O'Connell started out working towards a career as a humanitarian lawyer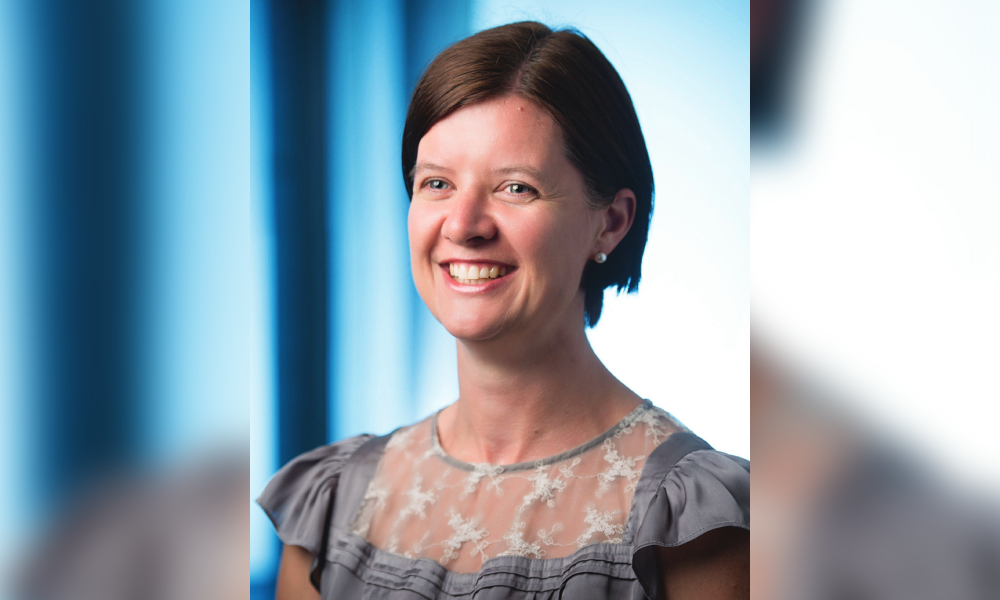 As a young girl, Bree O'Connell nurtured a goal of becoming a humanitarian lawyer, "speaking French and working in the Hague." But life took her down a different path as she found herself gravitating towards companies and securities and contract law.
Today, she is a senior associate at leading firm Clayton Utz, and enjoys the benefits of a legal profession that has taken great strides in addressing gender inequality and sexual identity-based discrimination. However, O'Connell says that there are still "big gaps" in the handling of ethnic and cultural diversity.
In this interview, O'Connell talks her interest in procurement policies with a social benefit focus, Clayton Utz's COVID-19 response, taking initiative on reaching out to colleagues and paying more attention to her physical and mental health.
What made you choose a career in law?
I spent a lot of time persuading people to my point of view when I was a kid, and I thought it would be a good job for someone with that skill set. Plus, at the age of 8, I was a big fan of L.A. Law – my mum even met Harry Hamlin once!
Before I reached university, I was keen on a career as a humanitarian lawyer, speaking French and working in the Hague. Instead, I found I was drawn to the logic of companies and securities law and contract law, and re-directed myself towards a career in a commercial law firm.
What do you love most about your job?
I love helping our clients achieve their goals and finding solutions to their problems. A large part of my work involves assisting government agencies to procure facilities maintenance services. Despite being very process-driven work, each procurement is different and has the potential to throw up new issues to be addressed, particularly as government procurement policies are constantly changing. I find the application of procurement policies which have a social benefit focus particularly interesting, and I have presented on this topic several times.
What is going on at the firm? Are there any new programs and initiatives that you're particularly interested in?
At the moment, it is all about the response to the impacts of COVID-19. We were encouraged to work from home well before state-imposed restrictions began, and were quickly provided with whatever technical support we needed to ensure the transition was as smooth as possible. I was even able to arrange for my ergonomic office chair to be delivered to my home!
Clayton Utz also rolled out a series of online sessions and resources to help support managing our mental health. I am particularly proud of the way the firm has tried to ensure job security for support staff who can't do their regular jobs from home – for example, launching the CU Food to You service which redirected the efforts of our kitchen staff from catering for client meetings to providing nutritious and delicious food and delivering it to our homes.
What has been your proudest accomplishment in the last year or so? What's the biggest lesson you learned in the past year and what advice can you give fellow lawyers about it?
The thing that sticks out is helping our clients navigate the myriad of issues arising from the current COVID-19 situation. It is an unprecedented event in many of our lifetimes and has reminded us all that we don't have a crystal ball and cannot anticipate all issues that may arise in the future in our contracts, not matter how hard we try. It has highlighted the need for innovative thinking about dealing with the unexpected.
What should the profession and law firms focus more on?
The profession needs to focus more on improving ethnic and cultural diversity. So much has been done over the past decade to address gender inequality, and I can see the effects of actual change and what that has meant for my career as a female lawyer juggling part-time work with motherhood. It also appears good inroads have been made in eliminating discrimination based on sexual identity, but I think there are still big gaps in the legal industry when it comes to ethnic and cultural diversity.
What are the challenges you expect in your practice, and in the business of law in general, going forward?
Law firms in general seem to be weathering the impacts of COVID-19 fairly well at the moment – certainly that is the case for us at Clayton Utz. However, I think the biggest challenges are yet to come as it becomes more apparent that the current situation will be our new "normal" for some time. Given the connection between isolation and our mental health, we are going to have to become more pro-active in reaching out to our colleagues at a time when it will be difficult to observe the kinds of things that would normally trigger a reach-out moment.
What are you looking forward to the most in 2021?
Making the most of the extra time I have without commute times and sports training to be more present for my family and more attentive to my physical and mental wellbeing. On the professional front, hopefully being able to return to the office and meet colleagues and clients face-to-face rather than across computer screens.