The five principal promotions bolster the firm's leadership in various practice areas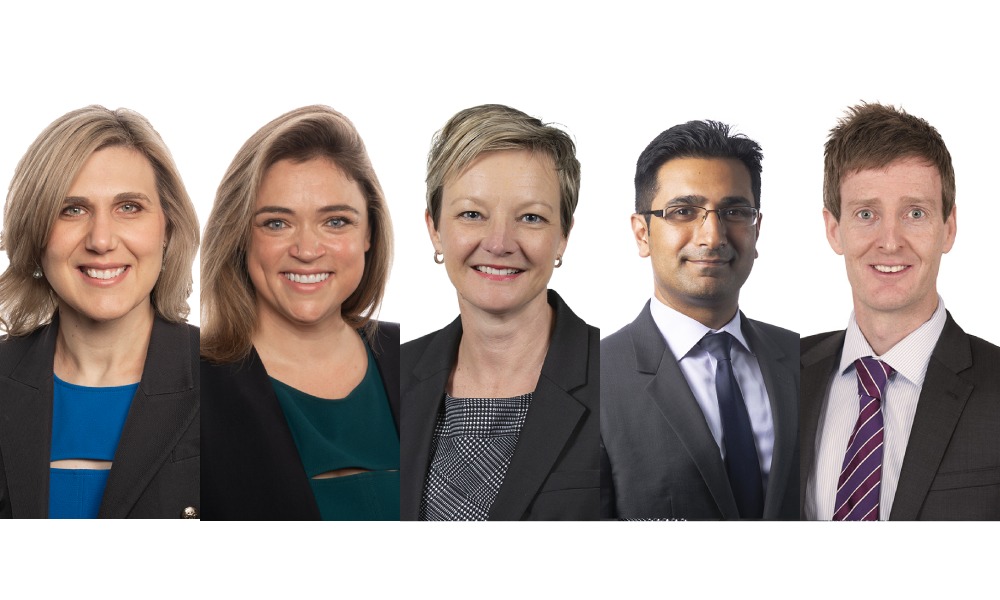 The percentage of female principals at Gilchrist Connell has passed 30% following the firm's recent round of principal promotions.
Daniela Faggionato, Hannah Griffiths, Samantha Hocking, Nitesh Patel and Jamie Ling join the roster of principals in July. The firm said that these additions to its senior leadership align with what it calls its "controlled explosion'" expansion across all of the firm's practice areas and branches.
"These new promotions are an exciting development for our teams, boosting leadership in key and specialist practice areas including medical malpractice, cyber and IT, insolvency and restructuring, construction and EPL," managing principal Richard Wood said.
Faggionato operates from Sydney and heads up Gilchrist Connell's NSW health and medical malpractice. She specialises in insurance litigation, focusing on injury liability, professional indemnity and medical negligence claims.
She has a degree in health science, and has advised solicitors, financial professionals, private hospitals and radiology clinics, health care professionals and aged care facilities. She has in-house experience with major insurers as well.
Also based in Sydney, Griffiths helms both the firm's restructuring and insolvency and recovery practices. She has a wealth of experience in litigation and dispute resolution, having handled matters related to corporate insolvency, restructuring, construction, corporations and securities, equity and trusts and professional indemnity litigation.
She was appointed to the NSW-ACT division committee of the Australian Restructuring Insolvency and Turnaround Association, and has obtained her master's degree in law.
Hocking works from Gilchrist Connell's Adelaide office. She has been a litigator for almost two decades, focusing on construction, insurance and professional liability law.
She has a master's degree in construction law, and manages the firm's burgeoning construction team in SA. Through her front-end construction practice, she assists clients in drafting, analysing and negotiating construction contracts and consultancy agreements.
Patel leads Gilchrist Connell's cyber group from Sydney. He is an expert in contentious and non-contentious matters involving technology, privacy, data security, incident response and cyber insurance.
He has tackled privacy issues, as well as cyber and data breach risk. He has been a breach coach, and has helped to develop cyber insurance policies.
Ling, who is based in Adelaide, is an EPL and workplace law specialist. He acts for clients in public and products liability claims, professional indemnity claims and indemnity disputes.
He has advised on catastrophic personal injury claims, compensation to relatives and nervous shock claims, WorkCover prosecutions and employment practice disputes across multiple jurisdictions in Australia and beyond.
Wood said that Gilchrist Connell is also preparing its capacity and capability to cater to current demand and to its growth activity "through to early FY22 and beyond." Since December, the firm has seen its headcount balloon by more than 30%.
Gilchrist Connell said that this growth has positioned it to "effectively respond to surging client demand, generated by an increase in major claims and the impact of challenging business conditions during and post-COVID-19."