"Grassroots family discussions" on property law birthed James Duffy's interest in law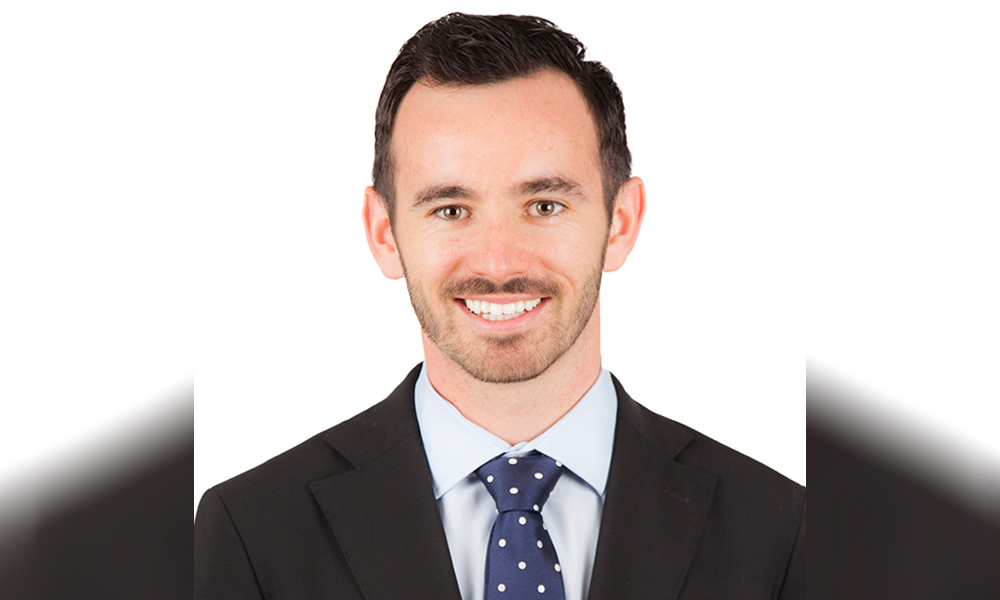 Many children love to play superhero. When he was a youngster, James Duffy loved playing lawyer – and now as an adult in actual practice, he says he still gets the same kick from being a lawyer as he did as a kid.
Duffy, who grew up on a farm, credits "grassroots family discussions" on property law, regulatory matters and succession planning as being what birthed his interest in the law. In over a decade working across different law firms in Australia and London, Duffy has refined his craft as a specialist in insurance and financial litigation. Last year, he ascended to the role of special counsel at Gilchrist Connell, where he also helps to lead the firm's EPL practice in Perth.
In this 2020 interview, Duffy discusses the "law nerd buzz," the firm's efforts to support lawyers with families, taking a stand against bias and harassment and breaking "old-world moulds" in the profession.
What made you choose a career in law?
Growing up in a farming family, my first exposure to legal issues involved discussions across three generations about property law, regulatory issues and succession planning. Those grassroots family discussions sparked an early interest in the law and I guess my interest refused to fade. Reflecting on the early days, what seems to have stuck with me is the drive to understand and navigate complicated legal problems to see if there is a neat answer. While the answer can often be far from simple, I get the same kick out of my day-to-day legal practice (in a professional capacity) as I did when I was a kid on a farm masquerading as a young lawyer.
What do you love most about your job?
Solving problems. I think that like most lawyers, when I get a new file from a client, that caffeine-like-buzz kicks in. The challenge of mapping out and navigating a new file to resolution is surprisingly motivating. Apart from getting my law nerd buzz on, the support and guidance offered in my role has been the most generous and attentive during my 12 years working in various roles at law firms ranging from boutique to top tier, in Australia and overseas. I'm looking forward to returning the favour to more junior practitioners as time goes on.
What is going on at the firm? Are there any new programs and initiatives that you're particularly interested in?
Our Perth office is back to a new normal, while our furthest interstate colleagues on the eastern seaboard largely continue to clock in from home. Gilchrist Connell has a great firm-wide bonus system where gift vouchers are given to all staff – it was good to see the firm performed well enough to issue the bonus vouchers in the last quarter despite the firm-wide COVID-19 lockdown.
GC has hired across all offices and of the 21 new additions, two-thirds were female. GC has also invested in staff training on conscious decision making to increase our awareness of unconscious biases. We now have an industry-leading parental leave policy to help bridge the gender pay gap, which counts unpaid parental leave towards long service and pays superannuation on unpaid leave. We have also adapted our employee volunteering policy to be "family-friendly" – i.e., to include school volunteering activities. So lots of good stuff to make it all worthwhile!
What has been your proudest accomplishment in the last year or so, and what advice can you give fellow lawyers?
All the work that goes into being nominated by my firm for a promotion to special counsel. Of all the factors that go into the mix, I suspect that the level of client feedback and satisfaction would be a make-or-break metric. From an insurance litigation perspective, it's great to see the client support given that our instructors are very experienced professionals themselves.
A lesson I've learned is that by carefully listening to clients can result in better outcomes, quicker. The art of listening also involves an element of reading between the lines.
What should the profession and law firms focus more on?
Stamping out harassment and bias – whether it be conscious or unconscious. In my early days in the profession (from 2006), stories of harassment were not uncommon, but from my perspective, there appears to have been a steady decline in anecdotes of such poor behaviour.
Law firms are seemingly becoming more diverse organisations that cater and care for a workforce and client base with ever increasing uniqueness. Where employee expense is such a significant part of law firms' operations, it makes sense to invest in learning about the new generations coming into the profession and how to accommodate them. My first impression of law firms was that most of them were run by middle-aged guys. Having said that, the first partner I worked for (once qualified) was a poster woman for successful females in the law. The same equally applies for the women partners for whom I work now.
I'd suggest that firms should focus on breaking whatever old-world moulds remain to promote staff and leadership diversity.
What are the challenges you expect in your practice, and in the business of law in general, going forward? What challenges are particularly pressing in the country's legal industry?
Competition for client work in the insurance litigation practices is challenging. There are many insurance law firms in this space, and the price for the work is competitive, particularly when one looks at firms running litigation for uninsured clients. The quality and volume of work across insurance litigation practices is impressive, which makes it a bit fun when new work comes in the door.
Another challenge for the legal profession as a whole is how to deal with complaints of old harassment perpetrated in earlier times before it was considered socially and or professionally acceptable (old speak: career-limiting move?) to speak out about bad behaviour. The profession also needs to keep an eye on the next wave of complaints: working conditions for junior solicitors? Client expectations regarding time and value? I hope the list is short as things are getting better across the profession.
What are you looking forward to the most in the coming year?
It would be nice to step on a plane to travel beyond Perth again. Oh, and a vaccine for all!