The firm admitted 10 new partners, increasing its partnership to 117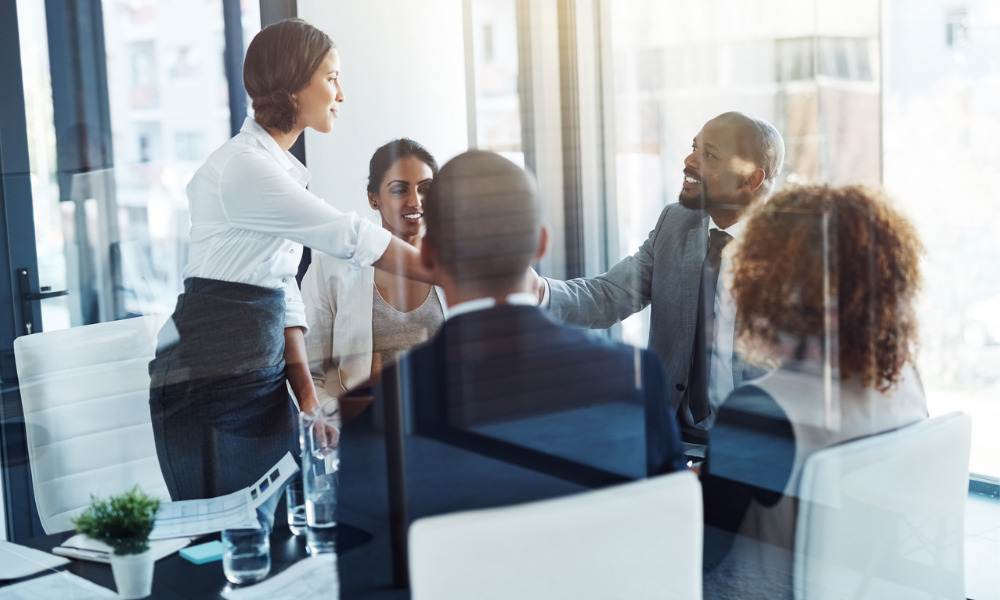 Hall & Wilcox has rewarded 40 lawyers and six non-lawyer staff members with new positions in its latest round of promotions.
Managing partner Tony Macvean said that the record number of appointments reflected the firm's sustained growth and success, the support of its clients and its continued investment in its people.
"We are delighted to be able to support the career development and progression of so many wonderful Hall & Wilcox people," he said. "All of these people have demonstrated a commitment to our purpose of enabling our clients, our people and our communities to thrive."
Out of a total of 40 newly promoted lawyers, 10 were admitted to the partnership. The firm has now 117 partners spread across its eight offices.
David Catanese is a member of the firm's employment and workplace relations team in Melbourne. He is an expert in all aspects of employment law.
He routinely advises clients on employee complaints and grievances, workplace investigations, governance issues, restructures, policy development and training, and executive employment matters. He acts for small and medium-sized enterprises. the Commonwealth, state governments, high net worth individuals, and pro bono clients.
An experienced insurance litigator, Gemma Dehn began her legal career as a construction and insurance lawyer in London. She specialises in construction, financial lines, and environmental insurance products.
Her practice includes advising domestic and international insurers on a range of coverage issues, defending complex litigation, and managing a range of recovery actions.
Daisy Duff has broad experience dealing with within common law workers' compensation claims. She has represented clients in product liability, medical negligence and CTP insurance disputes.
She also has a special interest in litigation, having conducted numerous trials in the District Court and the Supreme Court of QLD.
Julian Hammond is a commercial dispute and investigation lawyer with broad experience in complex litigation and public inquiries. He advises public and private companies on ESG-related litigation and regulatory investigations.
Also a public sector specialist, he acts for the Commonwealth and state and local governments in relation to governance, integrity, and anti-corruption issues.
Kirrilee Kennedy has more than 20 years' experience working on personal injury cases, focusing on motor accident claims. She has represented claimants and insurers in NSW and England.
In addition, she deals with contentious matters involving multiple defendants, indemnity and liability disputes, complex issues of medical causation and fraud.
Kristopher Kunasingam leads the firm's migration practice. He advises on all aspects of migration to Australia, with a particular focus on employment-related migration.
He has advised a wide range of clients, including large public and international companies and small-to-medium enterprises. He also helps individuals appeal visa and citizenship refusals.
Joey Liu specialises in property development and property-related foreign investments. She assists local and foreign developers and investors with property acquisitions, due diligence, contract negotiations, "off the plan" residential developments, and land subdivisions.
A native Mandarin and Cantonese speaker, she has represented listed and private Chinese companies and ultra-high net worth investors in general property matters.
Albert Ponte is the head of Hall & Wilcox's Spanish desk. He has broad commercial litigation practice, particularly in construction and professional negligence disputes.
He also works on adjudications of disputes under the Building and Construction Industry Security of Payment Act 1999 and the Home Building Act 1989. He has undertaken mediator training with the Resolution Institute and takes part in mediation proceedings both as a mediator and representative.
Nick Ramsey is an insurance specialist who regularly advises on catastrophic injury claims in a public liability setting. Additionally, he manages the litigation of CTP insurance, medical negligence, and product liability matters.
He has advised clients across several industries, including hospitality and security, sport and recreation, construction, real estate, medical, transport, logistics, and manufacturing.
Mitchell Stein has extensive expertise in public and product liability, professional indemnity and financial lines, life insurance, and property damage claims. He has appeared before the Local Court, the District Court, the Supreme Court, and the Court of Appeal of NSW.
He also acts for medical and allied health practitioners in civil and disciplinary claims before national boards and state tribunals.
In addition to the new partners, Hall & Wilcox also welcomed 15 special counsel and 15 senior associates as follows:
Special counsel
Lauren Armstrong
Taleen Bertolini
Amy Bilich
Anthony Crowe
Adam Dimac
Jennifer Douglass
George Ioannidis
Jamie Kulczycki
Sarah Latham
Vanessa Murphy
Jenny Nichols
Lauren Separovich
Brandon Silva
Marissa Skaltsounis
Ann Watson
Senior associates
Jeremy Boyd
Liam Closey
Charles Friocourt
Alexandra Gillan
Angelica Huang
Neil Keene
Fiona Kim
Lucy Lu
Tessa Mitchell
Jessica Pascual
Olivia Raiman
Melissa Small
Sam Tempone
Isobel Ward
Chris Wright
The firm also promoted the following corporate service staff members to senior roles: Narissa Bartle (head of learning and development); Therese Dinh (senior BD and marketing advisor); Lauren Parrant (senior people and culture advisor); Cassi Strachan (senior learning and development advisor); Beau Willis (senior bids and pursuits advisor); and Kevin Yue (senior legal solutions engineer).
The promotions take effect on 1 July.