For Olivia Holmes, being a non-lawyer gives her a wide perspective on driving positive change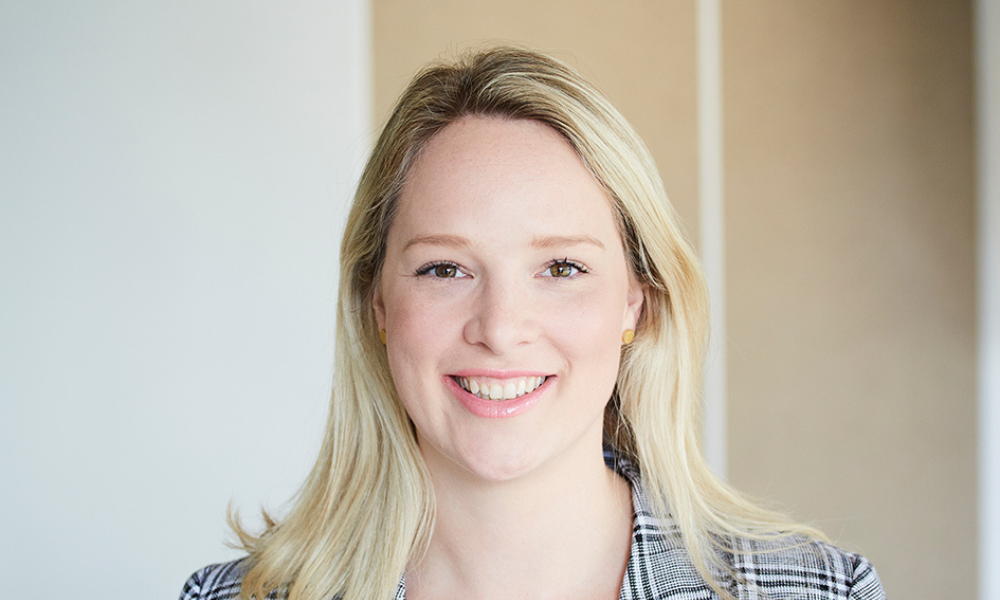 What drew Olivia Holmes to the legal profession was "curiosity more than anything". But nine years on, she stays on for a challenging-yet-rewarding environment where "no two days have ever been the same".
Last month, she ascended to the leadership at Macpherson Kelley as its new chief people officer, and in this role, Holmes plans to continue to bolster the profile of female lawyers in the firm.
In this interview, Holmes talks building leadership capabilities at the firm, the contribution of HR solutions to individual and business performance, and why being a non-lawyer in the profession broadens her perspective.
What led you to work in the legal profession?
Curiosity more than anything. After working in HR consulting and HR positions within not-for-profit organisations, I was ready for a new challenge in a different industry – law seemed to fit the bill. Working within the legal profession for 9 years has been as rewarding as it has been challenging – no two days have ever been the same.
The profession is as competitive as ever from a client service perspective but also for talent. The expectations of what an organisation can (and should) offer its people have evolved over the years and allowed for greater opportunities for growth. It's a balancing act sometimes and it's something I discuss with my team regularly but ultimately, I think that's what drives me to keep coming back for more.
What made you choose to work with Macpherson Kelley specifically?
The firm's potential. Macpherson Kelley may be 118 years old but much of our growth has happened in recent times. I joined the firm on the back of a strategy that saw some quick acquisition growth, so I was presented with the opportunity off the bat to mature the people function to be able to deliver market-leading people initiatives to suit a larger and more sophisticated business.
And the reason to stay? Quick simply, the people.
What was your reaction when you learned that you had been elected as the new chief people officer?
To be recognised as someone who can positively impact a business and its people is humbling. I consider it a real privilege to lead the people function of a great Australian business in partnership with so many brilliant colleagues.
What challenges, if any, do you foresee in this role as a non-lawyer? How do you plan to overcome these challenges?
Being a "non-lawyer" doesn't pose a challenge at all. Working in an HR capacity allows you the privilege of having one foot in and one foot outside the profession – ultimately you develop a broad perspective on how you can influence positive change.
There's a commonly used analogy at Macpherson Kelley – and that's to think of the firm as a Formula 1 car. You can have the best chassis and engine (the lawyers) but without your pit crew (the "non-lawyers") you are not going to win the race. I think that's one of the best things about Macpherson Kelley – we play to our strengths and it's one of our values to show great respect to each other no matter our position in the business. There is a genuine sense of team and comradery.
You've done a lot of work in the areas of diversity, equity, and inclusion, as well as in championing improved parental leave benefits. What's on your priority list as you take the lead on people and culture at the firm?
The list continues to evolve around market challenges and business strategy. Our priorities are very much aligned to strengthening our employee experience and building capability in leadership, non-technical and technical skills. We have made good progress in diversity, equity and inclusion but there is still plenty more to do to create a real sense of belonging.
I'd like specifically to influence a change in our workforce demographics such as more women into our principal lawyer ranks. In support of this, we have just launched a leadership program for our emerging female leaders called "Ignite". "Ignite" is a perfect example of working hard to build capability and career pathways for women across our business.
What's your overall vision for people and culture at Macpherson Kelley, and how do you plan to work together with the firm's other leaders to achieve your vision in this area?
We have a fantastic leadership group across the country who recognise that we are a people business. Our purpose is to help our clients and our people succeed in business and in life. From a people and culture perspective, this means working in partnership with our leaders to enable individual and business performance through the delivery of pragmatic and commercial HR solutions. A big part of this is about listening to our people and letting them inform our priorities that confirm Macpherson Kelley as an "employer of choice".
What are you hoping to be known for in your tenure as chief people officer?
Authenticity and growing talent. There is no better feeling than playing a role in the development and success of individuals, leaders and teams.