Geoff Simpson believes the current crop of lawyers are better problem solvers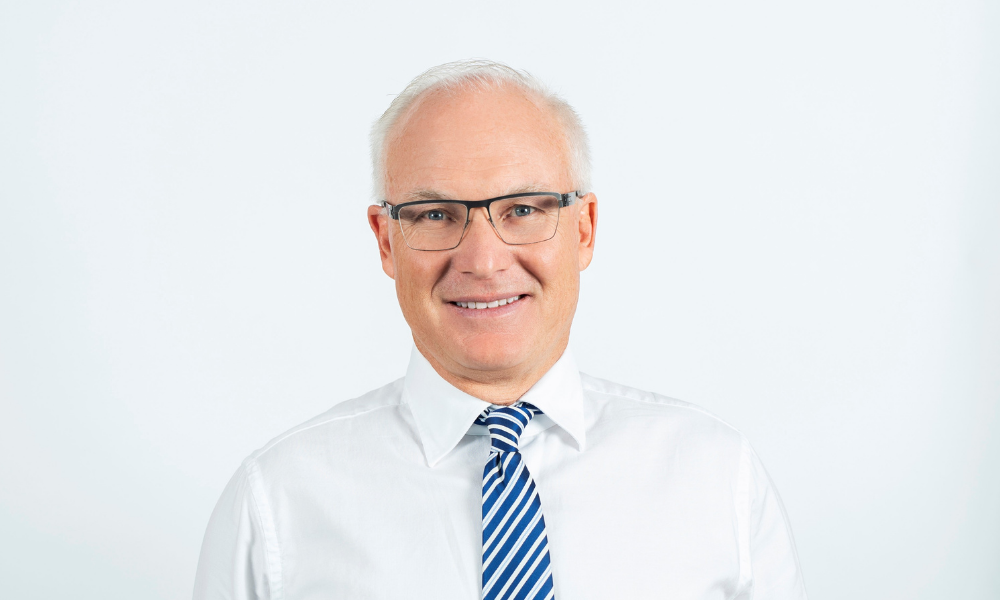 Geoff Simpson has been with Allen & Overy (A&O) since the global firm came to Australia, and he has seen many significant developments in the past 12 years, from landmark deals to new projects. Simpson has worked with teams in Spain, the UK and Ireland, and observed a lot of remarkable legal talent.
A&O's Perth managing partner believes that within the profession, each generation improves on the one before it. In particular, tech has contributed strongly towards improving problem solving in law, and will continue to support sophisticated decision making by lawyers.
In this interview, Simpson talks about handling cultural differences in an international firm, the pros and cons of WFH and the historical figures he'd spend a day with.
What made you choose a career in law?
Well, for a start I wasn't much good at maths or science, and my early ambitions to be a professional sportsperson were likewise hampered by a lack of talent!
What's your favourite part of the job?
I'm a corporate lawyer and have always enjoyed the interface between law and business and the relationships with clients, particularly those looking to grow their businesses. I've enjoyed helping them achieve corporate objectives.
On the management side, as managing partner, Perth from the establishment of A&O's offices in Australia 12 years ago and joint Australian managing partner with Jason Denisenko (who is managing partner, Sydney), it has been growing the business in Australia from scratch 12 years ago with the other Australian partners. It was a unique opportunity then and remains so. The ambition to help build the best business we can here in Australia remains largely undiminished.
What has been your proudest accomplishment in the last year or so? Or what's the biggest lesson you learned in the past year and what advice can you give fellow lawyers about it?
On the practice side, it has been getting Sandfire's Spanish acquisition of MATSA across the line. Many others should be taking the credit, not me, but it was great working with our Spanish team in Madrid who were absolutely sensational. The cultural differences on both sides led to some funny exchanges – in the first few weeks, our appalling pronunciation of their names was occasionally just met with wide-eyed wonder on the video calls, as did our fairly "straight at the ball" email communications!
On the management side, it has been the opening of our advanced delivery centre in A&O's now-third office in Australia (the centre will be in West Perth and will launch in July). We've been very intentional about how we have built the A&O business in Australia, ensuring that innovation and efficiency is at the heart of our platform. Our temporary legal resourcing platform, Peerpoint, is now well established in Australia, as is our regulatory consulting business A&O Consulting. It is exciting to add the advanced delivery legal centre in Perth later this year; again, I can't take much credit for it – there was a project team across London, Belfast, Sydney and Perth that delivered that project. I just did a lot of cheering them on.
We're (hopefully) finally stepping out of the shadow of COVID – what do you think has been the pandemic's most important effect on the legal profession?
WFH – the acceptance and enabling of it, including from a tech perspective, as well as the spinoff benefits for families and individuals. It has been so fast and all pervasive – I'm not sure things would have necessarily headed in that direction but for the pandemic.
What challenges can we expect in the industry as we transition to the "new normal"?
The other side of the coin on WFH – so much of WFH is good but some of the impacts I don't think we can really fully currently envisage. For example, we might find that if not managed proactively, there are serious mental health risks for some without the interactions that an office environment involves, even if those interactions are forced. There are likely to have been many positive things from a five-day-a-week office environment that we now miss out on that we should be identifying and looking to replicate in some other way.
The social piece is the obvious one, but I suspect there are likely to be many others.
What do you think of the current crop of legal talent in Australia? What can we expect from them?
They are extraordinary – each generation really does get better in most ways. They are far better problem solvers than my generation, helped of course by the technology now available. I think we will see ever increasing sophistication around decision making, utilising data and technology.
What's on the horizon for the profession in the coming year?
Acceleration of the key existing themes and dynamics around WFH and ways of working; ESG; technology; private capital; and competition for talent. Those things are all genuinely very exciting – they will throw off extraordinary opportunities for those ready to adapt and seize them.
What are you looking forward to the most in the coming year?
Engaging with partners and clients in other jurisdictions in person – so a bit of travel and being able to move some things along in person. Virtual meetings/calls are, of course, very efficient and cheaper (with my management and partner/owner hat on), but if you are part of a fully integrated international firm, you do want a bit of the international stuff in person at some point.
If you were given an opportunity to spend a day with anyone (living or dead), who would it be and why?
My first thought was Alexander the Great. His story is the "greatest in all history" according to historian Dominic Sandbrook, albeit bloody and brutal beyond belief. So much is speculated about as to what he actually did and didn't do – how much is actually based on fact and how much is really just storytelling and "legend making" by the much later Roman historians?
A more modern choice would be Maggie Thatcher. She would be fascinating – as a woman but a political conservative, it would be interesting to get her take on today's society. Also, I've been listening to Sandbrook's podcast The Rest is History about the Falklands War, and I've a got a few questions for her around all that. She did go at it pretty hard!
A very personal choice would be my father, who died of motor neurone disease many years ago now. While mother/daughter relationships are clearly the most complex, father/son is not that far behind. It would be nice to talk through a few things with him, with the benefit of now being a father, and a bit of hindsight. And of course, to tell him about his grandchildren.
Geoff Simpson is one of the judges for the 2022 Australasian Law Awards.