Celebrating the best of the best in a black-tie gala at the Cordis Auckland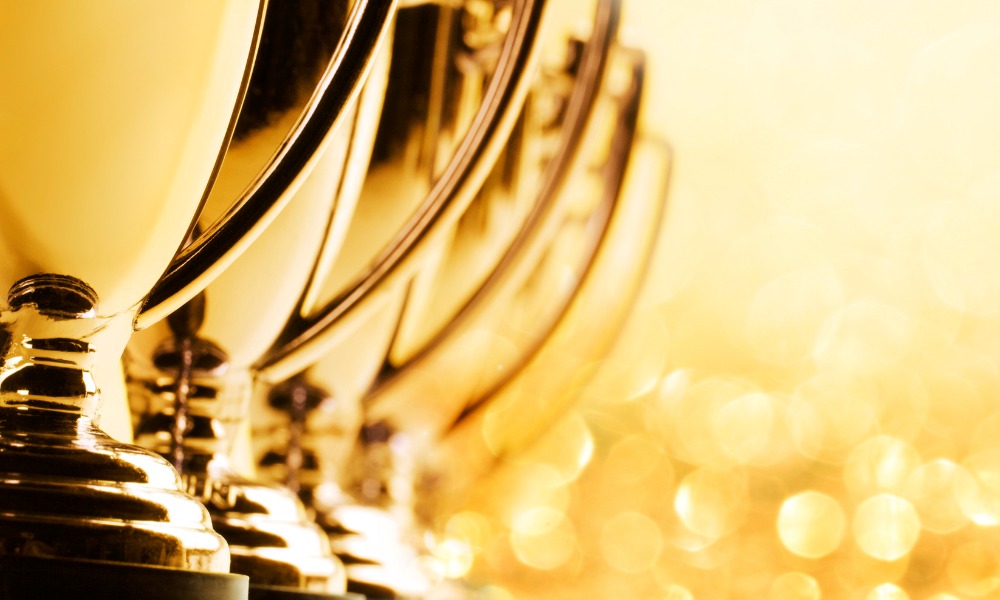 The New Zealand legal industry's top lawyers, firms and in-house legal teams for 2022 have been unveiled at the 2022 New Zealand Law Awards last night.
The event was held in-person for the first time since 2019 as a black-tie gala at the Cordis Auckland, with AM on Three's Ryan Bridge as host and the Hipstamatics as the party band.
Since August, a panel of expert judges has been evaluating a batch of nominations across 25 categories that cover the achievers and achievements of law firms, in-house legal teams, lawyers, arbitrators, mediators and service providers to settle on the best of the best.
NZ Lawyer would also like to thank Artemis Executive Recruitment, Lane Neave, James & Wells, Russell McVeagh and Robert Walters for supporting the recognition of excellence in the legal industry as awards sponsors.
See here and below for the full list of both winners and excellence awardees – and be sure to check out the New Zealand Law Awards website for more information.
Congratulations to the following winners:
DEAL AWARDS
DEBT MARKET DEAL OF THE YEAR:
Winner: Crown financing support package for Air New Zealand 
Lead Firms: Bell Gully, Chapman Tripp
Other organisations that worked on the deal (firms, banks and accountants): Calibre Partners, Goldman Sachs
Excellence Awardees:
ANZ Bank offer and issue of Tier 2 unsecured subordinated notes 
Auckland Council offer of secured fixed rate Green Bonds 
Contact Energy issue of Green capital bonds 

Syndicated financing of Pacific Radiology Group
EQUITY MARKET DEAL OF THE YEAR
Winner: Fonterra Co-operative Group capital structure review
Excellence Awardees:
Allbirds Initial Public Offering  
EBOS capital raise to finance Lifehealthcare acquisition 
Pacific Edge Capital Raise and Dual Listing 
Winton Land Limited's Initial Public Offering
PROJECT FINANCE DEAL OF THE YEAR
Winner: KiwiRail loan facility to purchase passenger and freight rail ferries
Lead Firm: Russell McVeagh
Other organisations that worked on the deal (firms, banks and accountants): Bank of America, Holman Fenwick Willan, National Australia Bank, Societe Generale, Watson Farley & Williams, Westpac
Excellence Awardees:
Financing of the development of Hiringa Refuelling NZ's hydrogen refuelling network 
First sustainability-linked loan for NZ Schools PPP 3 
Launch of the solarZero schools and commercial energy initiatives
M&A DEAL OF THE YEAR
Winner: Bentley Systems' acquisition of Seequent Holdings from Accel-KKR
Lead Firms: Bell Gully, DLA Piper
Other organisations that worked on the deal (firms, banks and accountants): BDO NZ, Chapman Tripp, Grant Thornton, Goldman Sachs, PwC, Simpson Thacher & Bartlett
Excellence Awardees:
2degrees merger with Orcon Group 
Acquisition of Vocus Group by Macquarie Infrastructure and Real Assets and Aware Super
Infratil's purchase of a majority stake in Pacific Radiology Group
Powering Australian Renewables' and Mercury NZ's acquisition of Tilt Renewables by Scheme of Arrangement
Unity Software acquisition of Wētā FX's digital assets
INSOLVENCY AND RESTRUCTURING DEAL OF THE YEAR
Winner: Indevin Group acquisition of Villa Maria Estate from FFWL receivership
Lead Firms: Bell Gully, Harmos Horton Lusk, Mayne Wetherell, Webb Henderson
Other organisations that worked on the deal (firms, banks and accountants): ANZ, Bank of New Zealand, Buddle Findlay, Deloitte, Rabobank
Excellence Awardees:
Channel Infrastructure restructure and conversion from oil refinery to import terminal 
Liquidation of Autoterminal New Zealand Limited
Successful exit from bankruptcy and reorganization of Hertz Global Holdings' NZ aspects
VLG Group Restructure and Refinance 
MID-MARKET DEAL OF THE YEAR
Winner: Sale of Rydges Wellington hotel to New Zealand Super Fund and NZ Hotels Holding Assets
Excellence Awardees:
Blackstone's sale of Arena Living to Arvida Group 
Classic Group and New Zealand Super Fund partnership in Kaha Ake housing program
Fidelity Life's acquisition of Westpac Group's New Zealand life insurance business 
Kohlberg Kravis Roberts' acquisiton of Education Perfect
Sale of 70 per cent interest in Fertility Associates to New Zealand Super Fund, Pioneer Capital and Comprador Holdings
IN-HOUSE AWARDS
JAMES & WELLS YOUNG IN-HOUSE LAWYER OF THE YEAR (35 or under)
Winner: Laura Campbell, University of Canterbury | Te Whare Wānanga o Waitaha
Excellence Awardees:
Chelsie Foley, Tuatahi First Fibre
Gabriella Garcia, AIA New Zealand
Georgina Sanders, Mainfreight
Nathan Watt, OceanaGold Corporation
Sivan Nathan, Perpetual Guardian Group
Tristan Sage, StockCo
LANE NEAVE IN-HOUSE LAWYER OF THE YEAR
Winner: James Radcliffe, Woolworths New Zealand
Excellence Awardees:
David Milton Browne, Business South Incorporated
Davina Rowan, Kiwi Wealth Legal Team
Jackie Floyd, Fonterra Co-operative Group
Joanna Khoo, Chubb Insurance New Zealand
Megan Potter, CooperAitken
Sarah Retter, Fujitsu New Zealand
FINANCIAL SERVICES IN-HOUSE TEAM OF THE YEAR
Winner: Guardians of New Zealand Superannuation
Excellence Awardees:
AIA New Zealand
ASB Legal Services
Chubb Insurance NZ Legal Team
Kiwi Wealth Legal Team
Suncorp New Zealand Legal Team
RUSSELL MCVEAGH IN-HOUSE TEAM OF THE YEAR
Winner: Fonterra Co-operative Group Legal Team
Excellence Awardees:
Auckland Council Legal Services Ngā Ratonga Ture
Auckland International Airport
Genesis Energy Legal Team
NZME Legal Team
SkyCity Entertainment Group
University of Canterbury In-house Legal Services Team
Vector Group Legal Team
Vodafone New Zealand Legal and Regulatory team
Woolworths New Zealand
FIRM AWARDS
EMPLOYMENT LAW SPECIALIST FIRM OF THE YEAR
Winner: Dyhrberg Drayton Employment Law
Excellence Awardees:
Black Door Law
McBride Davenport James
Richard Upton, Barrister
LITIGATION & DISPUTE RESOLUTION SPECIALIST LAW FIRM OF THE YEAR
Winner: Gilbert Walker
Excellence Awardees:
Cooper Legal
Morris
Norling Law
Russell Legal
INTELLECTUAL PROPERTY SPECIALIST LAW FIRM OF THE YEAR
Winner: James & Wells
Excellence Awardees:
Ellis Terry
Henry Hughes IP
Zone Law
PROPERTY & CONSTRUCTION SPECIALIST LAW FIRM OF THE YEAR
Winner: TBB
Excellence Awardees:
AlexanderDorrington
Domain Legal
Kate Sheehan Lawyers
INSURANCE SPECIALIST LAW FIRM OF THE YEAR
Winner: Wotton + Kearney New Zealand
Excellence Awardees:
Darroch Forrest Lawyers
Gilbert Walker
Shine Lawyers NZ
BOUTIQUE LAW FIRM OF THE YEAR
Winner: Juno Legal
Excellence Awardees:
BlackmanSpargo Rural Law
Flacks & Wong
Hudson Gavin Martin
Morris
Morrison Mallett
Queen City Law NZ
Webb Henderson
EMPLOYER OF CHOICE (<100 LAWYERS)
Winner: Tompkins Wake
Excellence Awardees:
AJ Park
Lane Neave
Mayne Wetherell
Norris Ward McKinnon
Webb Henderson
Wotton + Kearney
EMPLOYER OF CHOICE (>100 LAWYERS)
Winner: Simpson Grierson
Excellence Awardees:
Anderson Lloyd
Bell Gully
Buddle Findlay
Chapman Tripp
Russell McVeagh
RESOLUTION INSTITUTE MEDIATOR OF THE YEAR
Winner: Mark Kelly, Bankside Chambers
Excellence Awardees:
Hayden Wilson, Dentons Kensington Swan
Jon Everest, PACT and Orange Umbrella
Nina Khouri, Nina Khouri Mediation
Nurit Zurbery, Beyond Conflict
Wi Pere Mita, Laidlaw Law and Consultancy
YOUNG PRIVATE PRACTICE LAWYER OF THE YEAR (35 OR UNDER)
Winner: Anastasiya Gutorova, Simpson Grierson
Excellence Awardees:
Alex Bond, Bell Gully
Alice Balme, Wynn Williams
Charles Thompson, Dentons Kensington Swan
Ed McGimpsey, Buddle Findlay
Elena Kim, PwC Legal
Janko Marcetic, Chapman Tripp
Stephanie de Groot, MinterEllisonRuddWatts
Tina Liu, Tompkins Wake
Tom McGarry, TBB
MANAGING PARTNER OF THE YEAR (≤100 LAWYERS)
Winner: Helen Mackay, Juno Legal
Excellence Awardees:
Angela Parlane, Shine Lawyers NZ
Edwin Morrison, K3 Legal
Jon Calder, Tompkins Wake
Philip Maw, Wynn Williams
Sally Morris, Morris
Sam Hood, Norris Ward McKinnon
Tim Walden, James & Wells
MANAGING PARTNER OF THE YEAR (>100 LAWYERS)
Winner: Richard Greenaway, Anderson Lloyd
Excellence Awardees:
MID-SIZE LAW FIRM OF THE YEAR
Winner: McCaw Lewis and Norris Ward McKinnon
Excellence Awardees:
Cooney Lees Morgan
Harmos Horton Lusk
K3 Legal
Mayne Wetherell
ROBERT WALTERS LARGE LAW FIRM OF THE YEAR
Winner: Bell Gully and Simpson Grierson
Excellence Awardees:
Anderson Lloyd
Anthony Harper
Buddle Findlay
Chapman Tripp
Dentons Kensington Swan
MinterEllisonRuddWatts
Russell McVeagh
Tompkins Wake
PROFESSION AWARDS
DIVERSITY & INCLUSION INITIATIVE OF THE YEAR
Winner: Laidlaw Law and Consultancy
Excellence Awardees:
Anderson Lloyd
Buddle Findlay
Dentons Kensington Swan
DLA Piper
Fujitsu New Zealand
MinterEllisonRuddWatts
Simpson Grierson