Under alert levels 3 and 4, most cases will be heard remotely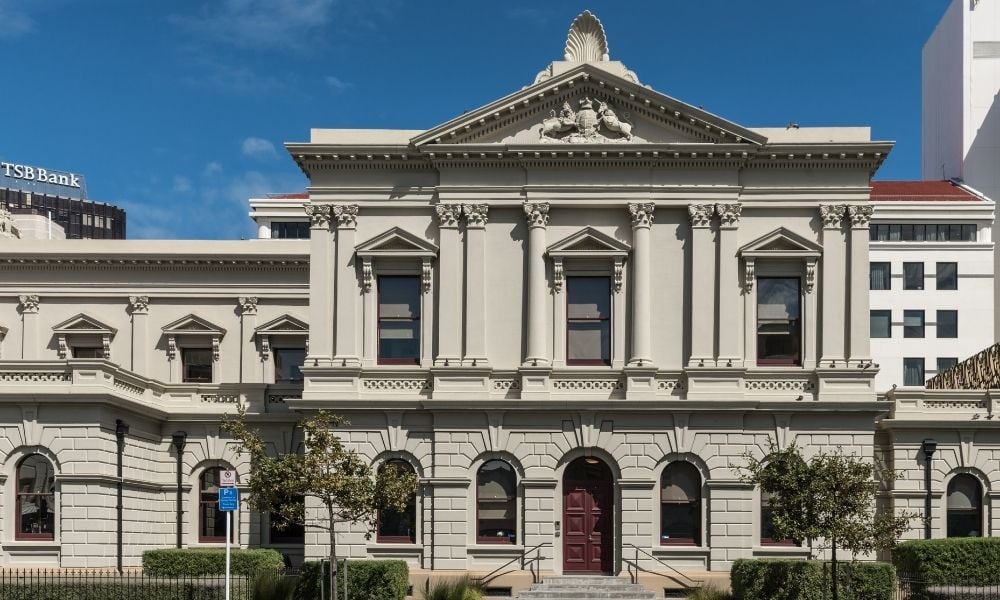 PM Jacinda Ardern and Director-General of Health Dr Ashley Bloomfield announced yesterday that the alert level has eased to 3 for most of New Zealand with the exception of Auckland, which remains in level 4. Here's how courts have adapted to the restrictions.
Supreme Court
At alert level 3, the Supreme Court in Wellington will continue to conduct hearings by audio-visual link (AVL) or telephone. Scheduled hearings may be postponed for matters where AVL technology is unavailable or if a remote hearing would be inappropriate.
If necessary, however, special arrangements will be made in urgent cases.
The court building will be closed to the public. However, parties interested in observing the hearing may contact the registry to arrange an AVL.
Court documents are to be filed via email or the file and pay service.
Court of Appeal
Under level 3, matters before the Court of Appeal in Wellington will continue to be heard only through approved AVL until the alert level drops to 2 or below. The court said that proceedings will take place "subject to operational capability and the requirements of natural justice."
Counsel for appeals involving viva voce evidence, a large number of documents, or hearing times in excess of one day are encouraged to consult the court's judicial resources manager, as these appeals may not be suitable for a remote hearing.
Under level 4, court President Stephen Kós will have discretion to determine how urgent matters ought to be prioritised.
High Court
At alert levels 3 and 4, the High Court will conduct matters through AVL, virtual meeting rooms (VMRs), Microsoft Teams or other technology. Where this is not possible, physical hearings may take place if a judge decides there are "exceptional circumstances".
Jury trials continue to be suspended, and trial judges will make decisions regarding jury trials that are currently adjourned on a case-by-case basis. Criminal work, including first appearances, bail applications and appeals, and conviction and sentence appeals, will continue to be dealt with remotely.
The court will review substantive civil fixtures involving witnesses scheduled for hearings, and remote arrangements will made as necessary. Civil business such as habeas corpus, civil appeals, judicial review, summary judgments, interlocutory applications, urgent injunctions, caveat applications, liquidation and bankruptcy proceedings, probate matters and originating applications will be handled remotely as reasonably possible.
While sheriff proceedings may still be filed, only urgent cases will be executed. The court will triage scheduled work and new filings based on priority.
District Court
At alert level 3, the criminal, family, youth and civil jurisdictions of the court will hear priority proceedings remotely as much as practicable. The court counts as priority proceedings matters "considered to be of such significant national or community importance that the immediate attention of a judge in the District Court is warranted."
In-person appearances are permitted if a party does not have facilities for AVL proceedings, including defendants, duty solicitors, duty youth advocates and assigned youth advocates.
Family Court
The court will continue to tackle priority work, including box work. Scheduled work will be undertaken where possible, subject to registry staff capacity, availability of technology and the need for social distancing in the event of in-person proceedings.
Family work has been prioritised as follows:
applications for compulsory treatment orders; IDCCR; protection orders; without notice interim parenting orders including enforcement; guardianship disputes (COCA); without notice custody orders or place of safety warrants (Oranga Tamariki); welfare guardianship or property orders (PPPR)
applications that warrant an urgent hearing or judicial conference as per a judge
urgent applications normally considered on the eDuty platform
Family liaison judges and members of the principal family court judges' advisory board are to consult with JRMs, schedulers, registrars, stakeholders and judges on the extent and manner of the work to be conducted. Submission-only or Pickwick hearings may be held with written submissions as appropriate as long as they do not involve Viva voce evidence, with counsel participating via AVL or telephone.
Criminal Jurisdiction
Jury trials will not be held until further notice.
Civil Jurisdiction
The following matters will be prioritised if a court cannot operate at full capacity:
applications and injunctions involving returning offenders, or other urgent applications
applications involving harmful digital communication and restraining orders, and tenancy appeals that require urgent attention
priority matters as defined by the District Court
In certain cases, documents without an original signature may be filed, and a judge may waive requirements for documents to be signed or authenticated in another way if providing a signature is not practicable. Unsworn affidavits may also be accepted under a judge's discretion
Employment Court
Under alert level 4, the court will only be proceeding with priority hearings remotely. In some cases, matters will be dealt with on the papers.
Under alert levels 2 and 3, the court will still process new and current hearings. Proceedings will likely take place remotely.
Māori Land Court
In-person hearings will not be conducted at alert level 3, and all documents must be filed electronically or by post. As appropriate, matters will be dealt with on the papers, and if necessary, proceedings will be conducted via telephone conference, AVL or video conferencing.
In the event that in-person appearances are necessary, the hearing will be adjourned until further notice. The same protocol is being observed for the Māori Appellate Court.
Waitangi Tribunal
All scheduled in-person proceedings are adjourned at alert level 3, while judicial conferences and panel meetings may only take place via telephone conference, AVL or video conferencing. All documents are to be filed electronically or by post.
Environment Court
In the event of urgent hearings, special arrangements will be made as necessary under alert levels 3 and 4. All proceedings will take place via AVL or telephone, as will mediation and expert conferences.
Parties may also opt to settle matters on the papers.
Coroners Court
Under alert levels 2 and 3, the court will conduct its usual work subject to safety measures. Inquests and other proceedings will be considered on a case-by-case basis, and may take place either in person or through AVL.
Court Martial and Summary Appeal Court
Priority proceedings will be held as necessary under alert level 3, preferably remotely. Other trials are adjourned until further notice.
Summary appeals will be settled on the papers where possible, and witnesses will not need to appear in person.
Guidelines for court users are listed here, and those for legal practitioners and service providers are provided here.