Mica Cole enjoys being able to offer legal advice to clients at a critical time in their life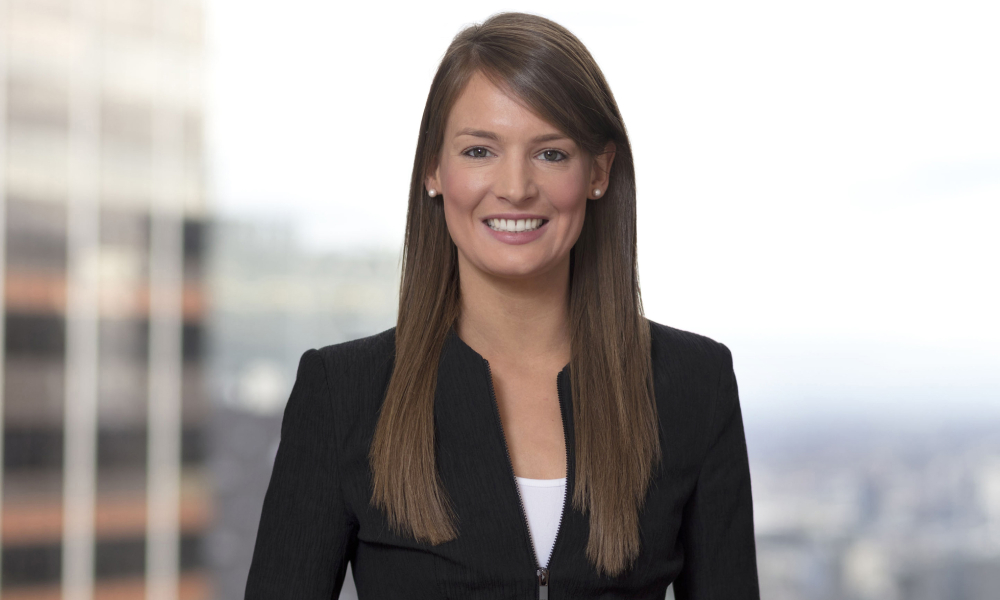 Mica Cole could have been a journalist or a news anchor. But a trip to a maximum-security prison as a student steered her onto a completely different path as meeting with convicted murderers served as the moment she was called to a career in law.
Cole says she was captured by the idea of being the point of call and key advisor for clients facing legal problems "usually at a point in their life when they need help the most." However, even though she started out with an interest in criminal law and domestic violence matters, her career has since pivoted to the field of insurance law. Today, she specialises in D&O insurance as a senior associate at international firm Clyde & Co.
In this interview, Cole talks about debunking the perception of insurance lawyers, getting a promotion during a difficult year, preparing for motherhood and why the legal profession needs to continue encouraging flexible working arrangements even after COVID-19.
What made you choose a career in law, and what's your favourite part of the job?
Originally, my passion for reading and report writing meant I had dreams of becoming a journalist or a news anchor. However, during my student days I had the opportunity to attend a maximum-security prison and it was from that moment on, when I was faced with talking to convicted murderers about why they committed their crimes, that I knew I wanted to be a part of the legal profession. The idea of being a client's point of call and their key advisor to help them solve complex legal problems, usually at a point in their life when they need help the most, captivated me.
Fast-forward more than decade and I find myself working as an insurance lawyer at Clyde & Co – a far cry from any criminal law matters or the domestic violence cases where I started my career!
I think a perception exists that insurance lawyers sit at their desks all day and just prepare written advices. In fact, during my career the exact opposite has proven to be true. From early on in my career as an insurance lawyer, I was exposed to some of Australia's largest-scale litigation and was responsible for advising global insurers on these issues. The top-tier litigation work I had always been chasing was in insurance.
The best part about my job is that no two days are alike. Specialising in the area of directors' and officers' insurance means I can wake up in the morning expecting my day to involve a straightforward client meeting, only to be thrust into a completely different direction and find myself advising on an ASIC regulatory investigation for a large-scale ASX listed company, or in court monitoring one of Australia's largest securities class actions, or a complex derivative shareholder action. The fast-paced nature of insurance litigation means I am constantly thinking on my feet and solving clients' problems in relation to emerging global risks and market-leading claims which usually involve millions or billions of dollars in value. Now that I'm here, I really couldn't imagine doing anything else.
What is the most memorable case you've taken on/been involved in?
It's hard to pick just one! Early on in my career, I had the opportunity to work on a large-scale securities class action which involved allegations against an ASX-listed law firm. This case involved novel class-action precedents, insolvency law and unique insurance issues. This experience sparked my interest in the Australian class-action regime and in particular, securities class actions. I can say without a doubt, I have never looked back.
I continue to work on large-scale securities class actions, advising primary and excess layer directors' and officers' insurers in relation to many of Australia's largest class actions. It is a fascinating time to be working on class-action litigation in Australia, especially following the final report from the Parliamentary Joint Committee and its recommendations in relation to litigation funding and the regulation of the class-action industry. This report, combined with recent case law developments in two class actions which ran to judgment last year, will no doubt be welcomed by many class-action defendants and insurers and insureds alike.
What is going on at the firm? Are there any new programs and initiatives that you're particularly interested in?
As you might know, Clyde & Co is a global law firm and has over 50 offices and associated offices on six different continents. Thanks to its global reach, prior to COVID-19, I was lucky enough to be selected to participate in Clyde & Co's global associate program. This program provides lawyers with the opportunity to travel to one of Clyde & Co's global offices to experience working in another office, to share knowledge and ideas, meet that office's clients and to mentor junior lawyers.
I was planning to travel to the UK to work in Clyde & Co's London office. Unfortunately, this program is currently on hold due to COVID-19 and looking at the way international travel is going, it may be on hold for a few years to come. This has worked out to be perfect timing for me as I'm due to start maternity leave in the coming months.
What has been your proudest accomplishment in the last year or so? What advice can you give fellow lawyers in relation to that?
My proudest career achievement in the past year was being promoted to senior associate. It felt as though all the hard work had paid off during what was a very difficult year with COVID-19, which posed many challenges to how we carry out legal services for our clients. I was fortunate to have not one, but two trials to navigate during the COVID-19 lockdown restrictions last year. It was nice to finish the year on a high, by helping these clients secure great results at trial and to finish off the year with a promotion!
Personally, my proudest achievement is that my husband and I are looking forward to welcoming our first child into the world in a few months' time. This experience has taught me you should always continue to strive for your career goals and that if having a family is something that is important to you, it is important to choose an employer who supports not only your professional goals, but also your personal goals, as these experiences in our personal life are what help to shape us professionally and make us dynamic, well-rounded and empathetic lawyers. I am grateful to be part of a team and a firm that is supporting me through this journey.
What should the profession and law firms focus more on?
I feel extremely fortunate as a woman to have entered the legal profession at a time where so much change is happening. My six years in the law have occurred during a time of profound change and in my view, the legal profession is getting better at encouraging flexible working hours.
As COVID-19 restrictions ease and the vaccination roll out begins, I think the challenge law firms will face is not falling back into old habits and making sure they continue to encourage flexible working hours. There is much to be gained by the legal industry embracing flexibility and allowing lawyers to work remotely. As a great mentor once told me, a legal career is a marathon, not a sprint. If embracing flexible working means lawyers are better equipped to run their marathon, the healthier and happier we will all be for the long careers we have ahead.