Marion Hemphill talks integrating tech into legal ops and contributing to a worthwhile cause as a lawyer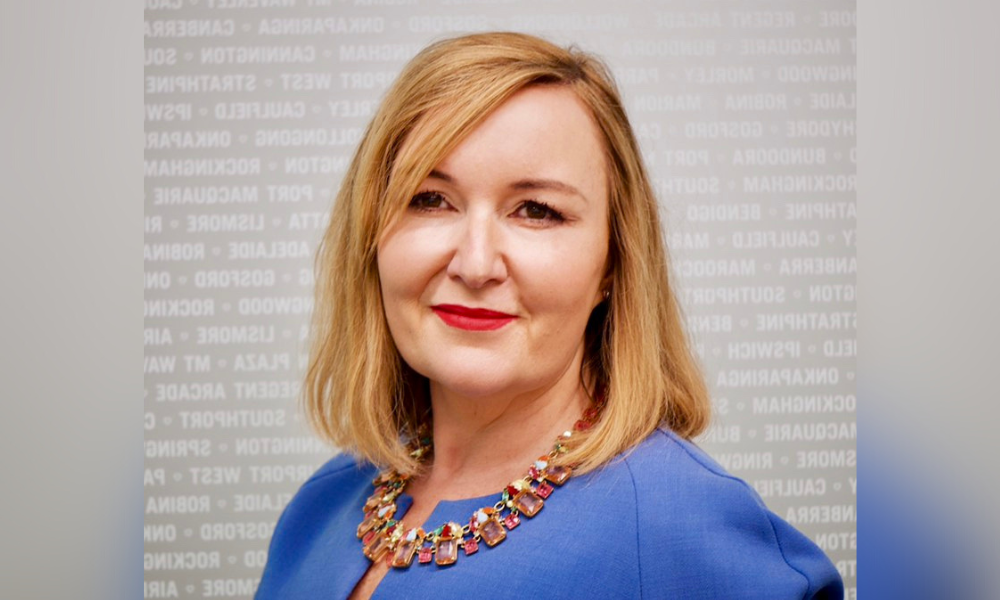 For Marion Hemphill, one of the things she finds so important about a career in the law is that it provides an opportunity to influence worthwhile causes positively. As the GC and chief privacy officer at not-for-profit organisation Lifeblood, Hemphill relishes having been able to contribute to valuable improvements in the company through her legal know-how.
Recently, one of these improvements involved the development and implementation of a digital concierge system for the Lifeblood legal team; in the process, Hemphill learned to "focus on improvement and not perfection."
In this interview, Hemphill talks about working with the organisation's R&D team, the need for more "plain English" contracts, and how she would spend a day with Valentina Tereshkova.
What made you choose a career in law, and what's your favourite part of the job?
I choose law as a career as I like solving problems, and that is still my favourite part of the job – I like figuring out what the real basis of a problem is and then seeking a way to enable the business to meet its objectives. As my career progressed, I also recognised law as an opportunity to make a positive impact to a worthwhile cause.
Working in-house, I have been able to get to know Lifeblood's business and its environment really well. My role is to ensure Lifeblood can focus on its activities without getting caught up in regulatory or contractual problems.
One of the best parts of my role is contributing to improvements to the business, such as the introduction of electronic donor questionnaires, and new projects, like our milk bank (donated human milk) and supply of product for Fecal Microbiota transplantation. These improvements and projects make a real difference to the lives of Australian patients, so being able to use my legal skills as an enabler is extremely rewarding.
Recently, I've enjoyed working with our Research and Development team to put in place collaboration agreements with third parties. It is so rewarding to create practical arrangements which enable parties with different strengths and expertise to collaborate and innovate, achieving something new and beneficial to the health sector that might not be possible otherwise.
What is going on at the organisation? Are there any new programs and initiatives that you're particularly interested in?
At Lifeblood, we provide an essential service that isn't available anywhere else – we source and supply lifesaving blood and biological products for Australian patients. As part of our mission, we are continually looking at ways to do this better to meet patient needs, no matter their demographic. Recently, we have been working to enable as many people to be eligible while still maintaining one of the world's safest blood supplies. For example, our regulator has recently approved a change to allow us to accept blood from people who lived in the United Kingdom between 1980 and 1996 when there was a risk of "mad cow" disease. We estimate that approximately 700,000 who were previously ineligible may now be able to donate.
There is no substitute for blood. Blood products are used in the treatment of cancers, blood disorders and numerous diseases as well as for trauma and surgery. Blood products have a limited shelf life so there is an ongoing need for people to donate. If you haven't donated for a while, or have never donated, please consider donating. It doesn't take long and your donation could save up to three lives. It's a great feeling to know you are helping someone in need just by rolling up your sleeve.
In the last few years, we also started to provide donated human breast milk to newborn intensive care units in Queensland, NSW, SA and Tasmania. This gives premature babies in Australia access to the best possible nutrition when they're at their most vulnerable. Since opening our first milk facility more than three years ago, we've collected more than 10,000 litres, and fed more than 3000 pre-term babies.
Our milk facilities also allow our leading scientists to do innovative research into new ways the bioactive compounds in milk can be used therapeutically. This work is really exciting, and will develop new products to help premature and sick babies thrive.
What tech-related initiatives adopted by the organisation, if any, are you most excited about?
Like many in-house legal teams, we have the challenge of providing services to a large business – to more than 300 employees – from a small legal team. We used technology initially to help us analyse how we were using our time. This confirmed our suspicions that we spent too much time on a high number of small risk matters, which made it harder for the team to focus their professional skills on the high-risk matters where they could make the most impact for the business.
The nest step for us was to create and implement self-service tools that enable the business to proceed with straightforward low risk matters confidently, such as self-generating contracts, privacy impact assessments and privacy incident notifications to the legal team, and helping with interpretation of regulation and donor complaints. The best and most impactful step was the introduction of our Legal Concierge tool, which we built using Checkbox expert process automation platform. The tool asks internal clients simple questions about their matter and provides either a self-service solution (such as a simple contract or template or an answer to a frequently asked question) or, if it is clear a pre-approved solution doesn't exist, seeks key information to allow the legal team to address the matter efficiently.
Not only does this keep matters moving and keep our inboxes focused, it reduces interruptions for my team allowing them more time in the magical "flow state". My team get more time to focus on what they do best – providing expert advice on the key issues facing our business.
The tool also enables us to easily track the business' needs and adjust the available legal expertise to meet these needs. We have had great feedback from our internal clients about the speed of response and they have found the tool easier to use than an email request. As we continue to transform our legal operations, our goal is to have Legal Concierge triage all requests to our legal team so that services are available around the clock.
As well as enabling the legal team to provide a faster service to our internal clients and to right size the application of resources, for me our Legal Concierge tool has contributed to greater job satisfaction. I get more time to spend on impactful and often unique matters, more time to spend on strategy and innovation and accordingly am better able to contribute to the aims of the business.
What has been your proudest accomplishment in the last year or so? Or what's the biggest lesson you learned in the past year and what advice can you give fellow lawyers about it?
I am so proud that the legal team has successfully implemented our Legal Concierge tool for our internal clients. This essentially allows a business with a three-person legal team to receive assistance with contracts and inquiries 24 hours a day, 7 days a week.
A really useful and positive lesson that we learned in implementing the tool was to start small, focus on improvement not perfection and then scale up the solution. We knew the problem we needed to solve – using technology for low-risk simple matters to free resources up for more impactful matters – but we didn't necessarily know where to start. Lawyers are often perfectionists, and there is a strong temptation to seek to get a solution which is perfect and handles all issues before introducing it to the business.
We initially had the idea of some type of triage tool and started with that as the beginning our solution. However, as the technology was new to us and the business, we had to change direction and start with the easiest solutions first, which for us was a self -service confidentiality agreement. Designing and implementing only this tool initially allowed us to understand the technology, how it would fit into our business and learn lessons cheaply and quickly. We then moved on to the next easiest matters, a privacy impact assessment tool and the privacy incident notification tool.
These tools had benefits for our business immediately. If we had waited until we had the entire Legal Concierge tool ready before implementing, the benefits would have been delayed (meaning less value for money) and the ultimate Legal Concierge tool containing all of the self-service options tool would likely had not been as polished and effective upon introduction.
What should the profession focus more on?
In 2018, the report of the Australian Prudential Regulation Authority of the Prudential Inquiry into the Commonwealth Bank of Australia stated that financial institutions should focus on the question of what "should we do" rather than the lower standard of what "can we do". In my view, the legal profession should also focus on the question of what we and our clients should do in a given situation rather than just on what the law permits.
Particularly in the area of privacy and data collection and use, the legal profession should be assisting our clients on considering what it should do in a given situation. Just because you can collect and use personal information with a densely written consent, does that mean that you should? A dry lengthy privacy policy in small font may be permissible under the Privacy Act but should we do the minimum or create a policy which is easy to read and understand which perhaps takes considerable effort, but which is easily understandable by its audience?
I'd like our profession to focus on finding practical and customer-friendly solutions to allow businesses to achieve their objectives. Too often legal teams present their clients with densely written contracts which only lawyers can interpret and spend too much time caught in the weeds of technical issues of contracts, engaging in battle with opposing lawyers over issues that are unlikely to arise in practice. Do we really need to argue about set off rights?
In my view, our profession does not focus enough on plain English documents, including the use of plain English in contracts. If parties understand a contract, they are more likely to comply with it. Do our clients really understand what an indemnity is? It can be frustrating when a party to a low- risk low value contract seeks an uncapped indemnity because their lawyer included it in the template. I have been influenced by the work of Verity White, lawyer and contract design enthusiast – I highly recommend her book Create Contracts Clients Love to all levels of the legal profession.
What are the challenges you expect in your practice, and in the business of law in general, going forward? What challenges are particularly pressing in the country's legal industry?
Data, privacy and security are key issues. The amount of data collected and its potential uses are growing faster than legal frameworks to deal with it. The legal profession can apply ethical frameworks to assist our clients in managing information transparently and appropriately even if legal requirements are a step behind practices. However, a key challenge is resourcing. There is a pressure within many entities to do more each year with the same or less resources. This is a trend I have been hearing at many forums for a long time. We will need to face this challenge by working smarter, using a risk-based approach to triaging our work and embracing technology where we can.
What are you looking forward to the most in the coming year?
I am in the middle of a year-long program with Cranlana Centre for Ethical Leadership, the Vincent Fairfax Fellowship. I have been fortunate that Lifeblood has enabled me to participate in this program which brings leaders together to examine and debate ethical challenges with the aim of taking those learnings back to their entities and implementing ethical programs and improvements. It has been a fascinating and challenging program so far and I can't wait to get my teeth into the next intensive session.
I am also looking forward to being back in the office and working with my colleagues in person. The culture of an organisation is so important to its success and the wellbeing of its people. It is hard to experience that culture if the screen is the only means of contact with your colleagues and stakeholders. In the days that I have been back in the office I have been able to more easily understand what challenges other teams are facing (are they on a high or is something not right). People come up to you for a chat and are more relaxed than on screen. It's not just about keeping up with the gossip but getting small pieces of information that people might not tell you in the formality of a Zoom meeting.
If you were given an opportunity to spend a day with anyone (living or dead), who would it be and why?
Assuming that the day is for my own edification rather than trying to change world history, I'd like to spend the day with Valentina Tereshkova, the first woman to go into space. I'd like to travel with her on her mission. While we looked down toward Earth, I hope she might share her thoughts on what drove her to risk her life for space exploration and how she succeeded in such a challenging and competitive environment, to be a pilot and then a cosmonaut.