More legal work is flowing out of our northerly neighbour to firms around the region as PPP infrastructure projects there spike. But who are the big winners?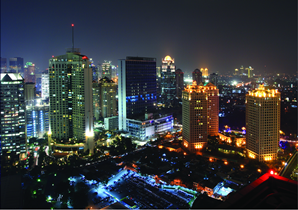 US$35bn.
That is the amount the Indonesian government recently declared it will spend on infrastructure projects, some of which start this year. Most of the 56 named projects will be PPP ventures open to foreign investment. Good news for law firms in neighbouring countries like Singapore… and Australia.
With GDP growing at around 6% and a larger middle class emerging rapidly, Indonesia is predicted to be the worlds' seventh largest economy by 2030, and an increasing number of opportunities for foreign investment are appearing.
Significant work opportunities for internationally focussed firms exist then, and several firms are still in the process of establishing hubs.
"It makes a lot of sense to have a base in Indonesia considering how much investment comes in and out from countries like Australia, Singapore and South Korea," says John Poulsen, Australian managing partner of Squire Sanders, adding that cross-border work with Indonesia was already strong due to a number of Australian coal projects and construction firms being present in the country.
As international firms are not allowed to establish in their own right in Indonesia, Squire Sanders operates indirectly in the country through a strategic alliance with local firm Melli Darsa & Co.
They are not the only ones.
Norton Rose Fulbright
operates through local affiliate Susandarini & Partners, and recently acted for the government-owned Indonesia Ports Corporation on the US$4bn, two-phase Kalibaru Port Project, in Tanjung Priok, Jakarta, which is set to become the country's largest industrial port. Main contractors on the project include Mitsui & Co (container terminal) and Royal HaskoningDHV (project management).
This vital infrastructure development employed a specific Presidential Decree to appoint Indonesia Ports Corporation to proceed quickly with the development of the project, and the Indonesian government wanted everything to be done according to international best practice, using clear international documents that all the players recognised. "The idea of the project was to have a lot of big international players across the table," explained Norton Rose's lead partner on the project, Ross Ramsay.
"Indonesia is a key area for our firm," Ramsay said. "Its population is larger than the rest of South-East Asia combined and it's the fourth most populous country in the world. It also has good economic growth and a critical need for new infrastructure."
Ramsay has lived and worked in Indonesia for a number of years, says that Indonesia is generally a good jurisdiction for Australians to work in. "It's a familiar jurisdiction but there are challenges for people who don't know the country and just turn up there to work," he says.
Foreign firms with associations in Indonesia (formal and informal)
Allen & Overy (Ginting & Reksodiputro)
Allens
(Widyawan & Partners)
Ashurst
(Oentoeng Suria & Partners)
Baker & McKenzie (Hadiputranto, Hadinoto & Partners)
Bond Dickinson (Hadromi & Partners)
Clyde & Co Clasis Singapore (Lubis Ganie Surowidjojo)
Herbert Smith Freehills
(Hiswara Bunjamin & Tandjung)
Hogan Lovells
(Hermawan Juniarto)
Joseph Tan Jude Benny (Hadromi & Partners)
Norton Rose Fulbright (Susandarini & Partners)
O'Melveny & Myers (Tumbuan & Partners)
Rouse (Suryomurcito & Co)
Squire Sanders (Melli Darsa & Co)
Stephenson Harwood (Christian Teo Purwono & Partners)
White & Case (MD & Partners)