Leanne Collingburn had a choice between writing a thesis about smallpox or studying law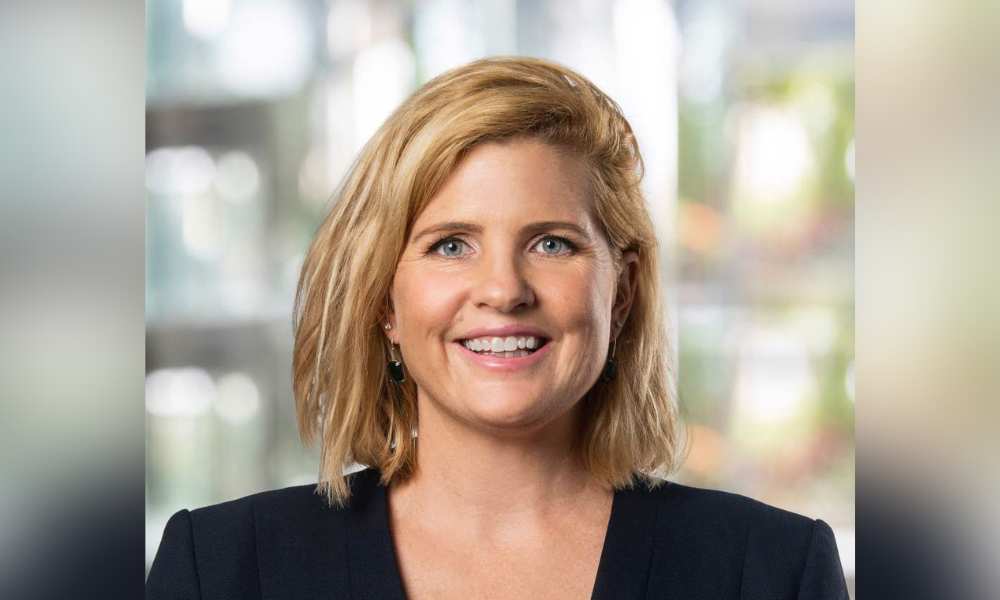 Leanne Collingburn started out with a history degree and a future in the academe ahead of her before she realised at the age of 20 that that career path would mean living in the big city forever.
Having decided that "every small town needs a lawyer", Collingburn made the lifestyle choice to take up law, and while she remains in the big city, she loves being able to spend school holidays at the beach with her family. And she has been able to make a significant impact on the Australian legal profession, with HopgoodGanim Lawyers naming her as its first-ever dedicated pro bono head in February 2022.
In this interview, Collingburn talks learning about the power of data analytics from a junior lawyer and the leadership of the Queensland government when it comes to domestic and family violence reform.
What made you choose a career in law, and what's your favourite part of the job?
It was a lifestyle choice and a desire to be able to live at the beach. My first degree was in history, and I was either going to pursue an honours thesis on the introduction of smallpox into First Nations communities in Australia in 1789 or study law. At 20 years old and with no real guidance, I decided a career in academia at university would probably lead me having to live in a city my whole life, whereas every small town (including my hometown) needs a lawyer and so the lifestyle options for a lawyer were a bit more flexible. So I chose the legal career path and have not once worked as a lawyer outside of a big city (much to my dismay). My family and I do get to spend most school holidays at the beach though, so not all is lost!
My favourite part of the job is the challenge of a new area of law − which is almost a daily challenge in pro bono − and that "light bulb moment" when it all comes together.
What is going on at the organisation? Are there any new programs and initiatives that you're particularly interested in?
We launched our pro bono impact strategy in May 2022 with a focus on working with First Nations communities, mitigating the impact of environmental disasters and reducing domestic and family violence. So far, we have worked really hard on delivering impact and outcomes in these three priority areas and we have worked with some really wonderful clients, partner and promoters.
Our dedicated pro bono team is supported by corporate partner Nicole Radice and our pro bono champions partner Geoff Wilson (domestic and family violence), partner Jonathan Fulcher (First Nations issues), partner Sarah Macoun and partner James Ireland (environmental disasters). Geoff, Jonathan, Sarah and James all have leading reputations in their areas of expertise and it has been an absolute pleasure to work with them in developing our strategy and in delivering relevant outcomes.
I am really passionate about these three areas and I hope that comes across in the pro bono work we do at HopgoodGanim Lawyers, including our recent law reform work in domestic and family violence , our Water Stories collaboration with Caxton Legal Centre and the range of matters we have worked on with First Nations communities, organisations and individuals.
What tech-related initiatives adopted by the organisation, if any, are you most excited about?
A few years ago, a junior lawyer changed my world when he showed me the power of data analytics in legal research. Since then I have incorporated data analytics into almost every research project I have led. Fortunately, at HopgoodGanim Lawyers we have a dedicated Smart Law team with expertise in all things legal tech and data analytics. With their assistance we have produced some really interesting work, particularly in the areas of domestic and family violence.
I have also been very fortunate to work closely with the Justice Connect innovation team over the past few years and am really pleased that HopgoodGanim Lawyers recently took out a membership with Justice Connect so that we can benefit from their expertise in delivering access to justice through legal tech.
What has been your proudest accomplishment in the last year or so? Or what's the biggest lesson you learned in the past year and what advice can you give fellow lawyers about it?
I was really proud when the Honourable Shannon Fentiman MP, Attorney-General and Minister for Justice, Minister for Women and Minister for the Prevention of Domestic and Family Violence, launched our pro bono impact strategy in May 2022, in a room full of HopgoodGanim partners, clients and supporters. The Queensland Government has shown strong leadership in domestic and family violence reform, particularly in the area of coercive control, and it was wonderful for the Attorney-General to acknowledge HopgoodGanim's longstanding commitment to delivering pro bono services in this area, as well as the importance of pro bono to the broader legal profession.
What should the profession focus more on?
Diversity. Our profession needs to better reflect the society we seek to serve. Our laws and policies need to be informed and interpreted by lawyers with diverse lived experiences, diverse genders and diverse cultural backgrounds in order to deliver better access to justice and fair outcomes. Our clients, including those from low socioeconomic backgrounds and marginalised communities and those clients who have been made vulnerable, need to be able to see themselves in our profession.
What are the challenges you expect in your practice, and in the business of law in general, going forward? What challenges are particularly pressing in the country's legal industry?
All challenges are opportunities in disguise. As we embrace legal tech and more flexible working models, we will need to evolve to ensure that junior lawyers still receive adequate training and experience. That will necessarily look and feel different to the training and experience senior lawyers received when they were younger. So, it will be important for senior lawyers to evolve and adapt to ensure junior lawyers are appropriately equipped to be our future leaders.
Equally, I do think we need to think long and hard about sustainable working practices in the Australian legal profession. Supporting and encouraging flexible and sustainable working practices will ensure that we get to keep the next generation of lawyers in the profession and avoid them experiencing burnout from unsustainable work practices.
What are you looking forward to the most in 2023?
I'm looking forward to measuring the 12-month impact of our pro bono impact strategy. Since we launched our strategy, we have collected data on the work we have undertaken and the changes we hope our legal work is facilitating. Pro bono is such a significant investment. We believe our pro bono team, supported by community legal sector experts and promoters, can deliver real outcomes in terms of increased access to justice and better and more inclusive laws and policies.
I am really looking forward to sharing and celebrating the impact of our pro bono work with staff at HopgoodGanim, as well as with the partners and promoters our team works with, such as targeted referral centres, community legal centres, not-for-profits and charities, law associations and committees and human rights organisations. I'm hoping they will be really proud and we deliver positive impact and change for the community.
If you had to defend a fictional antagonist/villain in court, who would you pick, and why?
I couldn't possibly defend any antagonist or villain in court. My 4-year-old son is an Avengers and Justice League fanatic, and I think he would disown me if I stood in court against any one of his heroes! I would though happily work with any member of the Avengers or Justice League teams.