Rising Star Josh Williams talks to NZ Lawyer about benefitting from the firms enhanced parental leave offering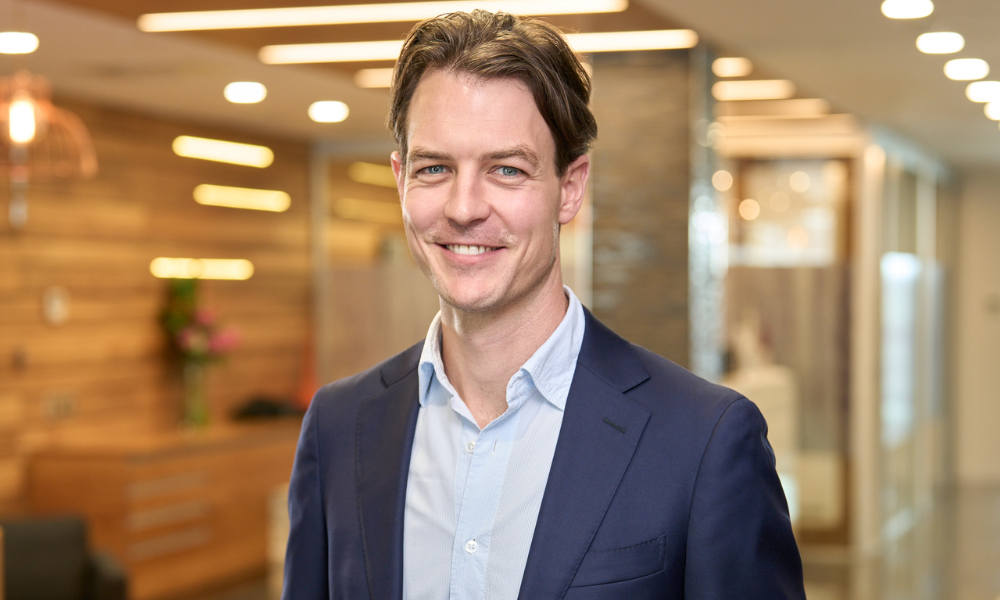 For Josh Williams, the priority was a more balanced lifestyle for him and his family. They left their hometown of Auckland and made the move to Christchurch with their first child; since then, he has been integrating himself in the community.
"At the moment, my focus is to embed myself further within the Christchurch community and build on my relationships with existing clients," he shares. "We know it's got so much going for it in terms of opportunity."
Williams is Ngāi Tahu and is proud of his whakapapa. He has enjoyed the opportunity to deepen his connection with his iwi since moving to Christchurch and joining Anderson Lloyd.
"Although I only began my journey a few years ago, it's something that means a lot to me, and has given me a lot of grounding as part of the move down here. I am also really proud of Anderson Lloyd's cultural intelligence (CQ) programme, which is designed to help all of our staff have a better understanding of te ao Māori and give them more confidence when engaging with Māori. With the firm's strong presence in the South Island, the programme has a Ngāi Tahu focus, so for me personally, it's been another great way to understand more about my iwi and deepen my connection."
Josh is also a key part of the firm's growing carbon trading, emissions trading scheme and climate change team.
"We've seen a sharp rise in the number of carbon offsetting projects out there, and the number of businesses looking at ways to offset their carbon footprint," he shares. "A key focus area for us is to continue building on our expertise and demonstrating leadership in this space."
Despite the move, Williams did not want to lose his links to Auckland. He made it a point to seek out a law firm that would allow him to maintain his connections there. With their (newish) Auckland office, Anderson Lloyd was the ideal fit, and his tenure at the firm has seen him named one of NZ Lawyer's Rising Stars for 2022 – as well as being promoted to partner shortly after returning from parental leave.
What Williams enjoys the most about Anderson Lloyd is the firm's culture and its people, he shares.
"We are a large firm when you put all four offices together, but on an office-by-office basis, Anderson Lloyd has an environment where people can really get to know each other well, and you can develop quite close and strong relationships with your colleagues," he explains to NZ Lawyer. "It's still small enough in terms of the feel that you can get to know everyone and not get lost in the crowd."
Williams has been able to spend more time with his young family by taking advantage of the firm's enhanced parental leave benefits, which allowed him to take 10 weeks off following the birth of his second child. Anderson Lloyd has recently increased this entitlement to 26 weeks leave topped up to 100% of pay for the primary caregiver.
As the first father to make use of Anderson Lloyd's policy, Williams hopes that future parents, particularly younger lawyers, will feel supported in giving priority to their families.
"I was really keen to be at home, to support my wife Courtney, particularly during those first weeks and with two boys at home. I hope it shows to other people that it's OK to do that – you can prioritise family and you shouldn't be worried about that having an impact on your career" he shares.
"Anderson Lloyd has a number of flexible working arrangements to help support staff to balance the care of their children, as well parental leave entitlements that make a big difference."
The firm walks the walk – there is a supportive culture and Williams' career trajectory proves that balancing family and work life is possible without jeopardising career.
"The three of us [Rising Stars] all have kids under the age of five and are very active and supportive parents – so hopefully that shows that you can do that and still have a successful career," he says.