Kate Fitz-John talks the first client she represented after her bar admission and Zoom mediations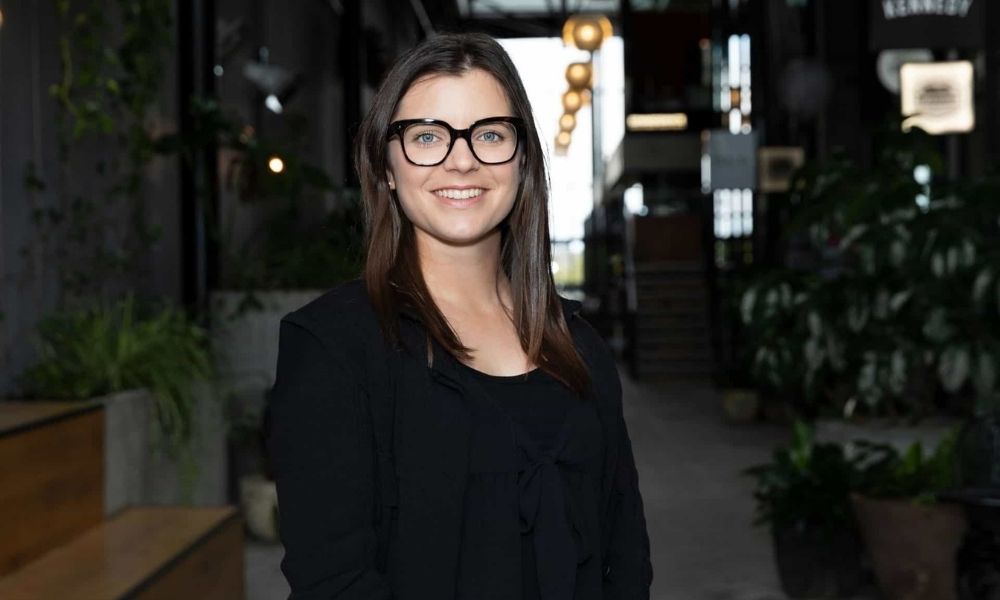 For Kate Fitz-John, the best piece of advice she's ever gotten from a mentor is on being prepared and ready for any possibility, even if there are things you can never fully prepare for in the legal profession.
The employment law specialist was promoted to senior associate at boutique firm Edwards Law last month, and is now looking to provide oversight and advice to the firm's team in her new role. The people aspect of employment law is, Fitz-John says, her favourite part of being a lawyer.
In this interview, Fitz-John talks wanting to spend a day with Kim Kardashian, Edwards Law's regular team get-togethers and the problem of retention.
What made you choose a career in law, and what's your favourite part of the job?
I've always been drawn to people, understanding the bigger picture and finding a solution. When I was at school, I loved economics and how parts of the subject focused on undertaking a cost-benefit analysis, which is really what advice to clients entails too.
But the people aspect, which is certainly a large focus of employment law (the area I practice) is really what I enjoy the most. It is hugely satisfying having clients return to you for advice and that are genuinely grateful for the results you have achieved for them.
What is going on at the organisation? Are there any new programs and initiatives that you're particularly interested in?
We are very lucky at Edwards Law – [managing barristers] Blair [Edwards] and Aishleen [Sluiters] put on really fun firm events every few months where we all travel to catch up and spend some quality time together (we have offices in Auckland, Hamilton, Tauranga and Hawke's Bay). It is really important to bond and just unwind, and we all thoroughly enjoy these get-togethers.
What tech-related initiatives adopted by the organisation, if any, are you most excited about?
This is not so much about tech-related initiatives adopted by the firm, but more so about the employment law sector. Mediation Services (operated by the Ministry of Business, Innovation and Employment) has largely adopted online Zoom mediations since the COVID-19 pandemic. It is an excellent way for improving access to justice. For some employers and employees, the time and cost of travelling to a main centre to attend mediation is unaffordable; therefore, Zoom mediations makes it accessible for everyone and it operates really effectively and generally more efficiently in my experience.
What's the biggest lesson you learned in the past year and what advice can you give fellow lawyers about it?
I recall the first day after I was admitted to the bar, my mentor at the time gave me a file for a young lady that had been charged with theft by a person in a special relationship (i.e., from her employer). I was asked to represent her for her first appearance in the District Court. I was so worried that the judge would ask me about bail or some other question I did not know the answer to. It turned out that I was appearing before a registrar (not the judge), and it was her first day too, which was a huge relief for me!
At the time my mentor gave me the best advice I have ever received, which I apply to this day: "be prepared to be ready". There are some things you cannot fully prepare for in our profession. But as long as you have prepared and you are ready for any possibility, that is all you can do.
What should the profession focus more on?
I really admire professional, courteous and skilled members of the bar. They are great to work against and alongside as it pushes you to meet their high standards too. It is a real skill for a lawyer to competitively advocate for their clients' interests, whilst also being respectful and professional.
Whilst the Law Society has implemented some excellent initiatives by introducing standards in respect of bullying, discrimination and harassment into the Lawyers and Conveyancers Act (Lawyers: Conduct and Client Care) Rules 2008, unfortunately, I think some practitioners do not put their professional obligations at the forefront of their professional dealings and it is something we could revive and focus on within the profession.
What are the challenges you expect in your practice, and in the business of law in general, going forward? What challenges are particularly pressing in the country's legal industry?
I have certainly seen a trend with some of my clients around retention of staff and concerns about whether they will be able to replace and find new staff. Therefore, it is really a time for the legal industry (as well as other businesses) to consider how they can best look after their staff members. Recruitment is expensive and time consuming – that shouldn't mean employees should be able to get away with murder or that standards can slip, but it is an opportunity to set values and hear from staff about how the business can cater for their needs and wants as they are usually a business' most valuable asset.
What are you looking forward to the most in the coming year?
This year, I am looking forward to my role as senior associate; in particular, developing my skills in delegating and overseeing members of our team. I get an incredible amount of satisfaction in helping members of our team to strategize, in reviewing their work, or just in providing them with some guidance.
I am looking forward to further developing my skills as a lawyer and learning more. We are so lucky to be in a profession that is forever evolving, and I enjoy the challenge of continually learning.
If you were given an opportunity to spend a day with anyone (living or dead), who would it be and why?
People might cringe at this answer, but it would be fascinating to spend a day with Kim Kardashian to see what is involved in her work commuting sentences and freeing prisoners from death row. I bet it would be hugely rewarding, as in some cases the sentences seem extremely excessive compared to the crime.