The move supports the chambers' aspiration to promote women in the law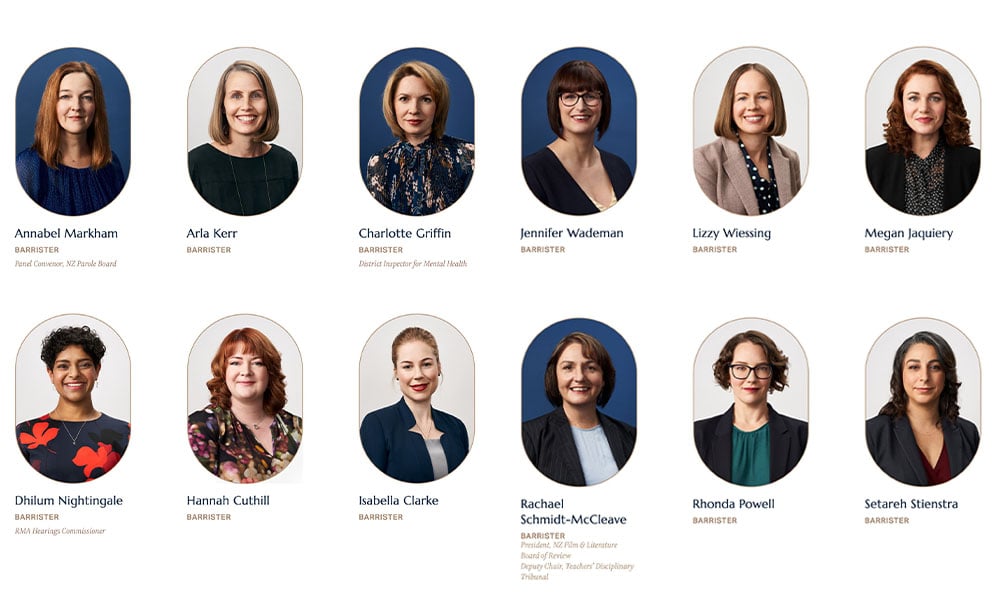 All-female chambers Kate Sheppard Chambers has added eight new barristers to its ranks, the New Zealand Law Society reported.
Last week, the firm welcomed international family law practitioner Jennifer Wademan, Whangārei-based public law specialist Lizzy Wiessing and Whanganui-based criminal defence expert Megan Jaquiery, who has 25 years of experience in jury trials. They are joined by five other barristers, who started with the firm last month.
The new members bring expertise across several practice areas and boost the chambers' stated aspiration to support and promote women in the law.
Dhilum Nightingale brings experience in resource management, employment, immigration and public law. She joined the independent bar in 2021, having practised in both the private and public sectors for over two decades.
Passionate about effective advocacy and access to justice, Nightingale has also advocated for a diverse group of marginalised and vulnerable people through her work at Community Law Wellington and Hutt Valley.
Hannah Cuthill specialises in criminal defence and family law and has over a decade of experience representing clients at all court levels. She has appeared in jury and judge-alone trials, appeals and bail hearings, as well as mediations and settlement conferences.
Through her practice, Cuthill has become well-versed at handling sensitive subject matters and dealing with high conflict cases.
Since commencing her practice in 1996, Rachael Schmidt-McCleave has developed her expertise in public law, education law, professional disciplinary law, medico-legal, privacy, employment and health and safety law. She has worked in various law firms in both New Zealand and the UK, and previously spent almost a decade with the Crown Law Office.
Schmidt-McCleave presides over the New Zealand Film and Literature Board of Review, and also serves as deputy chair of the Teachers' Disciplinary Tribunal.
A full member of the Society of Trusts & Estates Practitioners, Dr Rhonda Powell TEP brings extensive experience in trusts, wills, estates, equity, family property, and adult incapacity. In her legal career, Powell has worked for top-tier law firms in London, Melbourne and New Zealand, in addition to recording a tenure as a senior lecturer at the University of Canterbury.
Powell is also an experienced legal researcher and writer and has presented at several national and international conferences. She is also a member of Walker Street Chambers.
Setareh Stienstra is an experienced litigator specialising in public and administrative law, property law, civil litigation and regulatory crime. A seasoned trial and appellate advocate, Stienstra has represented public sector agencies, corporate clients, iwi and hapu trusts and private individuals in various courts and tribunals across New Zealand.
Stienstra co-chairs the New Zealand Bar Association's diversity and inclusion committee and is a member of the Te Ao Māori committee. Prior to joining the independent bar in 2014, she held senior roles at Dentons Kensington Swan and Simpson Grierson.