The retired senior partner shares to NZ Lawyer the most important lessons he learned in 65 years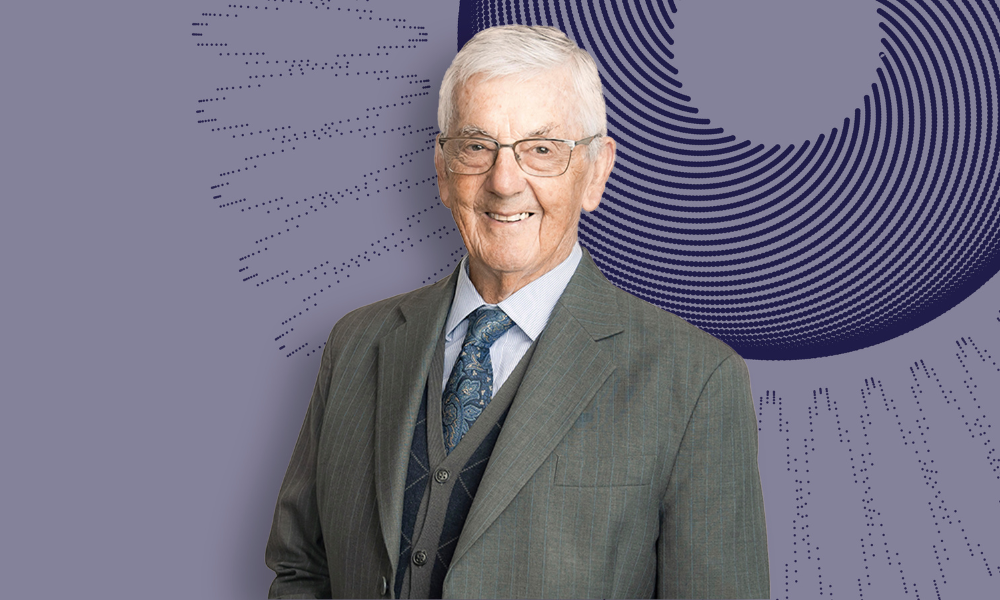 As the longest-serving law firm partner in the New Zealand legal profession, Arthur Young is a record-maker in the industry. The now-former Chapman Tripp senior partner has seen many things in a whopping 65 years of practice, but he continues to enjoy the law and is still keen to stay abreast of the latest happenings in his area of specialisation.
Young officially retired on Tuesday, and NZ Lawyer talked to this seasoned corporate veteran about his most memorable experience as a lawyer, the most important lessons he learned in his storied career, his parting message to young lawyers and looking forward to three months in France.
You are considered the longest-serving partner in the country – what does reaching such a historic milestone mean to you?
If, in fact, I am currently the longest serving partner in the country, then I certainly don't see it as an "historic milestone". The fact is that I continue to enjoy the law and do my best to keep up with the latest writings and decisions, particularly in my specialty area.
I am extremely fortunate to have had long-term supportive clients, continuing tolerance from my partners at Chapman Tripp, coupled with good health. But on 1 June, someone else, other than myself, then becomes New Zealand's "longest serving partner"!
You've seen a lot over the many decades you've been in the legal profession – in those 65 years, what would you say has been your most memorable experience as a lawyer?
I've had so many memorable experiences over the years that it is very difficult pick one out. Was it achieving, somehow, my first acquittal for a client in a defended careless driving prosecution? Or was it negotiating a defamation settlement for the Auckland University Students Association as publishers of Craccum? Or should it be something much grander from later years where I have had major involvement?
But to take perhaps one especially memorable experience – acting on a major corporate re-organisation involving both an incoming equity investor and a major re-gig of the existing debt where, after some months, of negotiations the settlement itself commenced in the late afternoon, extended into the early hours of the day following, involved 32 separate lawyers/law firms in Auckland all physically present in our office, and requiring final clearance from North America for the release of the crucial equity funding and where the authorising party had gone to sleep whilst waiting and had to be awakened. By way of afterthought, the relevant corporate still continues in business and is a thriving organisation, albeit under quite separate ownership.
What is one matter you've worked on that you feel defined you as a lawyer (a matter that taught you a lot, or helped you realise what area/field you wanted to focus on)?
I learned an enormous amount out of the legal negotiations which finally cleared the path for Auckland's Regent Hotel (now named the Stamford Plaza). With colleagues, I acted for the Hong Kong-based owner of the vacant site, and we were tasked to resolve complex documents with the primary funders out of Singapore, a leasing company with a novel structure out of Germany, an intended operator based in Canada, and with the pivotal mezzanine finance being provided by the then Development Finance Corporation of New Zealand. And working it all through to a conclusion with other legal firms here in New Zealand and also one in Singapore.
Although I had previously been involved in relatively significant property projects, this particular matter took me into a new field and from it I learnt a great deal.
In your time as a partner at Chapman Tripp, what is the one achievement you're proudest of?
Perhaps my greatest satisfaction has come out of the merger of Chapman Tripp and Sheffield Young and Ellis in 1985 and then all the work, with many others, to strengthen and cement the Auckland office of the firm to the position it has now enjoys.
In the early years following the merger, I was closely involved in management, but in the latter years I have been largely spared of that, and able to put most of my effort into client affairs.
What is the most important lesson you've learned in your time as a lawyer?
As lawyers we are so often involved with competing interests. Listening to all quarters and properly understanding the differing points of view, establishing the areas of common ground, and then building on those to achieve an outcome for all have generally been objectives. The need to listen and not to rush to a conclusion are the most important lessons I have learnt.
What's on the horizon for you as you head into retirement?
Three months in the south of France, albeit with a laptop and iPad. My wife Helen and I are so looking forward to an extended break – and with it the opportunity to re-visit an area we now know so well.
Following that I shall be trying to keep the mind active and current. I do have some ongoing directorships and trusteeships, where clients wish to have my continued involvement, but I shall also be trying to knock a few shots off my current golf handicap.
What's your parting message for the young lawyers in the profession?
Keep on learning, and be sure to keep current on all the relevant writings and judgements in your area of speciality.
With a general interest in the law, and a commitment of service to clients, young lawyers can be assured of a satisfying and rewarding career. Additionally, a career in the law is a platform for wider contributions to the community.