Flexible setups can also benefit young Māori lawyers, says Te Aopare Dewes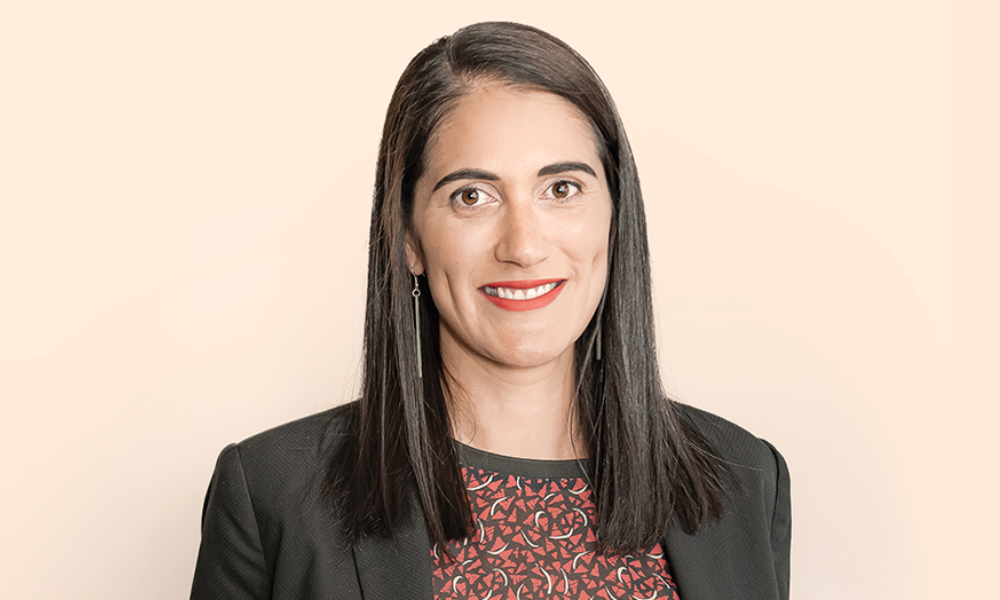 Te Aopare Dewes always knew that her future lay in serving Māori communities and interests, and seeing how the law could be used to that end led her to pursue a career in the field when she was 17. Today, she leads the Māori legal group Te Waka Ture at Chapman Tripp, becoming a partner at the top firm just last month.
As a specialist in Māori businesses and Māori land-owning entities, she has worked in different sectors on a number of noteworthy cases. A mother of two children, Dewes has also become a strong advocate for flexible work arrangements – something that she believes will grant more opportunities to both female lawyers like herself and to young Māori lawyers.
In this interview, Dewes talks about the lawyers who inspired her, her most memorable cases, returning from maternity leave after the birth of her new daughter and learning not to sweat over the little things.
What made you choose a career in law, and what's your favourite part of the job?
I went to Kohanga Reo and Kura Kaupapa Māori, so I knew that whatever I did "when I grew up," it would be some form of service to Māori communities and Māori interests. When I was growing up, I knew a number of lawyers who were working for the betterment of Māori communities – my dad (Whai Dewes), my Uncle Rawiri Rangitauira, Annette Sykes, Justice Joe Williams – to name a few. I saw first-hand the law being used as a tool to help progress Māori interests. So that's why, as a 17 year old, I chose to do law. I didn't know I would end up practising in corporate/commercial law, I just knew that law was a tool that could help the communities I wanted to serve.
I love the diversity of my practice. Every day is different and each client has different needs – whether it is structuring, governance or charities advice or involves Māori fisheries, Māori land or forestry. At the end of the day, the iwi, hapū and Māori land clients are looking to improve the overall wellbeing of their whānau members – "mo ngā uri whakatipu" [for the next generations]. There is a real sense of purpose.
What is the most memorable case you've taken on?
I have three: the legal challenge by Ngāti Whātua Ōrākei against the Crown regarding mana whenua considerations in Treaty policy, assisting with the formation of the fisheries Iwi Collective Partnership and working on a carbon forestry transaction for more than 30 Māori land blocks on the East Coast (Ngāti Porou).
All three projects were grounded in tikanga Māori values; and all three were driven by a desire to improve outcomes for whānau.
What is going on at the firm? Are there any new programs and initiatives that you're particularly interested in?
We already provide te reo lessons at a beginner level, and we hold specific events to celebrate Te Wiki o te reo Maori and Matariki. We are looking to build on these and offer intensive wananga focussing on things like tikanga, the Treaty and other basic foundation matters which recognise the unique place of tangata whenua in Aotearoa.
What has been your proudest accomplishment in the last year or so?
The arrival of my baby girl in August! Which has meant learning how to juggle the needs of a newborn, a toddler (my son),
What's the biggest lesson you learned in the past year and what advice can you give fellow lawyers about it?
This year I had my second baby. It's been a busy year! I have had to remind myself not to sweat the little stuff, to focus on the long game. If you are passionate about your work and can find that sense of purpose, then it makes it easier to look up and enjoy the ride and not stress about the little things so much.
What should the profession and law firms focus more on?
Being truly open to flexible work arrangements. The COVID-19 lockdowns have certainly helped shift mind-sets. We have the IT systems and hardware in place and we know how to do a Zui (Zoom Hui). Flexible working will allow more women like myself to continue to stay in private practice, while raising a young family. I would hope that the flow on effect will be more female partners in law firms.
What are the challenges you expect in your practice, and in the business of law in general, going forward? What challenges are particularly pressing in the country's legal industry?
One of the biggest challenges I see is keeping young lawyers engaged and enthusiastic about a career in private practice. There are so many opportunities beyond the legal sector, particularly for young Māori lawyers with business acumen and knowledge of reo and tikanga. Flexible working will help with this. Making the purpose of our work clear will also help – providing access to the best legal minds with a view to ultimately improving the wellbeing of whānau members.
What are you looking forward to the most in the coming year?
Getting back to work after a few months off on maternity leave!