Despite the number of Christchurch cases ramping down, New Zealand's insurance lawyers can expect to remain busy, writes Hannah Norton.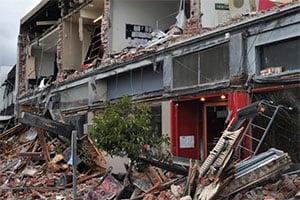 A buoyant global economy and a flurry of legislative activity mean New Zealand's insurance lawyers remain busy, despite the number of Christchurch cases ramping down.
"Although the first Canterbury earthquake occurred nearly six years ago, the 2010 and 2011 earthquakes continue to be a key driver of work for our insurance law practice," said
DLA Piper
New Zealand partner Veronica Cress.
"However, the volume of this work is steadily decreasing."
DLA Piper partners and clients around the world are also a key driver of insurance sector work for the firm in New Zealand, she said.
"As a global firm, we are frequently asked to advise international insurance industry participants across multiple jurisdictions and we regularly collaborate across borders for this purpose.
"[Also] a global increase in corporate merger and acquisition activity and the increased use of representation and warranty insurance in these transactions have been key drivers of work for both our insurance law and corporate law specialists."
Locally, legislative change and new entrants in the market are also proving to be key drivers of work in the insurance law space.
On 1 January 2016 a revised Fair Insurance Code came into effect.
"The Code applies to all general insurers who are members of the Insurance Council of New Zealand. It sets a higher benchmark for self-regulation than the previous code and includes a commitment by insurers to act reasonably in response to non-disclosure."
There have also been legislative reforms impacting indirectly on liability insurers, she said.
"On 1 March 2016 the Food Act 2014 came into force.
"The Act regulates food businesses according to their level of food-safety risk. Penalties for failing to comply with the Act include: suspension, fines of up to $500,000, and imprisonment for up to 5 years for individuals at the highest level of offending."
#pb#
On 4 April 2016 the Health and Safety at Work Act 2015 came into effect and replaced the Health and Safety in Employment Act 1992, Cress said.
The Reserve Bank of New Zealand (RBNZ) also announced in April that it is to review the operation of the Insurance (Prudential Supervision) Act 2010 and the associated regulations.
The Bank aims to release an issues paper for consultation at the end of this year, with recommended changes for further consultation released in 2017, with a view to introduce legislation, subject to cabinet approval, in 2018 at the earliest.
A release from insurance and commercial litigation firm Jones & Co discussed why such a review is advantageous.
Two global insurance sector trends are creating challenges in the insurance law space – geographical regionalisation and local consolidation, Cress said.
"Many international insurance industry participants have been reducing or withdrawing claim management operations from New Zealand to manage major insurance claims on a regional basis out of Australia or elsewhere in the Asia Pacific region," she said.
"This geographical distance from our clients creates a number of challenges [including] an increasing need to travel out of New Zealand to meet with clients; and an increased risk that foreign lawyers will compete for work on New Zealand matters."
Local consolidation is also a key concern.
"Within New Zealand, we have recently been through a period of consolidation as major insurance companies and insurance brokers have merged with or been acquired by other companies in the same market.
"One consequence of this industry consolidation is that the number of entities operating in the market is reduced. This can be challenging in a relatively small insurance law market like New Zealand."
Read the full story in the latest issue of NZ Lawyer magazine.