Frazer Barton was determined to pursue a "purposeful and fulfilling" career from the start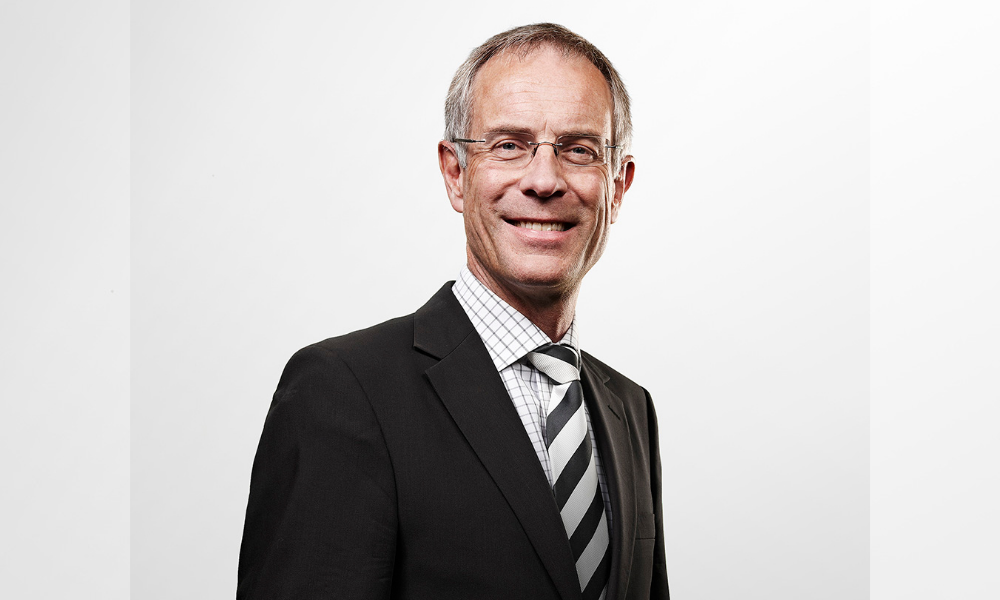 Frazer Barton was introduced to the importance of social justice from a young age through his family – notably an uncle whose role as a barrister in a landmark case showed him the power of the law. Today, the ability to make a difference in people's lives and in society remains his favourite thing about a career in law.
Having led Anderson Lloyd as chair of partners, Barton has strongly championed diversity and inclusion at the firm, and is making a push to develop the firm's future leaders. He finds himself inspired by young lawyers, and has narrowed down four areas of focus that are crucial to the moulding of a more equal society.
In this interview, Barton talks successfully appealing the case of a convicted client, valuing user-friendly tech and his push for New Zealand Law Society presidency.
What made you choose a career in law, and what's your favourite part of the job?
I grew up in a family with a strong sense of social justice and made the decision very early that I wanted a purposeful and fulfilling career. When I was a teenager, my uncle was the barrister who brought the famous case of Fitzgerald versus Muldoon in 1976. I was inspired by the fact that in New Zealand, an ordinary person could challenge the most powerful person in the land, and that the courts had the ability to strike down the actions of the prime minister, invoking the Bill of Rights of 1989.
My favourite part of the job is the ability to make real differences to people's lives and the outcomes of society. My position at Anderson Lloyd opened doors for me to join the Board of Trustees for Wakari Primary School and Columba College in Dunedin, as well as becoming a member of the Council of the University of Otago for six years. These positions were incredibly fulfilling. Not only was I able to familiarise myself with the views and concerns of future generations, but these conversations provided insight into the societal shifts that need to be addressed in the legal profession.
I'm proud to have channelled these learnings into developments in growth at Anderson Lloyd, including championing diversity and inclusion and developing closer relationships with Ngāi Tahu and Raukawa.
What is the most memorable case you've taken on/been involved in?
R v Andersen, where I acted for the organiser of a cycle race where a participant tragically died in an accident and as such, the client faced criminal charges. Not only was this a major, public-facing case, but the client was a truly wonderful person who didn't deserve the level of grief caused by the case. Together, we went through a three-week jury trial that involved being on the TV news every night. Over this time, several other sporting events were cancelled around the country, out of fear that event organisers would also be liable in the event of an accident.
In the end, our client was convicted by the jury, but we appealed to the Court of Appeal and the decision was overturned. If we had been unsuccessful, it would have shut down many more events around the country and in my opinion, the final outcome was one that all parties were able to learn from.
What is going on at the firm? Are there any new programs and initiatives that you're particularly interested in?
There are a number of initiatives I'm delighted to have overseen at the firm – particularly relating to advances in our approach to diversity, sustainability and investment in our people. On the diversity front, I'm proud to say that 42% of our equity partners are women, which is one of the highest percentages of any New Zealand law firm.
Increasing our cultural competency is another focus area for our team and we've established a cultural intelligence programme to enhance the firm-wide understanding of te ao Māori, in conjunction with Ngāi Tahu. Recently, we have also been working closely with Ngāti Kahungunu to start an ongoing internship programme that invests in the future of the iwi.
Our focus on sustainability led to us being the first large law firm to be Toitū carbonzero accredited and a Living Wage Employer. This is a particular passion area of mine that aligns strongly with my out of work life (in my spare time, I'm restoring the biodiversity of our bush-clad property in Dunedin).
Another thing I'm looking forward to overseeing over the next year is the Anderson Lloyd Future Leaders programme, which provides peer-to-peer, senior and female mentoring support to our future leaders.
What tech-related initiatives adopted by the firm, if any, are you most excited about?
We are currently trialling a number of new AI platforms to automate routine tasks so that our lawyers can focus more on complex problem solving for clients. I'm excited about this because it allows our team to be highly mobile and work more to their strengths. I value technology that is user-friendly, so my favourite development to date has been the ability to work off electronic documents when in court – this not only simplifies and speeds up our traditional processes, but it also allows us to minimise our paper trail and create a more sustainable workforce.
What has been your proudest accomplishment in the last year or so? Or what's the biggest lesson you learned in the past year and what advice can you give fellow lawyers about it?
Although it might sound standard – working successfully from home during lockdown was a great accomplishment for the firm. It went like clockwork and I'm still exceptionally proud of the whole team for the hard yards that were put into making it a smooth transition. The latest COVID-19 outbreak has shown us how critical it is to be flexible and adaptable.
However, the lesson I learned, and am reminded of now, is how much I enjoy interacting with my colleagues and clients in person.
What should the profession and law firms focus more on?
Fairness is a key principle that underpins my approach to practicing law. I'm continually inspired by Gen Z and the refreshing approach that our youth bring to equality and inclusivity. The #MeToo movement and School Strike 4 Climate are just two examples of this, however, we still have a long way to go to achieve real, systemic change. The four areas I believe need to be focused on more in order to create a more equal society are:
rule of law: ensuring equality under the law, transparency of law and importantly, access to justice. New approaches will be needed to address the failings in the system – this will involve changes in government policy as well as government recognition of pro-bono work
wellbeing of our members: prioritising the safety of lawyers and reinventing the perceptions of our industry. To achieve this, we need to move away from the outdated expectations that are so deeply engrained in our profession's culture and focus on providing stimulating work for our young lawyers, including greater work-life balance and gratification
sustainability: you only need to take one look at the recent IPCC report to see that the world is in a position where sustainability must be prioritised
diversity and inclusion: it is critical that our profession reflects society. While I'm encouraged by the increased focus on D&I across the board, it is essential that it becomes a key focus area for all law firms in Aotearoa
What are the challenges you expect in your practice, and in the business of law in general, going forward? What challenges are particularly pressing in the country's legal industry?
With issues such as the ongoing COVID-19 pandemic and technological challenges, we are about to enter a period of disruption and we need to help the profession to prepare for that. On top of this, there is a lack of experienced courtroom practitioners in critical areas, and retention of people is also an issue. From experience as a member of the Council of the University of Otago, I believe that we should work more closely with our universities and law schools to ensure that we have a good output of well-qualified, well-prepared graduates.
Access to justice is also critical. Our adversarial system will not work when there is no equality of advocacy power.
What are you looking forward to the most in the coming year?
Professionally, I'm busy campaigning for the office of president of the New Zealand Law Society. Having completed my work as a board member of Presbyterian Support Otago after 27 years, as well as finishing up as chair of partners of Anderson Lloyd after six years, this has created a gap for me to expand on my current role as South Island vice president of the NZLS.
If successful, I'm looking forward to carrying on Tiana Epati's fantastic work as well as contributing my own unique style, which is to listen, reflect and take a solutions-focused approach. Over the course of my career, I have benefitted hugely from the work of the NZLS, so it would be an enormous privilege to be elected to this position.
Personally, I'm really looking forward to the Christmas break and spending time with friends and whānau. This will include more time outdoors cycling, kayaking, gardening and seeing more of my four wonderful grandchildren.