Experienced legal professionals share their experience for new lawyers entering the profession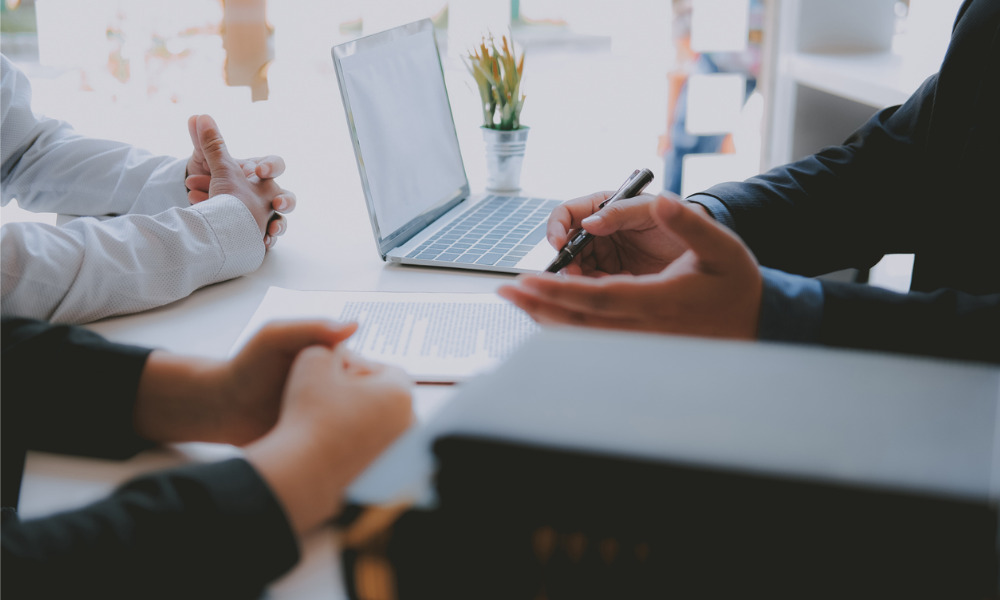 With a competitive cohort filtering through law school graduation every year, standing out from the crowd in the early stages of your legal career can be challenging. While law school may have armed you with extensive theoretical knowledge, these practical skills will be your ticket to a strong start as a new lawyer.
Here are four lessons for new lawyers in 2021.
1. Take risks
One of the most important skills for new lawyers is taking calculated risks and seizing opportunities as they arise. While you should never risk certain areas of your practice, venturing out of your comfort zone in areas such as career progression is often key to growth and professional development.
For Russell McVeagh litigation solicitor Fayez Shahbaz, accepting a secondment to the legal team at Meridan Energy Limited when, at the time, he had limited corporate law experience, saw him endure a steep but rewarding learning curve.
"Seeking out and deciding to take a secondment at a corporate in-house legal team felt like a calculated risk," Shahbaz told NZ Lawyer. "On the one hand, I would lose three months of further litigation experience, lose the security blanket of continuing to work with a team that knew me and that I knew well, and I would be diving into a notoriously complex industry with limited corporate experience."
"On the other hand, I would develop my corporate and commercial skills, experience the challenges (and the joys) of working as an in-house counsel, and work and learn from a new team of lawyers."
Suzy McMillian, senior associate from the technology, media and telecommunications team at MinterEllison, also reflected on her career transition from in-house to private practice, describing it as "one of the best moves" she has ever made.
"I always thought it would just be a short-term option, but I'm still here five years later and am really enjoying my current role. Sometimes taking a risk ends up being the best decision you ever made – the hardest part is taking the leap!" she told NZ Lawyer.
2. Be agile and adaptable
Although inexperience has its challenges, it also affords new lawyers the ability to be flexible and open to change.
"Being agile and adaptable gives you the best chance of navigating the challenges presented by new situations because you can better respond to and learn from the experience – you're not afraid to try an approach and if it doesn't work, switch to a different one," Amelia Retter, solicitor in the litigation and public law team at Dentons Kensington Swan, told NZ Lawyer. "Being a new lawyer means you're not always going to know what to do but I've found that that doesn't necessarily matter as much as being able to switch course and adapt as necessary."
Meanwhile, Shahbaz cautioned new lawyers not to settle on a particular area of law too soon.
"While it is daunting to constantly pivot to different areas, these challenges help us grow and develop as fully rounded lawyers," he said. "Agility in navigating different areas of law and industries will serve you well in the long term and is worth the short-term challenge."
With legal technology and work practices advancing rapidly, Retter believes that being agile and adaptable will be required by all lawyers in the future, and not just new ones.
"Getting used to responding quickly and being comfortable with change is going to be necessary to navigate (and make the most of) the many changes that will no doubt impact the legal profession in the new future," she said.
3. Be commercially aware and client-centric
Regardless of changes and innovations to legal practice, commercial awareness will always be of value to lawyers. In a 2020 LinkedIn article, Rachita Maker outlines the concept of the "T-shaped lawyer", with the vertical line of "T" representing legal skills and the horizontal line representing broader business and commercial acumen.
"Fortunately, there are many steps new lawyers can take to further their commercial awareness and business acumen," Shahbaz said. "Reading the news, whether its news alerts, the morning report, or the newspaper, can be a good source of current business information. If you want to know more about a particular client or a regulatory agency, read their annual reports. They can be a treasure trove of information specific to the client, their perspective on the relevant industry, and strategic vision and priorities."
Moreover, staying up to date on your client's information will allow you to take a "client-centric" approach to your legal services, which may be enhanced through other strategies such as open and clear communication, virtual services, and electronic billing.
"It is possible for every practitioner to become client-centric; it simply requires making some changes to the way you run your practice", Auckland-based divorce lawyer Jeremy Sutton told NZ Lawyer.
4. Be familiar with cloud-based legal tech tools
Gone are the days when a pen and paper, or even saving files to your hard drive, were appropriate methods of documentation.
"I think for a long time, people have assumed that lawyers would be safe from increased automation or technological advances, at least to a degree. It's becoming clearer that it's not going to be the case," Retter said.
McMillian explained the value that AI assistant authorDOCS has afforded MinterEllison, saying it was "a real game changer for us in terms of the speed in which we can review lengthy documents, and the ability to easily navigate through contracts."
"Not to mention the functionality that allows you to generate clause banks – which is such a handy feature, especially for junior lawyers to be able to easily analyse and compare which clauses are best for particular circumstances," she said.
Retter explained that capitalising on technology will allow you to provide more efficient, accurate and comprehensive services. In turn, this will enable you to spend more time fostering professional relationships with both colleagues and clients.
"After all, that is one part of legal services which is, for the time being at least, unable to be automated or technologically engineered," she said. "What legal technology does do is give us the opportunity to have the time and bandwidth to really develop those types of skills and build meaningful relationships."
In today's competitive legal industry, pairing your theoretical knowledge with these tried-and-tested lessons will ensure your success as a new lawyer.