Global firm launches diversity program, national firm supports regional artists, and Qld firm pioneers e-bikes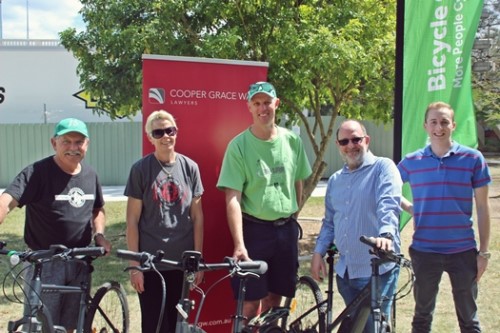 Some of Australia's top firms and lawyers continue their support of worthy causes, with three firms recently announcing various programs.
Boosting diversity and inclusion
Ashurst has launched Committed to Change (C2C), a program that engages partners to make a public and proactive commitment to diversity and inclusion. The global firm aims to have every office and practice group across Australia have at least one local C2C member.
The firm launched the program's pilot in November of last year, eventually growing it to include more than 95 partners across 18 global offices. Global managing partner Paul Jenkins said he was inspired to create the initiative after being the first law firm leader to join the Male Champions of Change program in Australia, founded by Elizabeth Broderick, former Australian Sex Discrimination Commissioner and former Ashurst legal technology head.
"As a result of C2C, there has been an increased amount of diversity and inclusion activity such as training, seminars and communications campaigns, and a greater number of our employees now have visible and active advocates for diversity and inclusion," Jenkins said.
Participating partners in the C2C program take part in a range of activities, including taking part in reverse mentoring and proactively promoting diversity and inclusion messages and events in their team. Ashurst has established more than 80 reverse mentoring pairings as part of the program.
Supporting regional Queensland arts
Holding Redlich has announced a new sponsorship of a major arts prize that showcase the works of artists in regional and remote areas of Queensland.
The firm has partnered with Flying Arts Alliance to co-sponsor the Annual $10,000 Art For Life Awards, which is part of the Queensland Regional Arts Awards. This year, the awards received more 170 entries from across the state.
Paul Venus, Queensland managing partner, congratulated Rockhampton artist Erin Dunne, who won the 2018 Art For Life Award for "Destination Duaringa," a paper art book depicting scenes from a central Queensland road trip.
"We have been looking for ways to support the arts in Queensland so that we can make a genuine contribution to the arts and broader communities," Venus said. "Partnering with Flying Arts enables us to do both, and we're excited to co-sponsor the Art for Life Award. We are thrilled to support this wonderful initiative and congratulate winning artist Erin Dunne. In addition, we are also very pleased to be the touring exhibition partner for 2019."
Ian Robertson, Holding Redlich national managing partner, said that supporting the arts is part of the firm's DNA. The firm is very proud to be able to significantly expand its national arts program with the new partnership, he said. The announcement came after the firm celebrated its 20th anniversary of supporting the Salon des Refusés People's Choice Awards in July.
Promoting health and wellbeing through technology
Cooper Grace Ward has partnered with Bicycle Queensland, the state's peak cycling body, to become one of the first firms in Brisbane to test electronic bicycles for commuting. The partnership gave staff the opportunity to take bikes for a test ride.
"We're starting to see more and more people in the city getting around on e-bikes. They look fantastic and give team members an advantage when commuting in the city during heavy traffic," said Chris Ward, managing partner.
The firm said that e-bikes are perfect for travelling longer distances and for exercise, while reducing pollution. E-bikes are an excellent solution to tackling steeper climbs without raising a sweat in hilly Brisbane, the firm said.
The firm's offices at 400 George Street are perfectly positioned for e-bike commuters, with the building easily accessible on two wheels from the Tank Street and Kurilpa Bridge Bikeways, the firm said. Team members also benefit from free on-site bicycle parking, e-bike charging stations, and showers.
"With South-East Queensland's population growing steadily, Cooper Grace Ward welcomes the uptake of e-bikes to reduce peak-hour traffic congestion while also providing a healthier means of commuting," the firm said.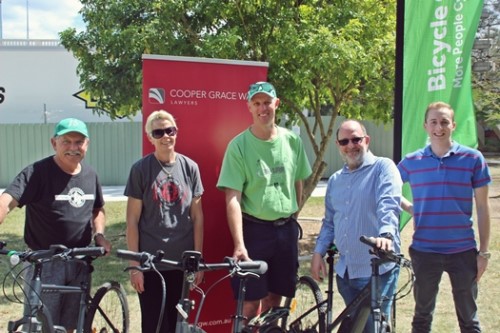 Cooper Grace Ward Team Members and representatives from Bicycle Queensland