Funds will go to children with special needs and newborn care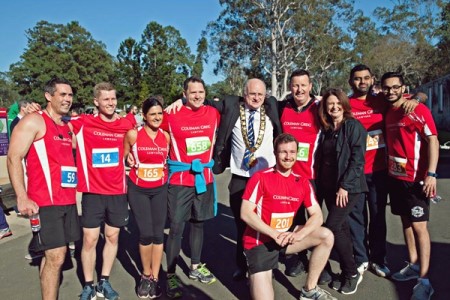 The Coleman Greig Challenge set a new record last week, raising more than $225,000 for children with special needs and newborn care.
Over 700 business leaders, doctors, lawyers, nurses, sporting celebrities, and teachers participated in the event. This year's race will benefit Westmead Hospital's neonatal unit, St Gabriel's School for children with special needs at Castle Hill, and Royal Institute for Deaf and Blind Children (RIDBC).
Former Olympian Jana Pittman blew the starting whistle, and was later joined by City of Parramatta Lord Mayor Andrew Wilson to present both the morning's individual and team race winner medals.
"When we first started the Coleman Greig Challenge six years ago, we never thought it would become such an overwhelming success," said Coleman Greig's Andrew Grima. "We have a wonderful community spirit in Western Sydney, which is clearly reflected by the incredible number of people who were prepared to be at Parramatta Park at 7am to raise money for children with special needs and newborn care."
The Coleman Greig principal founded the race, which was first held by Coleman Greig Lawyers six years ago and has since raised more than $800,000 for worthwhile causes.
"Thanks to the generous contributions of our participants, corporate sponsors and everyone who has supported our fundraising efforts, we've managed to raise over $225,000," he said. "The money raised goes towards the purchase of vital equipment which make a real difference to the lives of children in need. "Westmead Hospital Foundation plans to use the funds to purchase two portable cardiotocograph machines, which help detect and prevent conditions such as cerebral palsy, developmental delay and intellectual disability," he said.
RIDBC will use the money raised to develop Braille and large-print books, as well as tactile pictures including 3D models, to help children learn to read. St Gabriel's school will use the funds for equipment, including 16 iPad with speech apps, two electronic whiteboards, and in-ground trampolines for the school's playground.
Individuals and organisations that want to donate still have a chance to do so, as the firm's GoFundraise page will remain open until 31 October.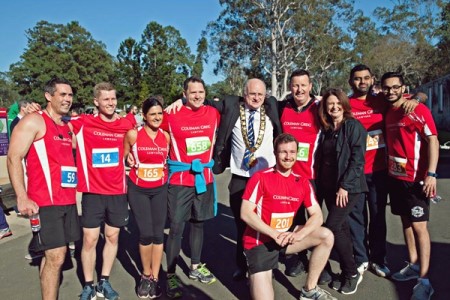 Left to right: Adam West (principal), James Ferguson (lawyer), Lisa Barca (lawyer), David Stott (special counsel) Andrew Wilson (Lord Mayor - City of Parramatta), Tom Dearden (legal cadet), Warrick McLean (CEO), Liz Giblett (head of marketing), Adnan Meher (lawyer), Mario Rashid-Ring (lawyer)