This is why lawyers shouldn't be afraid to hike their hourly rates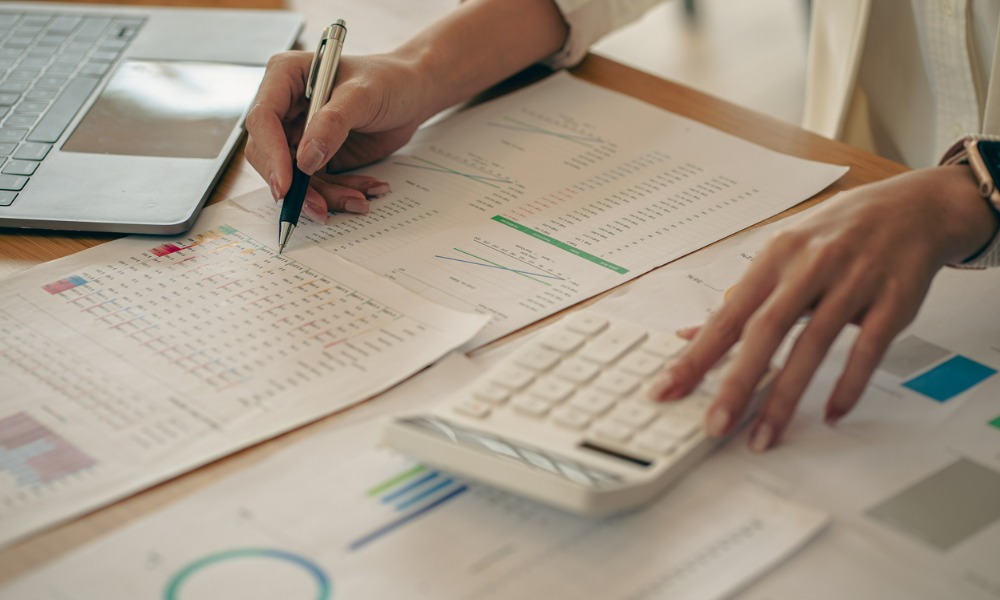 A new study by the Thomson Reuters Institute has revealed what trends allow the best-profiting law firms in the U.S. to stay on top of an ever-shifting market even as similarly situated law firms struggle to sustain growth.
In its 2023 dynamic law firms report, the Thomson Reuters Institute – Reuters' dedicated thought-leadership arm – set out to explore what set high-growth law firms apart for the last 10 years. Instead of its usual metrics of compound annual growth rate of overall firm profits and average firm profit margins, the institute measured the CAGR of profit per lawyer (value) and revenue per lawyer (bottom-line financial health), allowing it to account for expenses as a key driver of profitability.
Going by the growth of these twin metrics, the Thomson Reuters Institute labelled firms falling into the top 25% its dynamic law firms, while those at the bottom 25% were static law firms. The report focused on 98 firms the institute kept tabs on since 2013 to better compare the respondents' performance against one another as well as against the average law firm's performance in the past decade.
The 2023 dynamic law firms report made four note-worthy points, among others:
1. The biggest firm is not always the most dynamic one.
While majority of dynamic law firms came from 2022's Am Law 100 rankings, the Thomson Reuters Institute cautioned firms "not to assume that demographics [were] destiny". It pointed out that Am Law 100 rankings prioritised overall firm revenue and profits per equity partner, among other data. Ranked according to Reuters' profit per lawyer and revenue per lawyer metrics, a good 40% of Thomson Reuters' dynamic law firms came from outside Am Law 100. Twenty per cent came from Am Law's second hundred, while another 20% came from firms falling outside Am Law rankings altogether.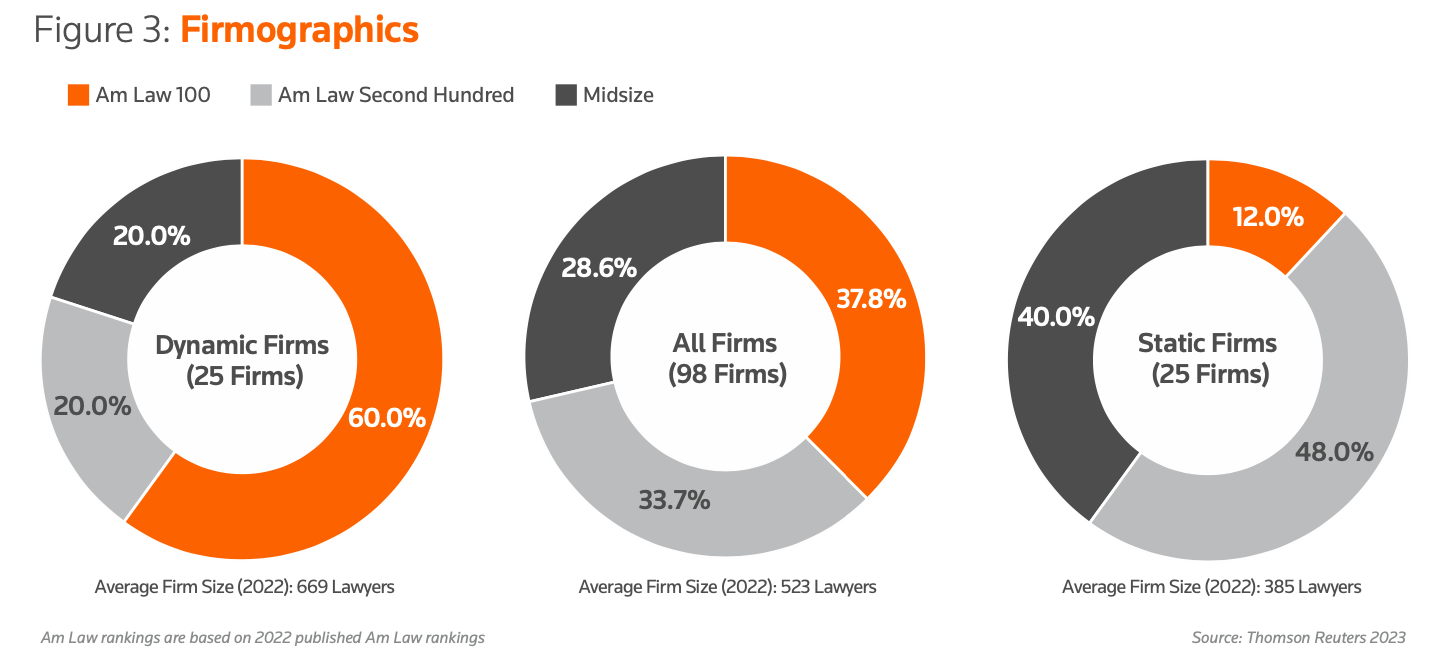 2. Transactional practice is on the rise – and for good reason.
In 2013, dynamic law firms' workload consisted equally of litigation cases and transactional ones – which include corporate, M&A, real estate, and tax. Less than a decade later, dynamic firms' litigation practice shrank by close to 5% while its share of transactional practice ballooned by 7%. Static firms followed the trend but to a lesser extent, with their transactional practice workload only slightly ahead (2.7%) of litigation.
The Thomson Reuters Institute observed that transactional practice generally allowed "premium rates and lesser price sensitivity" which, coupled with increasing demand for the service, significantly improved productivity for firms that relied on that practice area.
3. Law firms have plenty to learn from the imbalance between rates and realizations.
While dynamic law firms grew their hourly rates more aggressively than both average and static law firms over the past 10 years, static law firms surprisingly held a steady advantage in terms of their ability to bill and collect payment on their worked rate – or billing realisation and collected realisation, respectively.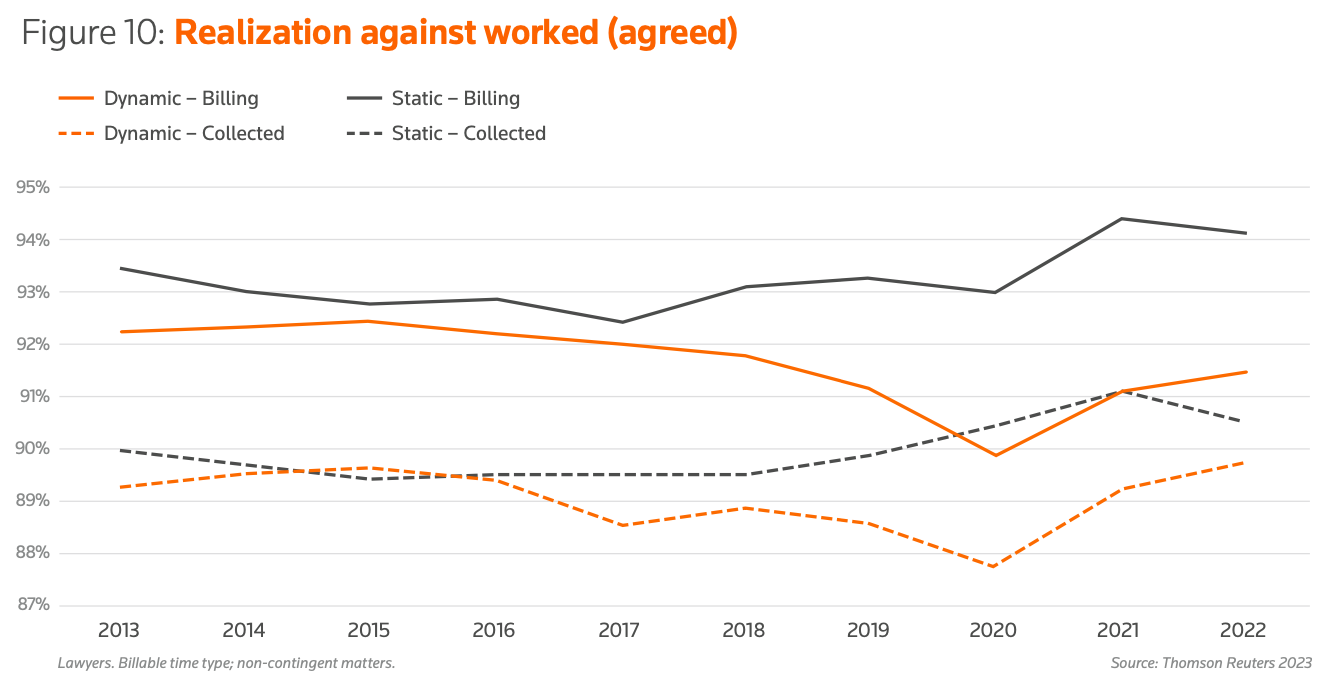 Over time, however, dynamic law firms emerged as the winner in terms of converting their billings to actual payments, represented in the graph immediately above by the narrowing gap between dynamic law firms' billing realisation and collected realisation lines.
"[Dynamic] law firms have done a better job of protecting their invoices from a phenomenon we've come to call fee erosion," the Thomson Reuters Institute concluded.
While it could be tempting for static firms to chalk the widening gap between their billing realisation and collected realisation lines to increased client backlash on their rates, "[given] that dynamic firms have closed the gap while it has widened for static firms suggests that there is something else at play," the institute said. It suggested that a law firm's failure to effectively communicate value to clients and a lack of pricing confidence were the "likely culprits" behind this fee erosion.
4. "Don't be afraid of more aggressive rate growth."
Lack of pricing confidence also caused static firms to pass on hourly rate hikes, which Thomson Reuters believed was ultimately a missed opportunity for key growth. "Don't be afraid of more aggressive rate growth," it said to static firms.
Plenty of available data, including those contained in the 2023 dynamic law firms report, proved that maintaining a "lower-cost alternative" branding did little to grow actual demand for the firm's services. Demand for dynamic law firms' services grew at a rate 1.7 percentage points ahead of static law firms. Further, despite dynamic law firms pursuing aggressive rate growth, they continued to perform better than static firms did financially over the past 10 years.
Thomson Reuters suggested that lawyers start receiving pricing or sales training from their law firms to protect rate integrity.
"Also, while static firms are at a disadvantage in terms of rate growth, they have a comfortable margin over their peers in terms of realisation," the institute observed. "This gives them something to potentially sacrifice in exchange for higher rate growth.
"So while raising rates more aggressively may come with additional costs, it may well be worth it."