While some lawyers have thrived in flexible and remote working arrangements, others must take care to avoid burnout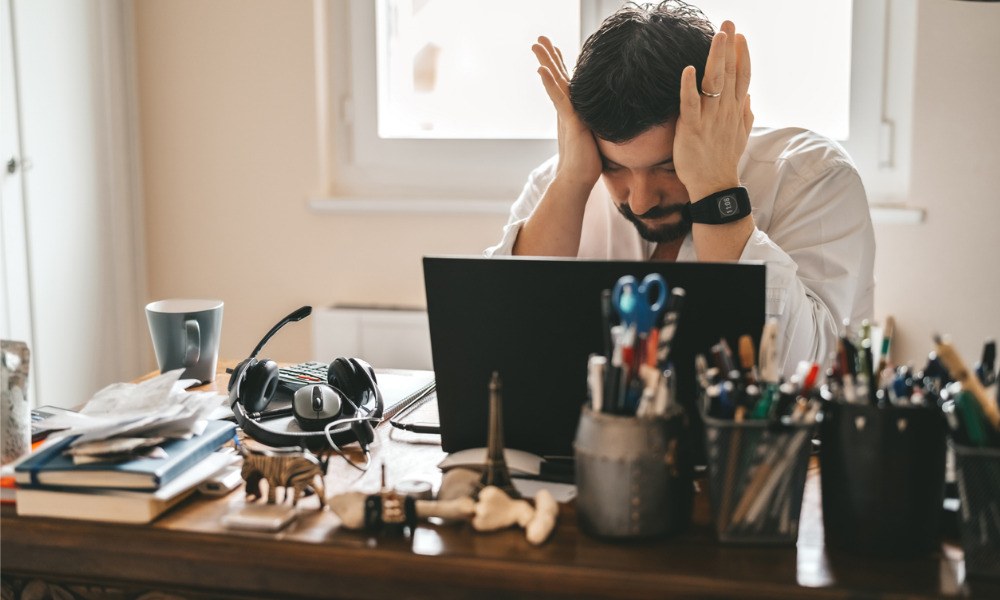 The legal profession has long been defined by a demanding workload, with lawyers typically required to work longer hours than most professionals. COVID-19 has normalised flexible working arrangements; however, many practitioners have experienced the negative impacts of blurring the line between work and life.
How many hours do lawyers traditionally work every week?
A lawyer's schedule is usually varies based on practice area, position and current caseload, and often fluctuates from day to day.
Lawyers working for large firms are often required to work exceptionally long hours to fulfil client expectations. A Thomson Reuters study of Chambers and medium-large law firms showed that on top of their contract hours, 57% usually worked an additional 10 hours per week, 21% worked an extra 15 hours per week, and 11% worked an additional 20 hours per week.
It's not just law firms that demand these extended hours. The 2019 In-House Counsel Trends report conducted by the Association of Corporate Counsel Australia found that 7% of in-house counsel's working hours are over 60 hours per week, with 20% working 51-60 and 40% working 41-50 hours per week.
The shift to work-from-home and flexible hours through COVID-19 has also impacted most lawyers' workloads – for better or worse.
Work-from-home and flexible hours for lawyers
COVID-19 has seen the rapid development of flexible and remote working arrangements, which has helped lawyers manage their workload alongside caregiving and other duties. In its article "Flexible workplaces in the legal profession," the Law Council of Australia explained that where "presenteeism" was once integral to law firm culture, technological advancements have helped workplaces adopt flexible working policies.
Further, many firms have begun to move away from traditional "billable hour" targets, recognising that working long hours is not an automatic sign of productivity and success. According to Peripheral Blue founder Mellissa Larkin, such targets reward inefficiency.
"We don't have billable-hour targets in our firm, because if your reward is based internally on how many hours you bill, then what is the incentive for you to do it efficiently? It's counter-intuitive," Larkin told the Law Society Journal in a 2019 article entitled "The slow demise of billable hours."
The move from billable hour targets to revenue-driven approaches speaks to the change in firm culture, especially in light of COVID-19's shift to remote work.
"Being forced to think differently about the way we work has been a great side effect of COVID-19," Cooper Grace Ward partner Hayley Mitchell told Australasian Lawyer in a 2020 interview.
As many firms transition back into the office, they must ensure that flexible or remote working privileges are afforded to all employees equally.
"Requests for flexible work arrangements must be seriously considered by the employer and can only be refused on reasonable business grounds," said the Australian Human Rights Commission.
How are legal proceedings adapting to work from home setups?
In addition to spurring the adoption of remote and flexible working arrangements in law firms, COVID-19 has also boosted court proceedings' digitalisation. Historically, reforms to judicial processes have occurred very slowly. Although the profession adjusted remarkably quickly, some kinks needed to be ironed out, such as preparing for technological issues.
"Anecdotally, some litigants have experienced a delay with progressing to both pre-existing and newly-filed matters, and timetabling issues have arisen due to the unpredictable nature of the technology and user error," Holding Redlich partner Toby Boys and lawyer Ashleigh Sams wrote in a 2020 post on the firm's website entitled "COVID-19 and the virtual courtroom – is technology a friend or foe?"
However, while navigating the digital landscape in its initial phase may have added to practitioners' workloads, technology may increase court proceedings' efficiency.
"Lawyers will not have to set aside the whole morning to go to court for a five-minute directions hearing; clients won't have to pay for the whole morning," Australian Public Law said in the article "Courts and COVID-19: Challenges and Opportunities in Australia."
Pressures, anxiety and blurry work-life balance: Challenges for lawyers in WFH
Besides logistical changes, working from home has also increased mental health challenges for many lawyers, with many feeling like they cannot "turn off" or manage expectations of availability.
"The biggest professional challenge I have faced amid the pandemic is knowing when to call it a day. It can be tempting to log on after dinner or on the weekend just to tick a few things off the list, because your computer is already set up on the kitchen table. I constantly try to make sure that I am as productive as possible during the day so I can switch off in the evening," Andrew Lorigan, legal counsel at LOD, told Australasian Lawyer last year.
Another mental health challenge associated with working from home is burnout, which can increase with isolation. Further, the uncertainty related to the future of the legal landscape as the world recovers from COVID-19 may exacerbate feelings of being overwhelmed.
"Mindful that for many people working remotely could be an isolating experience, the partners encouraged us to phone (or video call) rather than email one another," Arnold Bloch Liebler senior associate Liam Cavell told Australasian Lawyer.
Working from home will likely not be eliminated post-pandemic. To prioritise mental health and wellbeing, which increases performance, lawyers must ensure they meet both their employer's and their own needs and expectations.