The headmistress lawyer, the fence-sitter... there are particular lawyer personalities that get under the skin of clients – do you have any on your team?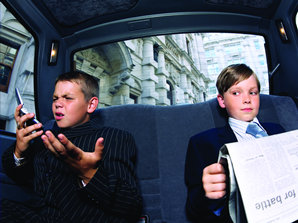 In a recent
Australasian Lawyer
article
, A number of general counsels at high profile companies explained their
biggest frustrations when dealing with firms
. This got Claire Wivell Plater from The Fold Legal thinking about other ways lawyers might risk raising the ire of their clients – she came up with the following types of lawyer we all want to avoid but which might sound familiar…
The Loophole Lawyer
The loophole lawyer's objective first and foremost is to find a way for the client to avoid the need to comply at all. There are a number of favourite techniques – interpreting the client's business activities in such a way that they are not caught by the regulations, looking for extremely technical points or using obscure legal arguments. They would never think to look at the spirit of the legislation for guidance. Of all the species, this is the one which has a place in the world. If no one pushed the envelope, there would never have been an evolving jurisprudence.
The Golden Egg Lawyer (aka Rabbit)
Their need to make an inhuman budget causes them to spend clients' valuable dollars investigating every possible issue regardless of the level of risk to the client's business or the likelihood of occurrence. This type is also known as the 'rabbit lawyer' because of their habit of going down burrows (which as we all know, usually have dead ends)
.
Headmistress Lawyers
They relentlessly provide strict opinions on the application of the law, regardless of practicality or of the client's business, financial or operational complexity or constraints. They look for problems not solutions – scaremongering!
The Journalist Lawyer
The journalist lawyer believes their job is to tell the client what the law says and let the client work out how it applies. In other words, they provide not answers, but more questions.
The Incurious Lawyer
This type doesn't make any appropriate investigations into the client's business to be able to confirm that their advice is correct. All too often they make assumptions which either mean that their advice is inconclusive (frustrating) or incorrect ( dangerous!).
The Fence-sitting Lawyer
This species writes pages and pages of beautiful prose which they deliver to the client with pride, but they do not reach a concluded view. The client is left to decide. We often see the words "it's a commercial decision for you" or "reasonable minds could disagree" in their "advice" work.