Lara Douvartzidis extolls the importance of support networks for lawyers, especially during COVID-19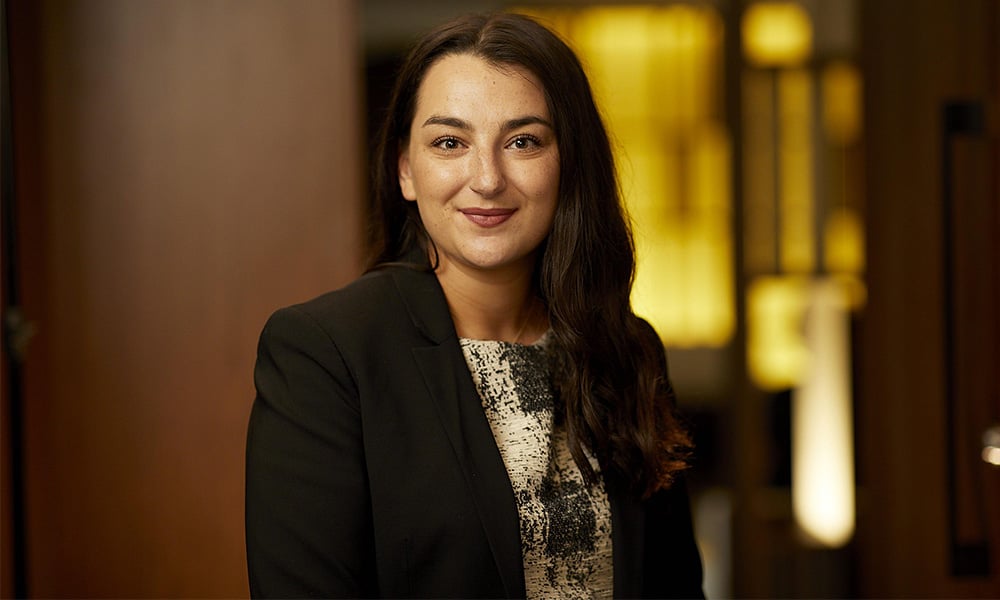 Lara Douvartzidis' mother indeed knew best, as the trail she blazed in environment and planning law ended up leading her daughter down a similar career path. Today, the younger Douvartzidis is making her own significant mark on the industry, as evidenced by her recent inclusion among Australasian Lawyer's 2021 Rising Stars.
In her career as an associate at Johnson Winter & Slattery, Douvartzidis has indulged her passion for pro bono work, assisting the firm's pro bono practice in various roles because "access to justice matters," she says. The impact of the COVID-19 pandemic has also served as a reminder to her of how crucial it is for lawyers to look after one another.
In this interview, Douvartzidis talks about acting for a Dunghutti elder in her most memorable case, the indignation that keeps her going in law and reflections on life during COVID-19.
What made you choose a career in law, and what's your favourite part of the job?
My mum is an environment and planning lawyer, so I grew up listening to her many tales from her time at the University of Adelaide (without technology, I might add) and then later, working as a lawyer in a male-dominated profession. She encouraged me to consider the law – and, unsurprising to family and friends, it was a classic case of "mother knows best."
What truly drew me to law was the ability to funnel the indignation I felt at 17 years old into something constructive and reasoned. I still carry that same indignation, but a career in law has given me the opportunity to voice that indignation in a constructive way in order to help people and achieve results for clients, and reinforced the need to approach matters in a way that preserves (as much as possible) the principle of equality of arms. Fairness and reasonableness are essential components to any matter, whether it's a corporate transaction, advice or dispute.
The legal community is collegiate in nature and my firm is no exception. I wake up each morning content with the knowledge that I will be learning from brilliant and extremely knowledgeable lawyers, taking on complex and difficult work in the pro bono, environment and planning law and commercial litigation space, and going into bat for our clients – whether that's an ASX-listed company or a Justice Connect pro bono referral. It helps that our firm has a great workplace culture as well. We look after each other.
What is the most memorable case you've taken on/been involved in?
Over the last year, I have been representing a Dunghutti elder in proceedings related to interests in traditional land currently administered and held on trust by a government agency. The case was a pro bono referral from LegalAid NSW and involved court-ordered mediations during the course of last year (while Australia was in and out of lockdown). I've had the opportunity to work alongside the Crown Solicitor's Office, leading law firms, Legal Aid NSW and counsel from leading chambers in Sydney. I would like to acknowledge and pay respect to Tony McAvoy SC in particular for his ongoing contribution and advocacy in this matter.
Building a relationship with my client and their family has been the most rewarding experience of my career so far. We had many yarns over the course of the year, and I have learnt much from her. My client has shown me what it actually means to be an ally, and how best to walk alongside them in furthering and realising the right to self-determination on matters that affect them and their family. To my client (who is waiting to read this) – thank you for supporting me.
What is going on at the firm? Are there any new programs and initiatives that you're particularly interested in?
2021 will be a year of change for Johnson Winter and Slattery. Our current managing partner, Peter Slattery, will retire from the role, with corporate partner Jeremy Davis stepping into the role from 1 July. Meanwhile, our pro bono team will continue our push to consolidate and expand our pro bono practice. We appointed the firm's first pro bono partner, Frances Dreyer (an existing litigation partner) over 12 months ago and have since seen the largest growth of a sector in any single year by a country mile. As pro bono coordinator, I help with the project management and resourcing for the practice as well as taking on case work. This includes keeping up to date with the Justice Connect Pro Bono Portal to find matters that match our lawyers' expertise and corresponding with our firm's lawyers nationwide to allocate work.
2020 has shown us that resilience and wellbeing has never been more important in the legal profession. This remains a key focus for the firm as we continue to prioritise the wellbeing of our whole "team." As I said before, we look after each other. Last year we launched "The Resilience Box" – online resources providing learning modules, counselling and coaching appointments; videos; podcasts, and factsheets – and we are currently rolling out a mental health champions program which involves a number of people being trained as mental health first-aiders.
What has been your proudest accomplishment in the last year or so?
Making Australasian Lawyer's list of Rising Stars for 2021 was one of my proudest achievements. I was one of three at my firm to make the list (here's looking at you, Andrew Pearce and Georgia Marwick). Making the list is a testament to both the consistent and high-quality output of the teams I work with, and ultimately the firm I work for. I was also recently recognised as a finalist for Pro Bono Lawyer of the Year in another awards program. It is encouraging to be recognised for the work we have done in this field to date.
What's the biggest lesson you learned in the past year and what advice can you give fellow lawyers about it?
One of the biggest lessons I learnt over the past year was patience – patience for our clients, patience for our colleagues, and patience with ourselves. When the pandemic hit, we all experienced a change like no other in different and varied ways. In an instant, the proverbial line between home and work blurred and you were invited into each other's private lives. I'm sure I am not alone in experiencing the humbling act of debating tirelessly for your client on a video conference only to have a rubbish truck go past and drown out the sound of anyone speaking. I'm sure egalitarians both rejoiced and lamented the use (and misuse) of the mute button.
I am forever grateful for my team (and in particular Samantha Daly and Angus Hannam) and support network, especially during the pandemic. Whether it was virtual cocktails, walking-and-talking virtual team meetings, puppy show and tell – we supported each other through a very uncertain period and did so with patience and kindness. It of course helped that we continued to win interesting and complex work, keeping us engaged and learning throughout the haziness that was "2020" and "lockdown." Even so, in the quiet moments they were there. My advice is simple – look after the key relationships in your life (both professional and personal). You can't do it alone. Teamwork makes the dream work.
What, in your opinion, were the best ways the legal profession responded to the pandemic?
2020 was the year of extreme episodes – bushfires, continued drought, a pandemic and an economic downturn. All of this exacerbated and exposed existing issues of access to justice, representation and structural inequality. I'm proud of how our profession stepped up to help the broader community (and each other).
The legal profession is made up of many parts – and all stepped up in their role. Overnight the profession was plunged into remote access – IT teams worked around the clock to support lawyers. Litigators had to seamlessly transition to remote e-trials and advocate effectively via a myriad of platforms. Practitioners assisted clients in translating the copious amounts of change to regulations, and the impact it would have on their operations both within Australia and abroad. Firms tightened their purses and reduced or halted equity payments to protect employees as much as possible.
Justice Connect established a dedicated COVID-19 identifier (as it did with the bushfires) to triage and assist those particularly affected by the pandemic. The Law Society of NSW cut fees for the year which assisted businesses and sole practitioners, so they could get on with their work unbridled. Firms flexed out their pro bono offerings. State and federal courts implemented a wide range of changes to adapt to the concept of remote access to justice. Knowledge was shared. Wellbeing resources were widely circulated.
We all have our part to play, and for my part, I'm grateful to my firm for continuing to expand our pro bono practice during this time.
Were there any specific challenges faced by your practice as a result of COVID-19?
As mentioned earlier, the logistics of running a dispute remotely was difficult to grapple with. On any given day, a COVID-19 direction would change – which affected how we worked, whether we could attend the office, not to mention coordinating witnesses, counsel and IT. New complications entered the ring: Is anyone in quarantine or self-isolation? Is that witness' suburb on a hotspot list? Can Law In Order attend that location? What's the latest with electronic signature regs?
The impact of border closures meant that there was no guarantee witnesses and legal practitioners would be permitted to travel when it came to trial – contingency plans became the norm, as did breakout rooms. In the planning and environment space, we had to keep abreast of the various COVID-19 directions and regulatory changes being implemented, in relation to both planning regulations and major projects, to advise clients on how this would impact their projects and industries as a whole.
What makes pro bono services especially important in this day and age?
Access to justice matters. I have no doubt that the need for pro bono lawyers will only increase as we continue to see the fallout from 2020. It was a unique year in many ways, but the need for pro bono lawyers is one ad infinitum. My year as the associate (Tippy in NSW) to the Honourable Chief Justice Chris Kourakis at the Supreme Court of South Australia was a turning point in my career – it crystallised my understanding of what access to justice is, why it matters, and what it actually looks like in practice. I learnt from my time at the courts that a law degree is a privilege, and our role as translators of the law is significant. I walked away with a profound appreciation of the vast impact lawyers can have on the fabric of society.
To the lawyers, support staff, law students (to all people really) reading this, there are always ways to help your community, big and small. From little things big things grow.
What is your outlook on the legal profession for 2021?
If only I had a crystal ball! It feels like the eye of the COVID-19 storm has passed (at least in Australia – touch wood). March 2021 feels very different to March 2020. We no longer have the same degree of uncertainty that we saw last year – phrases like "vaccine rollout" certainly make me hopeful.
I also acknowledge certain events that have been in the spotlight recently in relation to sexual harassment and sexual assault, particularly in the workplace. It has no place in our society, it should not be tolerated, and I look forward to seeing how our profession continues to hold people to account and reform key structural mechanisms in order to stamp out this insidious behaviour. The reforms announced by the Honourable Chief Justice Susan Kiefel is a great example of this.
A silver lining of the pandemic is that we finally saw the widespread adoption of flexible working, which I hope will have long lasting effects. It seems that we unwittingly drew a line in the sand in 2020 – we hear these words "unprecedented" and now "before" and "after." It is by no means the first line drawn in the sand, and I'm sure it won't be the last, but I'm looking forward to seeing the positive changes we've made in this particular "after."