Perth is the new hot spot for this expanding firm.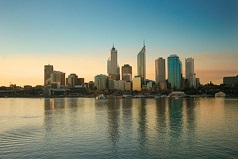 Hall & Wilcox is continuing its expansion with the opening of a new office in Perth yesterday, focussing mainly on the insurance and financial services sectors.
With offices in Melbourne, Newcastle and Sydney, the new Perth office will initially service mainly existing national insurance clients, with the ultimate view to expand the firm's major China practice.
"It's important to have a Perth presence and to be able to service those clients in the west. So that was why we made the decision to open the Perth office," managing partner Tony Macvean told
Australasian Lawyer.
"We're a firm that's on the up and having some success and we think that there are good opportunities for us to grow, including geographically."
Heading up the office will be partners Joel Sheldrick (who joins the firm from
Sparke Helmore
) and Anton Vucak (who joins from Perth firm Jarman McKenna). They are joined by special counsel Stephanie Driscoll, senior associates Rosena De Freitas and Liz Seggie, along with a team of 15 lawyers and support staff.
"The new team builds on an area of strength for the firm. In addition, we broadly see opportunity to grow our Perth presence in commercial areas of practice," Macvean said.
He remained tight-lipped on where the firm will head to in the New Year, but did say he expects further office openings over the next 12-month period.
"The Perth office is part of our longer term strategy and we plan to further strategically grow our national footprint in the New Year.
"It is heavily based on client expectation.
"We're very much focussed on being a national firm of national practices and to be structured and to organise ourselves accordingly."