An Australian lawyer had warned that thousands of Kiwis in Australia risk deportation following the introduction of new immigration laws.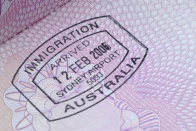 New immigration laws brought into effect back in December mean that anyone who has served a jail sentence of 12 months or more in Australia could be deported.
According to reports by SBS, president of the Australian Lawyers Alliance Greg Barns said about 1500 Kiwis are currently in jail and about 5000 have been in jail over the past decade.
"Certainly, you're looking at the low thousands in terms of the number of people born in New Zealand, who are not citizens, and under this law could be deported back to New Zealand," Barns said in an interview with Radio New Zealand.
"Many of those people have moved on with their lives and become good members of the community, with strong ties to Australia and none to New Zealand."
Around 100 Kiwis have already been sent back to New Zealand, with about 200 currently being held in detention. Hundreds of visas have been cancelled.
"We don't want people who get into trouble, who have a criminal record, and those who fit into that category will have their visas cancelled and sent back to where they came from," Australian senator Ian Macdonald said, saying that New Zealanders can't expect special treatment.
"We love our cousins across the ditch but they must be subject to the same laws as everyone else."
According to reports, foreign minister Murray McCully intends to speak with Aussie foreign minister Julie Bishop while they are both in New York, and New Zealand prime minister John Key has said he will raise the issue with Australian prime minister
Malcolm Turnbull
, but when that will happen is uncertain.