An international firm has announced four new partners including promotions in Sydney and Hong Kong… Singapore expands Criminal Legal Aid Scheme… UK may scrap client accounts… New managing partner at Dentons… Latham & Watkins awarded for being a 'caring company'…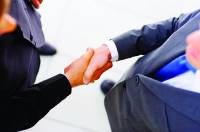 International firm promotes partners in Sydney, Hong Kong
Holman Fenwick Willan has announced four new partners including promotions in Sydney and Hong Kong. The promotions are effective from the start of April. In Sydney Nick Watts becomes a partner in the construction practice with a focus on Australia and Asia. In Hong Kong corporate lawyer Brendan Fyte is promoted to the partnership. Elsewhere, Richard Strub and Geoffrey Conlins are promoted in London and Sao Paulo respectively.
Singapore expands Criminal Legal Aid Scheme
Thirteen law firms in Singapore have agreed to join the Criminal Legal Aid Scheme to help defendants who are unable to afford their legal fees. The scheme already includes a number of individual lawyers but the addition of the law firms will allow the scheme to expand. The scheme is administered by the city-state's Law Society.
UK may scrap client accounts
The UK's law firms may be stopped from handling clients' money in what the chairman of the country's super-regulator calls a 'priority'. Sir Michael Pitt of the Legal Services Board says that it is considering a number of options including the Bar's current Barco escrow system. In his speech to the Modern Law Conference in London he said that in 2013 there were 140 claims of lawyers misusing client funds every month, but the Law Society says that any system that involves the holding of another person's money is open to abuse and has urged a cautious approach to change.
New managing partner at Dentons
Jeremy Cohen has been appointed managing partner for the UK, Middle East and Africa region of Dentons succeeding Matthew Jones whose four-year fixed term ends this Sunday. Cohen has been a partner at the firm for 15 years and has held a number of management roles, currently leading the UKMEA corporate and TMT teams.
Latham & Watkins awarded for being a 'caring company'
The Hong Kong Council of Social Service has recognised international law firm Latham & Watkins for the fifth year in a row. The firm features in the council's 'Caring Companies' awards for its pro-bono and volunteer work as well as its green initiatives, encouraging work-life balance, and programs to promote health and wellbeing.
​