An outspoken law firm consultant has slammed the business model of mid-tier firms, saying lawyers who work in them "make no money"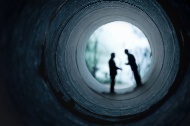 An outspoken law firm consultant has told Australasian Lawyer mid-tier firms can't thrive unless they give their employees a greater stake in their business's fortunes.

"If you want to be incredibly frustrated and make no money, go into a mid-tier firm," consultant Colin Ritchie said.

"Ten partner firms are horrible businesses. If you want to make money out being a lawyer you need to start a small firm like a boutique or you become a partner in a big firm."

Ritchie argued that while small and boutique firms were driven by an entrepreneurial spirit and had the ability to quickly adopt new innovations, and that top-tier firms had well-established and well-run systems in place, mid-tier firms did not have either.

"Small firms are nimble and can take up opportunities very quickly. Like any other small business they may suffer from a lack of resources and a lack of time, but as the person in charge, you're 'it'," Ritchie said.

"You're the CEO, you're the marketer and you're in charge of building client relationships."

Ritchie also believes that in addition to having a much higher personal interest in the firm small firms benefit from the absence of company politics making decision-making easier and plans easier to execute.

Although Ritchie readily concedes there are in fact some very high quality mid-tier law firms, he nevertheless believes they generally all suffer from a lack of personal investment.

"Everything just boils down to having skin in the game. Without it, nothing matters – provided I get my wage, what else matters? If cash-flow is down, what does it matter to me?"

Ritchie welcomed a recent initiative that occurred in the UK where staff at the multi-disciplinary insurance provider Triton Group were given a £500 share package in order to boost their initiative.

However, Ritchie argued that this measure still did not go far enough – the employees should have been made to purchase the shares out of their own pocket just like real outside investors.

Is Colin Ritchie right? Do mid-tier firms suffer because their employees don't have enough at stake? Tell us your thoughts below.