It's important to stand back and concentrate on what really matters, says Katherine Evans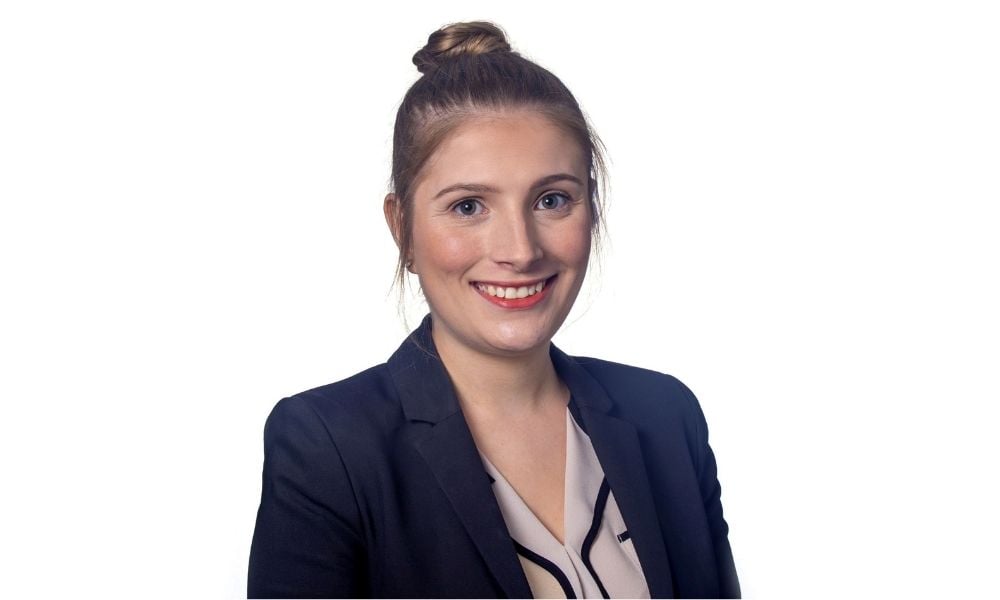 For Katherine Evans, being able to work with people from "all parts of the community" is the best part of being a family lawyer. With family breakdowns affecting everyone regardless of social, cultural or occupational background, this area of law has fascinated her for much of her legal career.
Nonetheless, Evans welcomes the chance to work in other areas of law as well – an opportunity she expects to have in her role as an associate at Eakin McCaffery Cox after making the jump from Gadens alongside partner Paul Lewis.
In this August 2021 interview, Evans talks finding the equilibrium between the pre- and post-pandemic legal industries, maintaining a personal touch in digital interactions with clients and being able to identify what a case is really about.
What made you choose a career in law, and what's your favourite part of the job?
As a young person, I did not possess a driving ambition to pursue a career in the law. Like many students who choose to study law at university, I completed legal studies at school which sparked a curiosity to want to know more. It was in my final years of university and when I gained some experience in the legal field that I saw the practical impact that lawyers make. The realisation of the influence that I could have by advocating for somebody else in need gelled with my personal values and my inclination for problem solving.
My favourite part of the job is working with different people from all parts of the community. Family law is one of a few areas of law where our clients cannot be categorised as being from particular socio-demographic backgrounds. Family breakdown affects people from all social, cultural and occupational backgrounds. It's a fascinating area of law to work in.
What is the most memorable case you've taken on/been involved in?
One of the most memorable cases that I have been involved in was a financial case in the Family Court of Australia [in 2020] that resulted in an award of indemnity costs. Indemnity costs were ordered in a fixed sum at an early stage of the proceedings after a successful application for an urgent Mareva injunction. It was only after reviewing the judgment with my colleague and mentor Paul Lewis that I appreciated the magnitude of the result. Indemnity costs orders are very rare in the family law jurisdiction; our client's case was prepared to maximise the chance of such an order after the respondent's aberrant conduct.
What is going on at the firm? Are there any new programs and initiatives that you're particularly interested in?
In the short time that I have been at Eakin, the firm is expanding across all practice areas. The breadth and depth of experience at the firm is great for clients. The wide range of practice areas is also good for young and intermediate lawyers like me. The combination of the clientele and the professional and friendly approach to day-to-day work among all members of the firm create an enjoyable firm culture where mentoring and career progression occurs in a supportive environment.
What tech-related initiatives adopted by the firm, if any, are you most excited about?
Like many legal firms, we are making the most out of using the latest communication technology to deliver services to clients. The firm is focused on "how" we use the innovation and technology to communicate and work remotely during the pandemic, to deliver the same pre-pandemic client experience.
Family law is a highly relational area of law so an appreciation of how to maintain a strong rapport for existing clients and establish a good rapport with new clients is critical. Traditionally, a strong lawyer-client relationship is built up through what is often called "soft skills." Consider, for example, the intel gained at face-to-face conferences, especially, at the initial conference with a new client, from the whole range of non-verbal communication behaviours and cues, both overt and micro. Shifting client conferences to online meetings does not mean that the non-verbal language, cues and clues disappear, it just means that you have to be more attentive to sensing them as you ask good questions.
In my team, we have focused on how we adapt the soft skills to implement a hybrid communication and rapport building model using technology. For example, through regular use of video conferencing and phone contact as opposed to a solely relying on phone or email communication. The use of online visual communication helps overcome the risk of our clients feeling isolated in their experience of the family law system. For the majority of our clients, it helps them feel connected to their family lawyer.
What's the biggest lesson you learned in the past year and what advice can you give fellow lawyers about it?
One of the important lessons that has been reinforced over the past year is the lesson that lawyers avoid chasing every rabbit down every burrow. Too often I see parties and their legal representatives vigorously pursuing every argument and every issue to the detriment of an early settlement and the client's hip pocket. There is a clear need to discriminate between the issues so as to identify what is important. An interrelated and perennial problem is the over-vigorous ventilation of factual contentions in correspondence, when for the most part, the detail of the factual dispute can be left to the mediation or conciliation conference in financial cases, to the child impact report in parenting cases and otherwise to the final hearing if the case cannot be settled before then.
A family law specialist has to be able to stand back and ask "what is this case really about?" It is tempting to get caught up in the whirlwind of correspondence and court deadlines. By being able to stand back, dissect the matter and focus on what really matters, you can narrow the issues in dispute, and eliminate distractions or obstacles that create impasses.
What should the profession and law firms focus more on?
The importance of mental health of legal professionals has been at the forefront of discussion for many years now. The profession can now focus more on how we create positive work environments to foster good mental health. The trend in employment law to promoting psychologically safe workplaces is a good development because it recognises the need to promote "wanted behaviours'' as well as the need to identify and deter bullying and harassment, as well as other misconduct and unwanted behaviours in the workplace
What are the challenges you expect in your practice, and in the business of law in general, going forward?
The challenge going forward in practice will be finding the new equilibrium in a pre and post pandemic legal industry. In other words, finding the balance between changes that have been implemented to overcome the challenges of the pandemic and the reintroduction of "traditional" practices and processes. A search for equilibrium will require consideration of how the two models interact, and finding the harmony between embracing change to thrive, and recognising the value and history of long-standing practices that have ensured stability and longevity in the practice of law.
Even when the legal landscape stabilises, the flexibility shown by practitioners in recent times will hopefully continue. Modern legal practitioners will need to respond to the needs of clients who have enjoyed the adjustment to the current pandemic business and communication model, and also be able to revert to practice styles for the more traditional oriented clients.
What are you looking forward to the most in the coming year?
I am looking forward to settling in to my new role at Eakin, being able to go into the office and get to know my new colleagues in person. For the first time in my career, I also have the opportunity of practising in other areas of law and I am looking forward to those experiences as they arrive.