Persephone Forster credits her mentors for getting her where she is today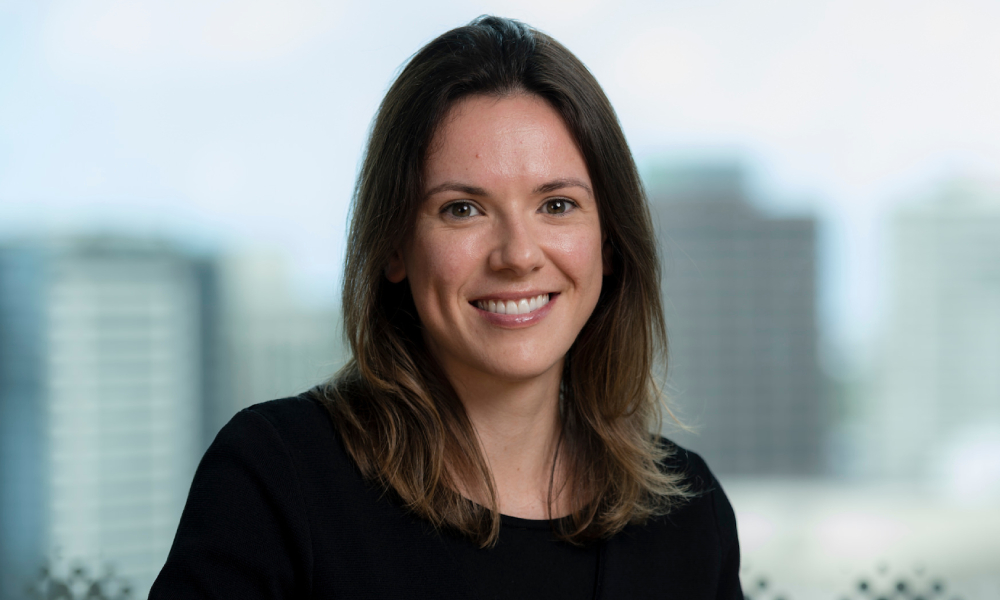 Persephone Forster believes that good working relationships are "close to everything in law." The newly appointed special counsel at Kennedys' Sydney office, who was part of the biggest promotions round in the firm's Australian arm, credits the people who took the time to mentor her with getting her to where she is today.
Thus, she calls for law firms to actively ensure that senior lawyers are taking junior lawyers under their wings – not just for the mentee's benefit, but also for the mentor's, as Forster has found that mentoring can improve an experienced lawyer's own practice.
In this interview, Forster also talks about overcoming fears about her capabilities while pursuing law, her proudest day as a lawyer, Kennedys's career development programs, Zoom overload and her eagerness to participate in long-distance running events.
What made you choose a career in law?
I've always been curious about justice, law and order. I love argument and language, and I was fortunate to have the opportunity to study. But the greatest driver for me was fear that I couldn't be a lawyer: not smart enough, not persuasive enough, not the right "type." There's a quote by Eleanor Roosevelt, "You must do the thing you think you cannot do." So I wanted to overcome those doubts because I knew I would find it hugely rewarding.
What do you love most about your job?
My job is exhilarating. Problems land in front of me every day and I get a thrill from finding solutions and "ways out." Sometimes there are really special opportunities that test my skills whilst putting them to the best use; last year, I was fortunate to be part of the legal team that represented the National Aboriginal and Torres Strait Islander Health Worker Association in the 4 yearly review of modern awards before the Fair Work Commission. That decision, handed down in July 2020, resulted in Aboriginal and Torres Strait Islander health workers being recognised for the very first time as a profession in private practice within our industrial relations framework. It was one of my proudest days as a lawyer.
What is going on at the firm? Are there any new programs and initiatives that you're particularly interested in?
This year I was honoured to be part of the largest group of internal promotions in our Australian team. Kennedys values leadership at each level, and it's encouraging to see that COVID-19 hasn't slowed the firm's dedication to advancing the next generation of leaders, especially through its global professional development programs.
I completed the Future Leaders program when I was a senior associate, which set me up for my promotion to special counsel. There is a course for partnership candidates, called Step Up, and new partner induction training starts in November. We've also expanded our associates program, and a month ago, our virtual work experience program for students considering a career in law was rolled out worldwide and has more than 2,500 enrolments, including a few of our office assistants in Australia.
These programs not only provide a clear pathway to progress our careers, we get the added benefit of connecting with peers around the world.
What's the biggest lesson you learned in the past year and what advice can you give fellow lawyers about it?
The last year has reaffirmed to me that good working relationships are (close to) everything in law. It doesn't matter who you are interacting with, the better your relationships with those you're working with, the better the outcome and the easier the process. My advice to fellow lawyers is to nurture relationships – especially the ones that are rewarding and personally valuable.
What should the profession and law firms focus more on?
Law firms need to make a concerted and dedicated effort to ensure that senior lawyers effectively mentor junior lawyers. Formal training only takes a lawyer so far. For junior lawyers, mentoring by an experienced practitioner helps them gain insights and perspective they may not conceive of themselves. Perhaps what is less well appreciated, but equally valuable, are the benefits to the mentor. I have found that sharing or showing a junior colleague how or why you do what you do, reflecting on another's situation, genuinely improves your own practice. And I wouldn't be where I am today without the support of certain people who invested their time in mentoring me.
What are the challenges you expect in your practice, and in the business of law in general, going forward? What challenges are particularly pressing in the country's legal industry?
I think everyone is struggling with connectivity. The pandemic will have lasting effects on how we interact with our colleagues and clients. My focus has been ensuring that junior lawyers and new recruits are being shown how to operate and that their development is supported properly as it looks like we will be working from home to some degree for an extended period.
In terms of client connectivity, I get the sense that some clients have had "Zoom overload"; they have seen enough lounge rooms! I like picking up the phone, keeping the respectable pre-COVID distance and having a chat while maintaining some privacy and work/life separation for all.
What are you looking forward to the most in the coming year?
I'm looking forward to getting on with new "normal" post-pandemic life. Professionally, I hope that means the continued adoption and enhancement of electronic court processes and flexible business practice so we can work remotely more efficiently and have greater control over how and when we work. On a personal level, I'm looking forward to being able to compete in some long distance running events and visiting family and friends outside of New South Wales. I'm sure many of us are.