Anna Sutherland works towards delivering client services efficiently—virtually and otherwise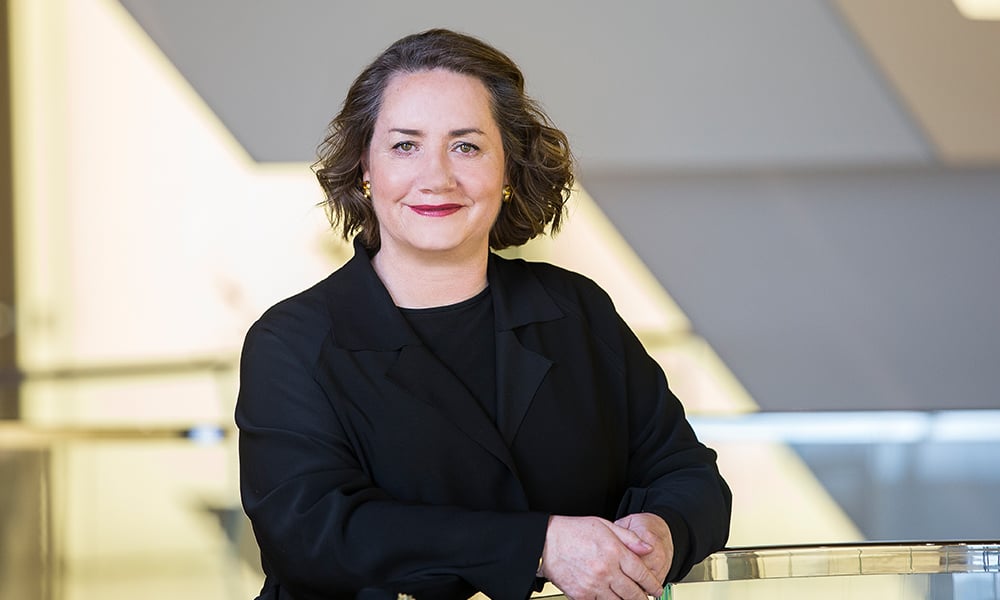 Anna Sutherland had a later start than many in law, only beginning her journey at 25. But she has nurtured a lifelong love for the profession, coming from a family with several barristers and lawyers.
Today, she is the newly appointed joint managing partner of Herbert Smith Freehills's (HSF) global disputes practice. While the COVID-19 pandemic has caused changes in work operations, she is embracing innovation and the use of technology to facilitate connections with colleagues and clients, driving efficient service for clients.
In this interview, Sutherland talks the launch of the firm's digital law group, avoiding a "top down" culture within HSF and the importance of advising clients in accordance with their best interests—even when it doesn't align with one's own.
What made you choose a career in law?
I enjoyed reading a lot and had a number of barristers and lawyers in the family. I think I really fell into it through familiarity once I had my European working stint out of my system, so I didn't start law until I was 25. But I loved it from the start.
What do you love most about your job?
Two things: solving problems with clients and meeting and developing young talent in our firm.
What is going on at the firm? Are there any new programs and initiatives that you're particularly interested in?
We have recently had a new CEO appointed—Justin D'Agostino—and we are very excited about the fresh opportunities this will bring. Justin has a leading international arbitration practice and is a recognised champion of diversity; he is influencing our path to increased inclusion, flexibility and innovation.
The new initiatives include ensuring we have structures in place to get input from our people about our strategy—to open up the dialogue to our team so that we are hearing the great ideas our people have and avoiding a "top down" culture. I'm very interested in the new technologies we are developing in the legal industry to support our clients, and look forward to simplification wherever that is possible.
What has been your proudest accomplishment in the last year or so?
My proudest accomplishment has been the appointment to the global role of joint managing partner of disputes with Damien Byrne-Hill in our London office.
What's the biggest lesson you learned in the past year and what advice can you give fellow lawyers about it?
The biggest lesson I've learned in the past year is to back yourself—it is hard to see what you're capable of if you haven't really taken the stride. You can be genuinely surprised at what you can achieve if you see opportunities rather than fences—it is worth taking the risk of failing because you always learn a lot on the journey regardless of the outcome.
What should the profession and law firms focus more on?
The profession needs to focus on the benefits a lawyer can bring to a client's transactional, regulatory and risk issues. We are not just facilitators of transactions—our professional and ethical obligations give us the platform to view the issue with some independence and really advise our clients on what is in their best interests, even if those do not accord with our own interests.
Law firms of course need to focus more on innovations which can ease the transmission of our legal services to clients. At HSF, we have taken great strides in that journey, with the increasing utilisation and growth of our alternative legal services (ALT) practice and the recent launch of our digital law group. But we all have a long way to go in making the advice we give more user-friendly and its delivery more efficient. Getting this right will drive efficiency for clients—not just in monetary terms, but also in terms of time savings. Lawyers who empathise with clients around these needs will thrive.
What are the challenges you expect in your practice, and in the business of law in general, going forward? What challenges are particularly pressing in the country's legal industry?
The legal industry will need to embrace the dual challenge of meeting the needs of our people for flexible work arrangements and sustainable work practices which allow them to develop their careers. At the same time, firms need to increase the efficiency around the delivery of our work.
These two imperatives can align, but innovation in how we deliver our services will be necessary and is expected from clients.
What has been the biggest challenge you and your practice has faced amid the pandemic?
The biggest challenge we have faced with the pandemic was making sure we are staying really connected with our people and with our clients—it is particularly hard for our new graduates to start work in a virtual environment, but they have done a fabulous job of coming up with creative ways of staying in touch and putting their hands up for all sorts of work and opportunities.
It has in some ways been a more connected time—because we can quickly Skype or Zoom people and have a lot of us in a room at once at short notice, so there have been some real benefits once we got used to the different way of connecting. There's no denying though, that the isolation for some has been a really challenging environment and we are hoping that as restrictions relax a little, people can get back into the office if that is their preference and meet face to face.
I've been into the office a few days over the last few weeks and I have to say it has been fantastic seeing colleagues in person and having a coffee together. My practice has continued as I've been able to engage with clients through all the different technologies, and I have a great team of people who are committed to ensuring we are delivering on our client's work regardless of the new environment. It has been great to see how creative and positive the team has been.
What are you looking forward to the most in the coming year?
I am really looking forward to meeting with clients virtually and in person and getting to know the problems they are facing in these challenging times. It is incredibly satisfying to have our team work with our client's team to craft a solution to some of their most difficult issues and at the same time learn a lot and develop lasting relationships.
I'm also looking forward to getting to know partners and our people in our other offices—particularly our colleagues in Asia, and finding out about the exciting opportunities that come with being part of a genuinely global practice.