It's been six months since typhoon Haiyan, the most powerful on record, devastated the Philippines and killed thousands – Australasian Lawyer speaks to a partner on our Hot List who made a climb of Everest proportions to support an end to poverty there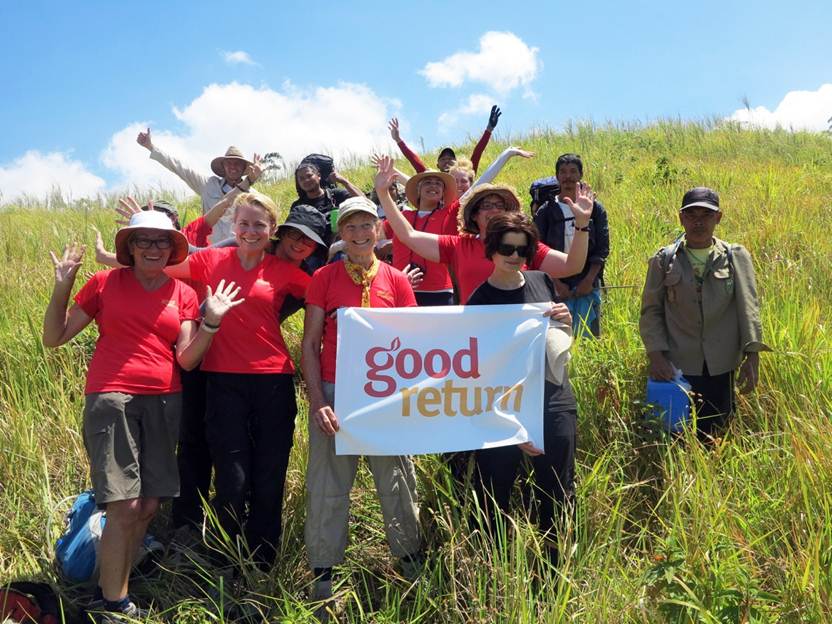 When Clayton Utz partner Francesca Rush reached the foot of Mt Madja-as in the Philippines, she was told by her guide to prepare herself: over the next four days she would be making a trek comparable to ascending Mt Everest.
Rush and her colleague - Sydney corporate partner Kate Jordan - are both lawyers on
Australasian Lawyer's
Hot List, and in part that's down to their journey of epic proportions that saw them raise over $17,000 for Australian microfinance and educational charity Good Return.
When she signed up to be part of the team of Good Return supporters that were to conquer Mt Madja-as, the highest mountain on the island of Panay in the Philippines, Rush says she had no idea what she was in for. As it turned out, the climb was graded a similar difficulty level to that of Mt Everest.
"You could never have done enough preparation. No-one had been on the trail since typhoon Haiyan, so it was uncleared," she tells
Australasian Lawyer
six months on from the typhoon. "Even our most illustrious gentleman of the group who was a Duke of Edinburgh trainer said it was at the edges of his limits."
The group of 11 (all women with the exception of the gentleman, fondly referred to as "Sir Richard") along with 23 "amazing" helpers, spent four days battling elements that included gale force winds and treacherous tropical jungles.
In fact, the climb very nearly took Rush's life.
Several times she was on the verge of toppling down the side of a deep ravine, only to feel the firm hands of the intuitive helpers pulling her upright at the lights-out moment.
"In a lot of the hardest terrain we were actually sitting down and pulling ourselves along," she said. "But having done a lot of fundraising it did spur us to keep going. Our partners here had looked at us and thought we were the most unlikely women to walk up the mountain and so gave very generously."
During the descent from the mountain on the final day, the group who by now had coined themselves "Sir Richard and the Good Returns", tried their hand at karaoke, singing numbers including,
Climb Every Mountain
and
Ain't No Mountain High Enough
.
"It sounds really daggy - and it was," laughs Rush.
Upon reaching small villages at the base of the mountain and after such a uniting and overwhelming experience, most of the group decided to give the clothes off their backs to the people they encountered.
Such equipment proved to be gold to these residents of rough terrain, many of whom live in poverty.
Rush quickly gave her boots away.
The remainder of the 10-day trip was spent visiting local communities and spending time with the women working with Good Return's partner, The Saint Elizabeth Community Development Program (SECDEP) in the provinces of Iloilo and Antique.
The organisation provides loans to its more than 8000 members, 99% of which are women, to aid them in engaging in retailing, farming and small scale trading activity.
Good Return provides training to SEPDEC members in the areas of sustainable agriculture and financial management.
"The clients of SECDEP were so inspirational because they had very little but were so loving and unselfish," says Rush. "Many of the loans that were offered by SECDEP to the clients were used for education for the children – these women were so committed to make a difference in their children's lives, rather than their own."
Towards the end of the trip all the members of Sir Richard and the Good Returns pooled together their spare change to purchase something for the special people they'd met along the way.
The modest amount, probably close to $600, was enough to buy a wheelchair, repair a damaged house, and build a meeting room for a community group.
"It's unfathomable that such a small amount of money can go such a long way. I think that's what most of us appreciated about [the trip]. It's really changed a lot of our lives," says Rush.
She's now settled back into her normal life in Australia, but is eager to do something similar again in the future if the opportunity arises.
And apart from scaling the odd Mt Everest-type mountain and being a partner at a busy top law firm, Rush is a classical ballet dancer in her spare time.
She's also a self-confessed shopaholic, and more recently has been dabbling in a sudden interest in interior design.
At Clayton Utz, Rush has just been appointed the national practice group leader for banking and financial services.
She puts her successful career down to being authentic.
"I always try to ensure that what my clients want to achieve is my focus as well," Rush says. "I like my clients as people and I like my colleagues. For me that's the most important thing and I remind myself of that all the time. That's the approach I try to make sure my team delivers."