The firm sent two partners and senior manager to accompany the UK government delegation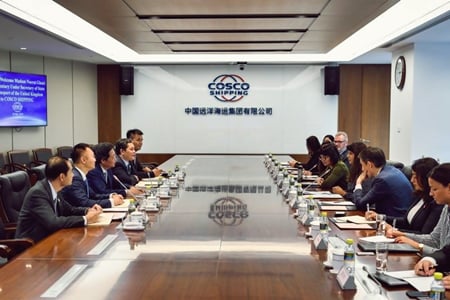 Three senior HFW staff were part of the UK's official delegation in a recent visit to China.
HFW partners Nick Poynder and Stephen Marais, as well as senior manager Jenny Chester, accompanied UK Minister for Shipping, Nusrat Ghani MP, on her official visit to the Shanghai headquarters of state-owned shipping and logistics giant China Ocean Shipping Company (COSCO) on 30 May.
The delegation also included senior officials from the UK Department for Transport, the UK Department for International Trade, and the British Consulate General.
"We are honoured to have accompanied Ms Ghani MP on this important visit and would like to thank Capt. Xu Lirong and the rest of the COSCO team for their warm welcome. The UK and China are two of the world's most important centres for the shipping and maritime industry, and the already strong ties between the countries are only likely to increase in light of Brexit. It's an incredibly exciting time to be part of such a thriving sector," Marais said.
The delegation met with Xu, COSCO chairman, as well as maritime professors and the heads of the company's strategy and corporate management, operating management, capital operation management, and public divisions.
One of HFW's core industry groups is shipping. HFW has more than 200 shipping lawyers and 13 master mariners spread across 18 of the firm's offices around the world.
In Shanghai, the firm entered into a formal association with law firm Wintell & Co in 2016.