The firm is optimistic on Australia's economic outlook for 2017 because of these factors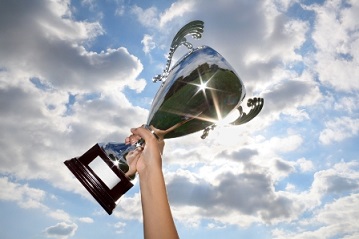 Baker McKenzie
is optimistic on Australia's economic outlook for 2017 as it topped equity capital market league tables in the country for 2016.
Speaking to
Australasian Lawyer
, Craig Andrade, the firm's head of equity capital markets said: "After a slight slowdown towards the back half of 2016 due to political uncertainty in several markets, and despite relatively weak commodity prices, Australia's economic outlook remains positive."
Andrade said that several factors lead the firm to be optimistic about Australia's prospect for the year despite some challenges ahead.
"A strong labour market, improved competitiveness and a rise in residential construction should drive reasonable GDP growth. Weaker commodity prices will create some drag on M&A and IPO activity, but the strength of the non-commodity economy should outweigh this," Andrade said. "The new Trump administration and its first 100 days will be critical litmus tests for several financial markets, so subject to no external shocks from the US political landscape we remain optimistic about the outlook for 2017."
According to capital markets league tables published by Thomson Reuters, Baker McKenzie advised on more lead manager side ECM deals than any other firm in Australia with 13 deals. It tied at first place with
Herbert Smith Freehills
on the issuer side with 15 deals.
The development was welcomed by the global firm, which placed third in the 2015 league tables for manager legal advisors. Last year, it was sixth on the issuer side league tables.
"This is a fantastic result which caps off a very busy year for our ECM team," Andrade said. "We've bolstered our team with the hire of exceptional new talent to support our existing deep bench and our clients have responded very positively."
On the lead manager side, Herbert Smith Freehills took second, same as 2015, with 10 deals. Gilbert + Tobin and
Clayton Utz
placed third with nine deals apiece. Gilbert + Tobin is down from being first in 2015. Completing the top five is Allen & Overy, a spot higher than its showing the previous year, with eight deals.
Meanwhile, on the issuer side,
DLA Piper
took third, up from eight the previous year, with 11 deals.
Ashurst
came fourth, a massive improvement from its 13th place in 2015, with nine deals. Clayton Utz ranked fifth, up from 7th the previous year, with eight deals.
Recent roles taken on by Baker McKenzie include advising JP Morgan and UBS as joint lead managers on the $494 entitlement offer by Qube Holdings to fun Qube's participation in the c. $9 billion takeover of Asciano.
The firm also advised Elanor Investors Group on the IPO of the Elanor Retail Property Fund, APN News & Media on their $273 million jumbo offer to fund their acquisition of Adshel, along with APN's previous $180 million entitlement offer and demerger and NZX listing of NZME.
The full league tables can be seen below: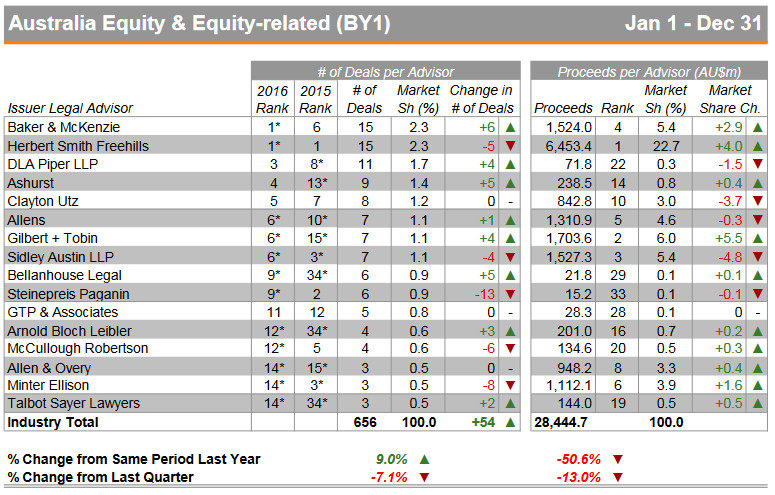 Source: Thomson Reuters
Source: Thomson Reuters
Related stories:
Here are the 15 firms with the biggest deal values in Australasia for 2016
Law firm tops M&A table with deals worth $51 billion
Lone non-US headquartered firm in Q4 Global M&A League Tables top 10