Caitlyn Read wants her peers to concentrate on identifying their personal style and voice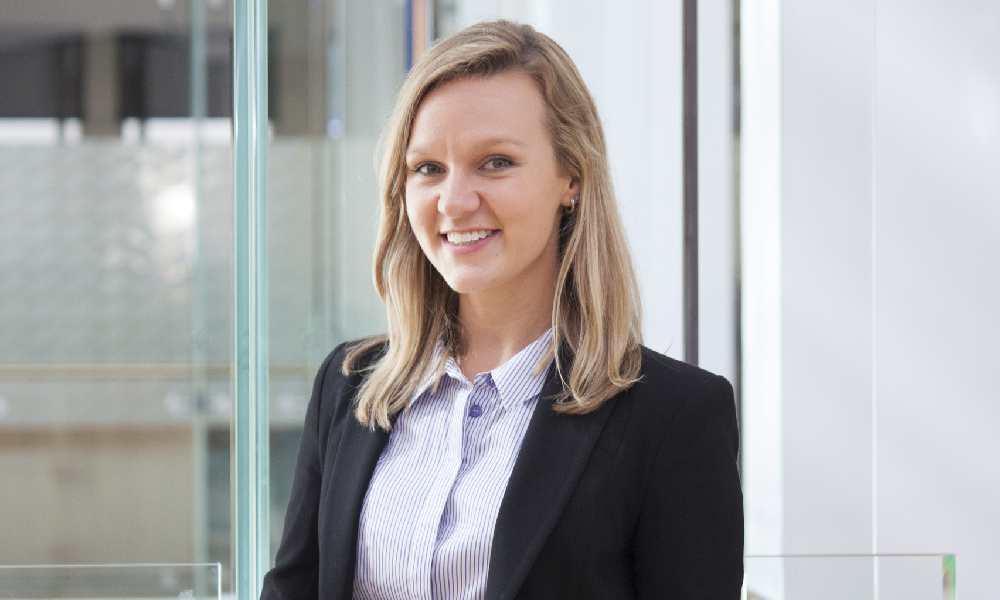 Caitlyn Read sought a career path that would challenge her and provide learning opportunities while giving her a way to strengthen and pursue her passion for social justice – and law fit the bill perfectly.
Today, as a lawyer as top firm Ashurst, she champions the firm's diversity and inclusion projects, especially those that support and empower women in the firm. An important lesson she has learned through her involvement, she said, is that effectiveness comes through authenticity.
In this interview, Read talks pro bono work, collaborating with mentors on the team, finding one's personal voice, the value of focusing on diversity to offer different experiences and perspectives to clients and how universities can improve on legal education.
What made you choose a career in law?
I wanted a career where I would be challenged, have the opportunity to continue to learn and with good prospects for progression – law seemed like the perfect fit. I am also passionate about social justice and saw a legal education as a great way to better inform myself about social justice issues and eventually be able to give back through pro bono work.
What do you love most about your job?
At the risk of this sounding cheesy, definitely the people. I love working with a team of smart, driven and friendly people. I enjoy my job the most when I'm working with others to solve issues and feel privileged to be able to learn and grow by working closely with mentors in the team.
What is going on at the firm? Are there any new programs and initiatives that you're particularly interested in?
I'm passionate about (and proud of) Ashurst's diversity and inclusion initiatives. Ashurst has a number of specific diversity "focus strands" which support the overall goal of building a more inclusive work culture. In particular, I am interested in Ashurst's Women's Network initiatives – I am a member of the Sydney Women's Initiative for Mentoring mentee committee and really enjoy working with the committee to help organise and promote events and facilitate networks to support women at the firm.
What's the biggest lesson you learned in the past year and what advice can you give fellow lawyers about it?
Last year, I attended a Women Lawyers Association of NSW workshop hosted at Ashurst, which provided training to help empower women's voices and increase influence through connection and engagement. The biggest lesson I learned from this session is that in terms of leading discussions in meetings and raising issues, it's not just about "speaking up" – but rather, to be effective, you need to find and have confidence in your authentic voice.
The advice I would give to fellow lawyers is to stop trying to emulate the way others speak or interact and instead focus on finding your personal style and voice because this is the best way to engage with others in an authentic way, gain more confidence and be heard.
What should the profession and law firms focus more on?
I think some firms, including Ashurst, already do this really well, but throughout the profession I think an increased focus on diversity would be hugely beneficial. Providing opportunities for people to succeed regardless of their background or personal circumstances will not only allow lawyers to thrive in the workplace but will also give clients the benefit of well-rounded advice presented by lawyers with a mix of experiences and perspectives.
What are the challenges you expect in your practice, and in the business of law in general, going forward? What challenges are particularly pressing in the country's legal industry?
I think that developing and supporting the next generation of lawyers is an ongoing challenge in the legal industry. Regardless of whether you get your start in a BigLaw firm, a smaller practice, government – wherever your first big opportunity may be – the first couple of years of training are so formative. As technology advances, client demands change and the way we work shifts, I think it's imperative for more experienced lawyers to not only adapt themselves but to make sure they support and provide opportunities to junior lawyers so that junior lawyers are equipped to handle the ever-changing legal industry.
In this respect, I think it's also important for universities to adapt and look for ways to improve legal education and training so graduates can put their best foot forward when they enter the workforce. For example, the University of Newcastle model of providing opportunities for law students to volunteer at the University of Newcastle Legal Centre to build their practical skills before they even graduate is a valuable and innovative way to ensure law students enter the legal industry with the skills they need to succeed.
What are you looking forward to the most in the coming year?
A close friend of mine who lives overseas is planning her wedding to be held in Europe and, government restrictions permitting, I can't wait to travel with friends and celebrate her special day!