Olivia Puchalski encourages lawyers to find an outlet to help them deal with COVID-19's challenges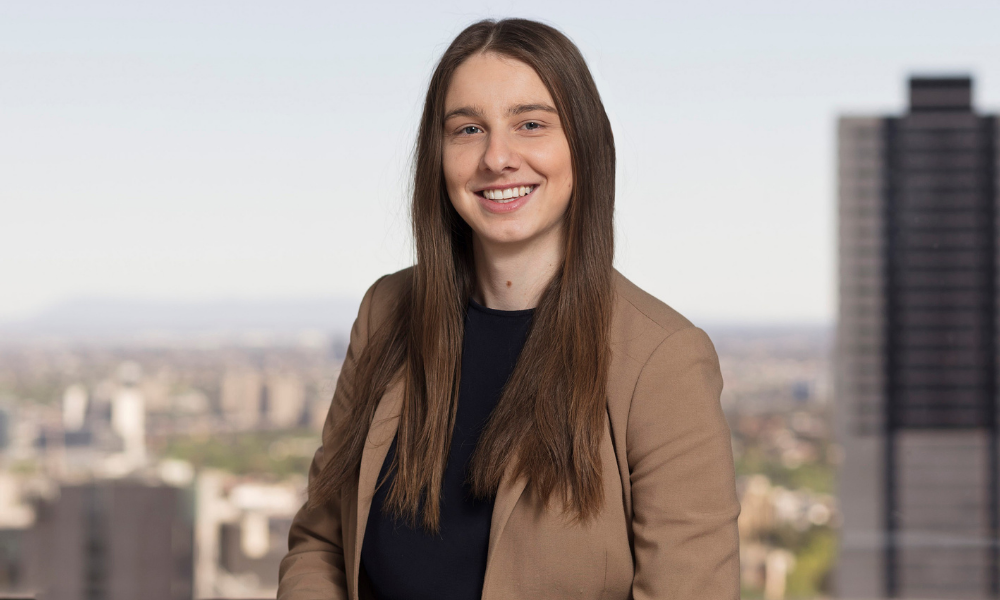 Olivia Puchalski describes herself as someone who has "always had a thirst for justice." Since beginning her legal career, this passion has translated into a strong advocacy for pro bono work, which she believes "provides an opportunity of hope for the community to access justice."
Lockdown certainly wasn't an idle time for this budding indie-pop musician, who has two singles under her belt. In addition to her role as an associate at Clyde & Co, Puchalski has also been appointed coordinator of the firm's growing pro bono practice in Melbourne. Moreover, she champions LGBT+ issues through her activity in the firm's LGBT+ and Allies Employee Network Group.
In this August interview, Puchalski discusses her first exposure to large-scale litigation, how music has been her outlet to deal with COVID-19's challenges and the importance of a supportive environment to junior lawyers.
What made you choose a career in law, and what's your favourite part of the job?
I've always had a thirst for justice in me but never quite knew how to translate that into a career pathway. I began my undergraduate studies with an open mind, and it wasn't until I did a double major in Criminology and International Studies that I seriously considered a career in law. Studying law then felt like a natural pathway for me; I will admit though that I also secretly enjoy watching the odd legal drama in the background as well!
My favourite part of the job is the people I get to work with every day. A career in the law can be challenging and demanding, especially for a junior lawyer, so the people around you can really shape the way you develop and view the industry. I have been a part of Clyde & Co since the beginning of 2017 and have always felt so supported and encouraged with everything I do, even in non-law related matters.
What is the most memorable case you've taken on/been involved in?
Since early 2017, I have been involved in an environmental class action representing commercial fishermen for loss and damage which was alleged to have arisen from the contamination of a port expansion project conducted negligently. This case is my first exposure to large-scale litigation.
I have even been fortunate enough to meet some of the class members in person when I travelled to Gladstone to conduct witness interviews. This has definitely been a fantastic learning opportunity for me.
What is going on at the firm? Are there any new programs and initiatives that you're particularly interested in?
Although the firm is operating more remotely now, it is still focused on providing opportunities for its staff. For the last seven months I have been acting as the pro bono coordinator for our Melbourne office. I have really enjoyed seeing this part of our practice grow and to see more and more lawyers getting involved in the program as well.
It's a great example of how Clyde & Co can apply their expertise to assist those who may not be in a position to otherwise access legal assistance themselves. This is definitely a huge driver for my involvement in pro bono matters, and also part of the reason why I wanted to become a lawyer. So it's great to be able to contribute in this way back to the community.
I have also recently become involved in Pryde & Co, which is the LGBT+ and Allies Employee Network Group for Clyde & Co, and I really look forward to assisting to raise awareness and education on LGBT+ issues throughout the firm.
What has been your proudest accomplishment in the last year or so? What advice can you give fellow lawyers about it?
On a very non-related law matter, I am also an aspiring musician, and so earlier this year I was very fortunate to be able to launch and release two singles from my new indie-pop music project called LIVSKA. I spent much of 2020 writing and working with a music producer, even conducting online remote sessions during Melbourne's hard lockdown last year, so that I could be in the position that I am in now. In and amongst the Melbourne lockdowns this year, I also managed to play a few live shows which has just made it all worth it. I am definitely very grateful to have had those experiences in this current precarious climate.
The last year has been full of many ups and downs, and COVID-19 has affected people in so many different ways. But music has really provided me with a mechanism to overcome some of those challenges. I really encourage people to find their equivalent outlets because I think it's just so important to keep a balance and look after your mental health, now more than ever.
What should the profession and law firms focus more on?
As a strong advocate of pro bono work, it would be great to see more lawyers giving back to their community. There is no shortage of need for legal services, but unfortunately the high costs of these services can create barriers that are far beyond the reach of many. Pro bono work provides an opportunity of hope for the community to access justice, where even the smallest of matters can really have a large impact on an individual. I have witnessed this firsthand.
What are the challenges you expect in your practice, and in the business of law in general, going forward? What challenges are particularly pressing in the country's legal industry?
It is no secret that the impact of COVID-19 has sparked almost a remote working revolution, where many businesses have had to adapt to remote-work technology solutions in order to maintain a business in this current climate. This is no different within the legal sector. Law firms have been forced to embrace technology and find new innovative ways to enable and empower their employees to work remotely and efficiently whilst also avoiding business service interruptions to their clients.
However, as the industry continues to grapple with lockdowns and restrictions, I think it is extremely important that businesses continue to not only stay up to date with technological solutions but also continue to offer support to keep their employees healthy and productive. For example, I am already beginning to see more firms accommodate more flexible working hours, so I hope this continues to carry across the industry.
What are you looking forward to the most in the coming year?
Later this year, I'm planning to release my third single Relic, which I hope I can celebrate with a launch show in Melbourne pending restrictions. I hope to also record a video clip for my second single which was interrupted by the current lockdown. I know at the moment it can feel almost impossible to plan anything too far ahead, but I still think it's important to have things to look forward to because it helps to keep you going.