A frequent criticism of new firms is that "they're the same people, just under different brands", but managing partners warn that this description strikes a little too close to home in Brisbane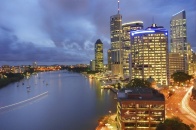 Recent times in Brisbane have seen a plethora of new office openings and firm mergers, but local firms warn that the city's legal industry isn't changing as rapidly as outsiders might think.
Law firm manoeuvrings in the city have been likened by local managing partners to a chess board, one in which one piece (or brand) replaces another, rather than spawning new players.
An anecdotal poll of Brisbane's stalwart locals finds that, despite the raft of reshuffling that has occurred in the legal industry, the competition remains much the same.
"Many of the new entrants have taken over or merged with longstanding Brisbane firms, so whilst the landscape is changing with new brands emerging, it is still essentially the same people just operating under different brands," says
Carter Newell
partner Paul Hopkins.
"There is certainly more competition there, but at this stage we are not necessarily seeing it," says
Cooper Grace Ward
managing partner Chris Ward. "We are watching it closely, but our main competitors are the same firms we have been competing with for a number of years."
Likewise HopgoodGanim corporate partner Nicole Radice, who says the firm has not seen many new players enter the tender processes in which the firm is regularly involved. "I don't think it has really changed things for us – our key competitors are the same."
This reality may reflect the fact that new Brisbane legal brands have followed their existing clients and work – such as the insurers and the banks – who are demanding Eastern Seaboard coverage. International brands, likewise, are targeting high-end cross-border work.
However, the rise of new brands has not gone completely unnoticed: local firms note that some players are gaining local clients thanks to new international branding and global footprints. K&L Gates' Brisbane office is a case in point. Once Flower and Hart Lawyers, it first merged with Middletons, before again being rebadged as part of K&L Gates.
Most of Brisbane's independent local firms remain proud of their 'parochial' roots, a characteristic of clients in the market that makes it harder for newcomers to make inroads, apparently. "We know Queensland very well, and it might sound parochial but Brisbane has a fair bit of relationship about it," says Ward. "It is still growing into a thriving metropolis like Melbourne or Sydney, so at it has a very different feel about it."
Hopkins agrees. "There is still a strong parochial client base that does like to deal with firms that are locally owned; there are a lot of listed companies and successful private companies with a $300m plus turnover that are local players and like to deal with local firms."
This means local firms see relationships as paramount. "From our perspective we have always worked towards building loyal client relationships. While we can't be complacent, we work very hard at it, and I think that it is a big thing in Queensland," says Radice.