Judiciary Committee accuses Trump of abusing his power and obstructing the US Congress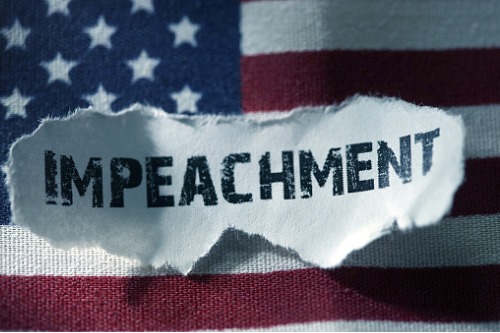 Democratic leaders of the US House of Representatives on Tuesday formally called on President Donald Trump to be impeached, saying he "will remain a threat to national security and the [US] Constitution if allowed to remain in office."
In a nine-page document, the House Judiciary Committee unveiled two articles of impeachment, alleging Trump abused his power and obstructed the US Congress. The articles also go to the heart of the separation of powers of the branches of government, while avoiding charging Trump with obstruction of justice stemming from the investigation of Russia's influence on the 2016 US presidential elections.
"We must be clear: no one, not even the president, is above the law," said Rep. Jerrold Nadler, who chairs the committee.
Calling the impeachment charges "not even a crime," Trump slammed the Democratic Party in a campaign rally in Pennsylvania on Tuesday night. He also called the impeachment proceedings "impeachment lite."
"There are no crimes. They're impeaching me, and there are no crimes," he said. "This has to be a first in history."
The committee said Trump abused his power when he asked Ukraine to publicly announce investigations, which would benefit his re-election and harm the campaign of a political opponent in the 2020 US presidential elections, as a condition for the release of official US government acts of significant value.
Trump had ordered the suspension of US$391m in military and security assistance that was appropriated by the US Congress on a bipartisan basis and was intended to help Ukraine in its fight against Russia. He later released the aid when his actions were revealed, the articles said, but he still persisted in asking Ukraine for the investigations.
In engaging in the alleged scheme "for corrupt purposes in pursuit of personal political benefit," Trump "used the powers of the presidency in a manner that compromised the national security of the United States and undermined the integrity of the United States democratic process," the articles said, thus "injuring the interests" of the US.
Trump allegedly obstructed the House when he stopped its "sole power of impeachment" by directing "the unprecedented, categorical, and indiscriminate defiance of subpoenas."
The committee said that Trump abused the powers of the presidency "in a manner offensive to and subversive of" the US constitution by directing executive-branch agencies, offices, and officials to not comply with House subpoenas "without lawful cause or excuse."
"President Trump thus interposed the powers of the Presidency against the lawful subpoenas of the House of Representatives, and assumed to himself functions and judgments necessary to the exercise of the 'sole power of impeachment' vested by the Constitution in the House of Representatives," the committee said.
Through his actions, Trump "sought to arrogate to himself the right to determine the propriety, scope, and nature of an impeachment inquiry into his own conduct, as well as the unilateral prerogative to deny any and all information to the House" in its exercise of its sole power of impeachment, the committee said.