Jump to winners | Jump to methodology | View PDF
AUSTRALIA'S BEST BOUTIQUES
Last year will go down in history as one that kickstarted major changes everywhere – across the globe, across economies, across industries. The legal profession was not spared as the COVID-19 pandemic forced significant alterations to operations and affected lawyers' workloads in various ways.
Early last year, large law firms like Clayton Utz, Ashurst and Norton Rose Fulbright implemented cost-cutting measures such as pay cuts, hiring freezes and furloughs as they steeled themselves for the financial impact of the pandemic. Other firms struggled to implement remote work arrangements quickly and effectively.
However, boutique firms that had prepared for the future were able to make the shift quickly, as they already had in place the systems and technology needed for lawyers to work at home. Some were even able to use the pandemic to inform their areas of practice and bolster their expertise in fields like employment, WHS and tax law.
"Being smaller and more agile firms, boutique law firms are more well placed to move with shifting resources and managing budgets according to the socioeconomic climate," says Zile Yu, managing partner at dispute resolution specialist boutique firm Quantum Law.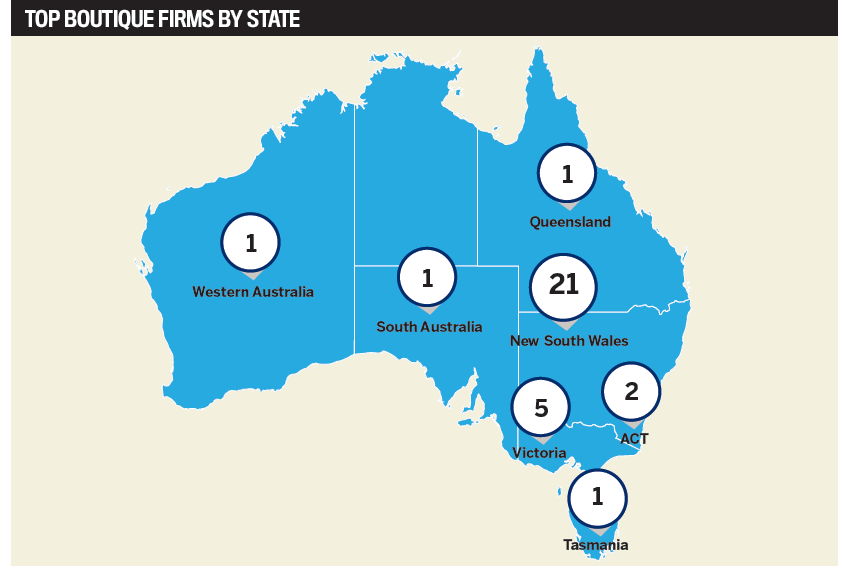 Providing timely resources
"The past year has been a very uncertain time for business and individual clients, and we have seen the shift from high-volume transactions, which are popular when the markets are bullish, to risk-mitigation matters when markets are uncertain and wavering," Yu says.
According to Yu, Quantum Law's client base sought advice on a variety of disputes related to COVID-19, such as leasing disputes and debt recovery, at the onset of the pandemic. The firm also found itself fielding matters related to criminal and family law as a result of societal problems fuelled by circumstances related to the pandemic.
"A large part of the pandemic-generated client base remains with us to this day and has influenced our core practices," Yu adds.
Meanwhile, boutiques focusing on employment law were rolling out apps, hubs and webinars to guide clients through their obligations in relation to workplace health and safety (WHS) and business continuity in light of the pandemic.
"During the COVID-19 pandemic, whilst implementing internal protections for our own workforce, Harmers actively assisted businesses to manage their WHS obligations and business continuity response measures. We were incredibly busy at the beginning of the pandemic supporting clients through WHS and the employment-related implications of COVID-19, such as leave entitlements, stand-downs, redundancies and restructures," explain Michael Harmer, chairman and senior team leader, and Amy Zhang, executive counsel and team leader at Harmers Workplace Lawyers.
The firm also held webinars on WHS and business continuity, and directed clients to global resources on COVID-19-related workplace relations and safety compliance guidelines.
Greenwoods & Herbert Smith Freehills capitalised on the need for clarity regarding the JobKeeper scheme.
"[We released] a JobKeeper app in conjunction with Herbert Smith Freehills that provided employers with preliminary guidance on whether they were eligible for the JobKeeper scheme and what their next steps were," explains managing partner Manuel Makas, who also leads the firm's real estate group.
"[We also developed] a COVID-19 hub on the firm's website as a go-to resource for up-to-date information on the tax measures that were available to help businesses."
Thriving in challenging conditions
The early phase of the pandemic did see some firms struggle as markets scrambled to figure out COVID-19 and how to handle its impact. Southern Waters Legal's family law head Leona Bennett says the firm recorded "a real decline in new enquiries across all areas of practice" during the initial lockdown period in March 2020.
Yu notes that his firm faced a similar challenge as the revenue from pre-existing sources "paused for a short period of time while the markets took stock of the COVID-19 situation".
Makas confirms that there was "an initial adverse impact on the firm as global uncertainty impacted financial markets".
During this trying period, it was preparedness – particularly technological preparedness – that helped to carry boutique firms through. For instance, being largely cloud-based made Quantum Law's shift to remote work a smooth process, Yu points out.
Bennett confirms that the systems put in place by Southern Waters Legal eased the sudden need to conduct operations digitally, which was also the case for Harmers Workplace Lawyers.
"Our team was used to flexible working arrangements prior to the pandemic, and we had the IT infrastructure to support this. We quickly transitioned the majority of our workforce to a remote working environment. We kept a small skeleton staff in the office with mandatory safety protocols for those staff," Harmer and Zhang share.
The readiness of these firms operationally enabled them to quickly respond when activity began to pick up once again in the second half of 2020.
"One of our areas of specialisation is family law – we have [been] very busy in this area since July 2020 and have hired additional staff to meet the demand," Bennett explains.
"Our commercial and estate planning work has also experienced significant growth and we have hired in that area of practice also," she adds.
Harmers Workplace Lawyers played a part in some important employment law cases, including an adverse action/bullying/breach of contract claim for a senior executive that involved what Harmer and Zhang says was the largest landmark damages award of over $5.2m. The result, they add, was considered "the largest outcome in a bullying case in Australian history".
When financial market activity surged beginning in February this year, Greenwoods & Herbert Smith Freehills was in place to advise on "high-value, complex and market-leading matters" related to tax law during that period, Makas says.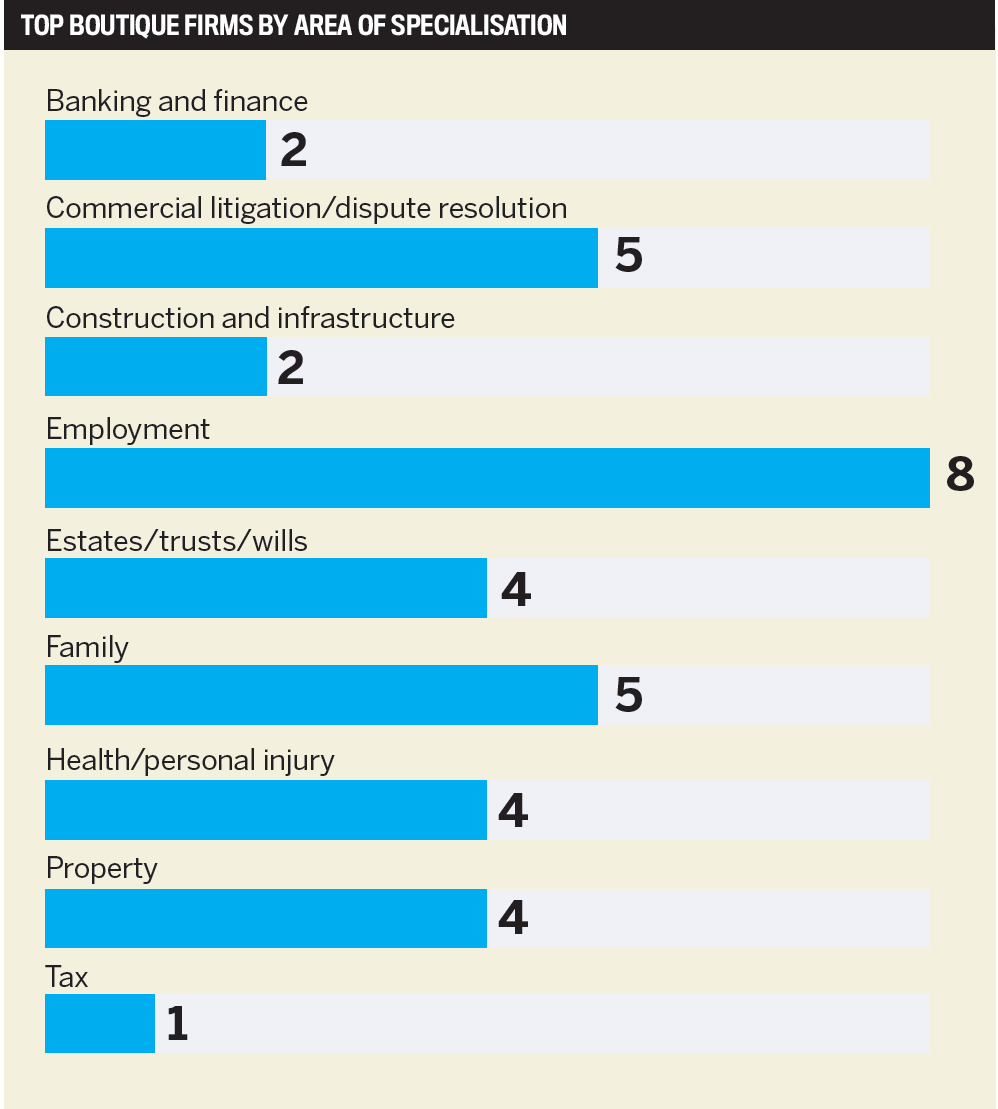 Staying resilient
"Boutique law firms as a whole will continue to rise in presence and popularity as businesses and individuals seek out more cost-effective and specialised advice," Yu says.
"The pandemic has spurred us on to become more resilient and agile, and emphasised the necessity for more innovation and adaptability in the legal industry and the world," he adds. Yu points out that the legal profession is in a "shake-up or shake-out period" like all other industries, and the key to staying afloat moving forward is to remain adaptable to circumstances.
Harmer and Zhang echo Yu's thoughts regarding client demand for boutique firms' services.
"We have found that corporate clients are happy to use boutique firms due to the specialised services and flexibility we provide in terms of cost and competitiveness against large multidisciplinary service firms," they say.
Maintaining a close connection to clients is vital to a boutique firm's future success, as is providing strong support to colleagues, Makas adds.
"Everyone is also much better equipped to work remotely and do transactions without needing to travel – we expect that activity levels will remain reasonably high. It is important that firms stay close to clients to make sure they are there to support them on their transactions, and it is also important that firms keep supporting their staff, particularly those impacted by lockdowns," he says.
COVID-19 has affected the legal profession in many ways, and Australasian Lawyer's inaugural Top Boutique Firms list shines the spotlight on 35 small law firms that not only survived but thrived during a period of uncertainty. These firms demonstrate the adaptability and agility that have made boutiques much sought-after by clients.
Banking and Finance
The Fold Legal
Wright Legal
Commercial Litigation/Dispute Resolution
Aptum Legal
Heathfield Grosvenor Lawyers
Pragma Lawyers
William Roberts Lawyers
Construction & Infrastructure
Employment
Aitken Legal
Australian Business Lawyers & Advisors (ABLA)
Danny King Legal
Employsure Law
Harmers Workplace Lawyers | L&E Global Australia
Kelly Workplace Lawyers
McDonald Murholme
Estates/Trusts/Wills
Gregson & Associates
Monahan Estate Planning
Varga Lawyers
Worrall Moss Martin
Family
Balance Family Law
Parker Coles Curtis
Shipton & Associates
Southern Waters Legal
Health/Personal Injury
Kinny Legal
McAuley Hawach Lawyers
Panetta McGrath Lawyers
Polaris Lawyers
Property
Bugden Allen Lawyers
LodgeX Legal
Speirs Ryan
Tax
Greenwoods & Herbert Smith Freehills
Firms were asked to fill out an online entry form nominating potential candidates. Entrants were asked to name their area of specialisation, discuss their achievements over the past 12 months and explain why they stood apart from their competitors.
Boutique firms that put themselves forward included specialists in employment law, family law, and disputes.
To determine who made the list, the team considered factors such as the strength of the matters handled by the firms, their longevity in the industry, their client service delivery approach and noteworthy achievements in meeting client needs.
A total of 35 firms emerged as the cream of the crop and earned the right to be recognised as the Top Boutique Firms in Australia for 2021.