Despite COVID's domineering presence, New Zealand's legal industry remains focused on change. The New Zealand Law Awards recognised 2021's leaders in the law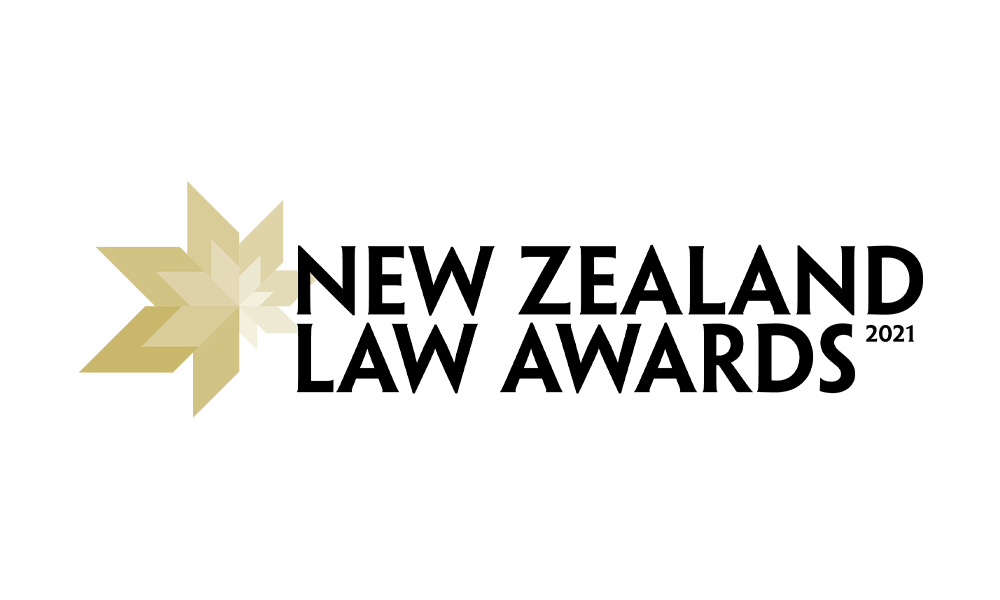 New Zealand Law Awards 2021
Jump to winners | Jump to methodology | View PDF
Celebrating the best in NZ law
This past November, New Zealand's legal profession celebrated its triumphs, and the lawyers behind them, at the 17th annual New Zealand Law Awards. Hosted by Kiwi news and radio personality Ryan Bridges, the night highlighted law firms, in-house teams, significant transactions and individual lawyers across 27 award categories.
Making the most of the intractable conditions imposed by the COVID-19 pandemic, the event once again took place as a comprehensive virtual awards program, complete with official prize announcements, live virtual panel discussions with finalists and sponsors, and online networking with the wider legal community.
Trying times
How lawyers and firms performed under the extraordinary circumstances affecting the world was a key consideration for one of the judges of the 2021 Awards.
"Obviously the way nominees have responded to the pandemic was a focus for me, in terms of the way they looked after their staff, customers and other stakeholders," says David Bricklebank, general counsel and company secretary at ANZ Bank New Zealand.
And respond effectively they did, says another judge, group general counsel at Oceania Healthcare Anna Thorburn.
"It was evident that members of the profession have continued to provide exceptional services to their clients and remain focused on delivering outstanding results, despite the ongoing challenges presented by COVID-19."
COVID and the business challenges and regulatory changes it has spawned have piled work onto in-house legal teams, says Thorburn. And she expects this to continue in 2022.
"Many New Zealand in-house legal teams are continuing to navigate the challenges presented by COVID-19 – including providing advice on vaccination of employees, suppliers, clients, etc., as well as providing advice on the constantly evolving policies as a result of the government 'traffic light system' – on top of their usual workload.
"With ongoing government regulation in a number of areas and continued upheaval created by COVID-19, I expect that in-house legal teams will continue to be very busy over the next year," Thorburn says.
Steady commitment to diversity and inclusion
Despite broadcasting the event virtually for a second year, with the Omicron wave about to envelop world, the virus was only one of many industry trends highlighted by winners and judges.
Diversity and inclusion has maintained momentum and remains a key concern for New Zealand's legal profession. Taking 2021's Diversity and Inclusion Initiative of the Year award was Simpson Grierson.
"Diversity, inclusion and belonging is not something you tick off and say, 'we're done'," says Jo Stevenson, Simpson Grierson's people and culture director. "Our vision is to grow a workplace where everyone can thrive and be themselves. It's something we all need to be working at continuously, because we all deserve respect, acknowledgement and support."
Over the last year, Simpson Grierson relaunched its Diversity, Inclusion & Belonging Group, she says. The firm aimed at expanding the group's representation of people of different ages, genders, ethnicities and religious beliefs, and of the LGBTTQI+ population, and has added 23 new members. It also rolled out more LGBTTQI+ training, made it easier for its people to use pronouns in their email signatures, and now has non-binary toilets in its offices.
In 2020, Simpson Grierson introduced Ngā Mātāpono o te reo Māori – the firm's te reo Māori Principles. This included te reo lessons for staff, and the firm plans to continue to normalise the use of te reo Māori among employees, says Stevenson.
"We also continue to embed our pro bono practice, which is led by Shan Wilson, NZ's first dedicated pro bono partner.
"We've been working hard to make Simpson Grierson a safe place for Rainbow identifiers, so they feel they can bring their whole selves to work," she says. "We're delighted that we've had our Rainbow Tick certification renewed once again. We were the first organisation in Aotearoa to receive the Rainbow Tick certification in 2014, and are very proud to be allies of the Rainbow Communities."
Next year, Stevenson says all employees will receive a $500 wellness benefit and get five extra days of sick leave. Simpson Grierson will also take a "more focused approach" to unconscious bias training, allyship and micro-inequities in the workplace, she says.
"Celebrating our differences helps us appreciate the things we all hold in common and creates a workplace that people love being part of," says Stevenson. "In order to attract and retain talent, it's crucial to have a workplace where everyone feels a sense of belonging."
The rise of in-house lawyers
Also trending in New Zealand's legal profession is the increased demand for in-house lawyers, which is making that career path more attractive to young people, says Bricklebank.
"Regulatory change and society's expectations of companies have increased the role and importance of in-house lawyers," he says. "So we will be more in demand.
"We're seeing a number of private practice lawyers move to in-house earlier in their careers, which is great, and I believe there will be a continued trend in that direction."
There is a growing recognition among young lawyers that in-house legal roles provide valuable experience and can lead to other roles, says Thorburn.
"Some in-house roles offer more flexibility than roles in private practice, which can also be attractive to young lawyers. It will be interesting to see how this evolves in the next 12 to 24 months, with the opening of New Zealand's borders and other options for overseas travel and work experience opening up again for young lawyers."
On the other hand, a greater recognition of the usefulness of in-house legal departments is adding to their already heavy workload, says Thorburn.
"[In-house legal teams are juggling resourcing and budgets with increasing workloads as commercial teams within businesses see the value that the legal team can add."
DEAL AWARDS

Debt Market Deal of the Year
Mercury NZ Finance $200 million seven-year green bond offer
Equity Market Deal of the Year
Auckland International Airport NZ$1.2bn capital raise
Project Finance of the Year
Cardrona Valley Wastewater Treatment Plant NZ $16.5m project financing
M&A Deal of the Year
Metlifecare NZ$1.3bn sale to Asia Pacific Villages Group
Insolvency and Restructuring Deal of the Year
Liquidation of Pacific Aerospace assets
Mid – Market Deal of the Year
Centuria Capital Group NZ$175m takeover of Augusta Capital
IN-HOUSE

AWARDS

James & Wells Young In-House Lawyer of the Year (35 or Under)
Courtney Dick, Rocket Lab
Lane Neave In-House Lawyer of the Year
Financial Service In-House Team of the Year
Westpac NZ Regulatory Affairs, Corporate Services and Legal team (RACLS)
Russel McVeagh In-House Team of the Year
Air New Zealand Legal Team
FIRM AWARDS

Employment Law Specialist Firm of the Year
Dyhrberg Drayton Employment Law
Litigation & Dispute Resolution Specialist Law of the Year
Intellectual Property Specialist Law Firm of the Year
Property & Construction Specialist Law Firm of the Year
Insurance Specialist Law Firm of the Year
Boutique Law Firm of the Year
Artemis Executive Recruitment Employer of Choice (<50 Lawyers)
Artemis Executive Recruitment Employer of Choice (51-100 Lawyers)
Artemis Executive Recruitment Employer of Choice (>100Lawyers)
Resolution Institute Mediator of the Year
Wi Pere Mita, Laidlaw Consultants & Tūhono Collective
Young Private Practice Lawyer of the Year (35 or Under)
Managing Partner of the Year (<100 Lawyers)
Sam Hood, Norris Ward McKinnon, Hamilton
Managing Partner of the Year (>100 Lawyers)
Regional/Suburban Law Firm of the Year
Mid-Size Law Form of the Year
Large Law Firm of the Yearbroker of the year - Specialist
PROFESSION AWARDS

Diversity & Inclusion Initiative of the Year
NOMINATIONS
Members of the legal profession were invited to nominate and detail the most significant deals their firms or organisations completed during the period 1 April 2020 to 31 March 2021. All nominations had to be made via the online nomination portal on the New Zealand Law Awards website.
RESEARCH
The New Zealand Law Awards team also conducted research and drew on industry knowledge and information gained through NZ Lawyer to supplement and support nominations received.
EXCELLENCE AWARDEES
Once the research was completed, excellence awardees were selected in each deal category and announced on the New Zealand Law Awards website and through NZ Lawyer.
JUDGING The New Zealand Law Awards team provided full details of each shortlisted deal to an independent panel of judges. The panel assessed and provided each deal with a score according to four criteria:
Size – the financial value of the deal (in NZD) and the quantity of legal work involved
Complexity – the degree to which advanced legal and financial techniques and structures were applied to the deal
Breadth – the degree to which the deal spanned jurisdictions, practice areas, parties and industries.
Innovation – the degree to which the deal involved groundbreaking original techniques and structures
WINNERS
Using a simple points system to aggregate judges' scores, the deal with the highest score in each category was selected as winner. The winners were announced at the awards ceremony and published on the New Zealand Law Awards website and in NZ Lawyer.