New Zealand's highly competitive capital demands the best of law firms, and as Ben Abbott finds, excellence in Wellington means being something greater than just local.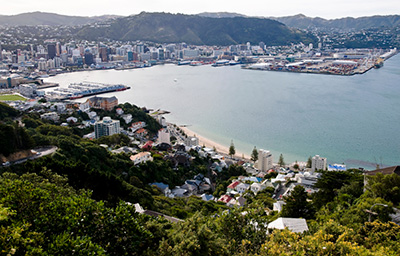 Meredith Connell's Wellington managing partner Kane Patena only opened the doors of the firm's new office in New Zealand's capital and public sector nerve centre in July last year.

However, looking back on the move just 16 months later, Patena has every reason to be optimistic about both the firm's future in the market, and the prospects for Wellington.
"We have seen phenomenal growth in the last year since we launched – a three-fold increase in the size of our Wellington practice," Patena told
NZ Lawyer
in early November.
Thanks to a meaningful presence that goes well beyond 'satellite' status, the firm's relationships with public sector clients built over 93 years are bearing further fruit.
Meredith Connell is not alone. Patena's optimism is shared by more well established Wellington practices, thanks to the full spectrum of legal work now available.
"I think the mood is very positive,"
Buddle Findlay
Wellington chair Paul Beverley says.
"There is optimism here - Wellington has a strong central government presence, and that is a very important influencer in terms of the legal market more generally. "
Two new partners have been promoted into Beverley's own Wellington practice in recent times, thanks to demand for capacity. David Allan and David Randal practice in resource management and local government law.
"There is lots going on, because the government is doing significant work, and there is also a lot of activity in the local government and private sectors as well, so it's positive."
[sub-head]
A public affair
Chapman Tripp
has the largest practice in Wellington. With a total of 16 partners and 58 other legal staff, the firm is in a prime position to take the pulse of Wellington's legal market. It is telling then that Wellington managing partner Andy Nicholls is also extremely positive, citing Wellington City Council's 'ambitious growth plan' as central to the city's future prospects.
"There is a real sense of momentum. The Wellington City Council is getting organised with its 10-year growth plan, and add to that the Wellington business community supporting those aspirations for growth and the sense of momentum and engagement in the business community and local government in Wellington at the moment is really encouraging."
Chapman Tripp has this year been appointed to Wellington City Council's legal panel, with Nicholls saying he expects this to yield ongoing major project-related and general contracts work. With Wellington City Council's 10-year plan including infrastructure upgrades such as a conference centre, an international film museum, and support for an airport runway extension, Nicholls says the large scale infrastructure renewal will benefit the market's law firms.
As the seat of government, public sector clients have always been paramount to success in Wellington, and for many the reason for being there. Firms say this focus will continue.
"We have a significant public sector practice that remains strong and we are continuing to focus on developing our relationship with the government and private sectors more broadly," Buddle Findlay's Beverley says. "We are seeing a lot of growth at the moment in the local government sector, and one of our key objectives is to maintain that momentum."
For
Bell Gully
, public sector infrastructure – and particularly PPPs – is an area the firm will continue to target, and that has ongoing direct relevance to the Wellington market.
"As the only firm that has advised the Government on PPPs, we have a wealth of knowledge in the area and the model can, and is, being rolled out to a number of projects nationwide," Bell Gully chairman
Chris Gordon
says. "Beyond central government infrastructure, we are also involved with a number of local government projects, and most importantly for Wellington, where we are working with the Wellington City Council on a number of civil development projects which we, as Wellingtonians, are very excited about," he says.
The public sector has been key to Meredith Connell's growth into a full service commercial law firm since the firm made it a part of its strategy to expand beyond its Auckland Crown Solicitor roots – which it still retains. Now with 23 practice areas, Patena says the firm represents most regulatory agencies as well as central and local government agencies, and that its Wellington office aims to continue to deepen these relationships over time.
"Traditionally a lot of policy leadership is driven out of Wellington, while a lot of transactional work occurs in Auckland. We've been historically focused on transactional work, but have been for some time focusing on establishing relationships that mean we have the opportunity to provide more proactive policy advice rather than more reactive litigation advice."
[sub-head]
Full engagement
Public sector procurement innovation is a theme colouring the practices of firms at the central and local government levels, with its potential to require cutting edge legal talent in future.
"The central government is signaling some real innovation in the way it approaches government procurement and the provision of social services," Nicholls says. "Some of that is attracting private capital into the provision of services through PPPs and social bonds. It's also smart, innovative contracting for effective procurement and effective services delivery."
Bell Gully, for example, has been advising regional district health boards (DHBs) on NZ$1bn worth of laboratory services that will be outsourced over the next 10 years.
"We have been advising the DHBs who are working together to leverage their combined procurement power for the advantage of their patients and the wider community," Gordon says. "We expect this to continue to grow as they look for additional ways to use the model for more areas. We also expect government procurement, generally, to be done in smarter ways, utilising strong contracts and the Government Rules of Sourcing."
But legal work in Wellington doesn't end with the public sector. In fact, firms say 2015 in the capital has been characterized by a healthy spread of work across a full range of legal practice areas, as the market shakes off the last remnants of the post-GFC slump.
Chapman Tripp, for example, has been advising Z Energy on the competition and capital raising aspects of its $785m deal to acquire Chevron, while its finance lawyers are still advising banks exposed to the beleaguered miner Solid Energy. The firm has also been advising telco Chorus on regulatory determinations regarding the pricing of core services.
Buddle Findlay continues to advise The NZ Transport Agency on its development of the national state highway network, including in Wellington. The firm is also busy advising the government on ICT matters, and is engaged in a range of commercial, banking, public, property and litigation work.
Meanwhile, Bell Gully's litigation team in Wellington is particularly busy, with roles advising ANZ on the bank fees class action, Danone on its Fonterra botulism scare litigation,
NZX
on an acquisition-related matter and PwC as the receivers of Ross Asset Management. The firm's corporate team is advising Australia's David Jones on its acquisition of Kirkcaldie & Stains – something the firm calls an 'exciting addition to Wellington's retail scene' - as well as handling a property transaction for the Embassy of the People's Republic of China. Leading energy lawyer David Coull continues to advise on energy asset consolidation in the market, while the firm advised Contact Energy on the sale of Origin's 53% stake in a block trade worth NZ$1.81 billion under the new Financial Markets Conduct Act (FCMA) legislation.
Wellington is well known for it's past record and future potential in the entrepreneurial, start-up and technology market, having been the birthplace of a number of fast-growing tech companies. Both Bell Gully and Chapman Tripp are working with upcoming companies looking to grow fast through capital investment. Though the corporate IPO market has flattened, Wellington lawyers have seen more private equity activity in the last two years.
"What is, perhaps, different from previous years is the even spread of work across the practices and the increased use of our national resources," Bell Gully's Gordon says.
[sub-head]
Winning in Wellington
Firms interested in surviving the intense competition in Wellington will continue to emphasise excellent service for public sector clients. "We need to have a strong public sector focus but do it sustainably, particularly given the Government's cost constraints," Gordon says.
However, firms also need to augment this with new corporate work. "We also have to be able to spot niche and growth areas, particularly in the corporate market, and be able to adapt and respond quickly and with the leading expertise we deliver across all areas," he says.
For Chapman Tripp, continued supremacy in Wellington means being ambitious about the market that can actually be serviced from the city. Nicholls says this means not just regional Wellington clients, but clients all over New Zealand, in Australia and beyond.
"All of those can be serviced out of Wellington – it just requires energy and organisation from lawyers who want to be based in Wellington," Nicholls explains. "We are really making sure our lawyers have ambitious horizons, and that we are working with Auckland and Christchurch offices and marking sure we stay connected in Australia and beyond Australia."
The rising power of in-house teams has been felt in Wellington as much as elsewhere. All lawyers argue this makes a focus on cost and value non-negotiable for clients.
"It's a different market than 10 years ago," Beverley says. "The quality, size and strength of in-house legal teams means we have to be able to work really well alongside them, and demonstrate how we can add value to those teams. Service delivery has to be excellent and advice fit for purpose."
Nicholls agrees. "Clients are looking for us to draw a link between the service we are providing and the value they are getting, and we hear clear messages from them on things like responsiveness and cost consciousness and the need to deliver advice that is commercially effective as opposed to just straight legal advice."
Patena says the Wellington market's fiscal constraint and the need for the Crown to manage its balance sheet is a symptom of wider economic conditions. "It's driving efficiency and innovation in our own practice areas and a focus on value as well," Patena says.
Gordon says Bell Gully's smaller office in Wellington allows it to work on many projects with the firm's Auckland office, providing resources at all levels. "Smart resourcing is becoming a key component to running a large, full service law firm successfully," he says.
He also warns firms to be ready for new sources of competition from unexpected places. "Firms should never assume the status quo will prevail for very long. We also cannot assume our competition is just from other law firms. For example, the growth internationally of accountant firms and technology firms developing expertise in areas traditionally believed to be law firm territory will happen - and already is happening - in New Zealand."
[sub-head]
Open to change
Meredith Connell is being flexible about its long-term strategy in Wellington, which Patena says will be organically driven by the needs and demands of its client base.
"We had an idea of what we wanted to achieve – to strengthen and deepen our relationships with our clients - and we are letting them tell us what role we can have in helping them, rather than us telling them what they need. That's proven to be quite a success."
While Patena says the firm's office growth rate over the last 12 months is likely to plateau to a more manageable level next year, the firm has set no clear limit on size or scale, and will let any future expansion flow out of the work the firm is able to generate from its clients.
Because Meredith Connell – like all legal practices in Wellington – needs to stay nimble.
"One of the challenges law firms face is that things change over time. We are focusing on new opportunities rather than just those that we have already got in existence," Patena says.