MinterEllisonRuddWatts' Jane Standage says choosing taxing tasks can lead to progress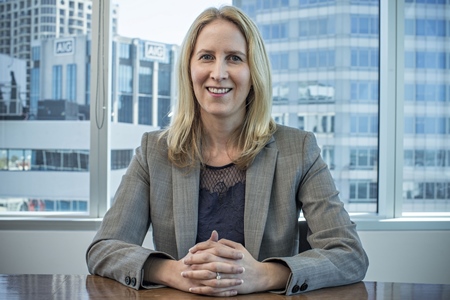 Last year was a big year for Jane Standage. She started at
MinterEllisonRuddWatts
in January 2017 and got married two weeks later. Last December, she was promoted and she's just waiting for the green light from the
New Zealand Law Society
's to join the partnership.
In this interview, Standage also reveals that fostering young talent and bringing more women to leadership positions is one of her particular interests. She also explains what she thinks the profession and law firms should focus more on.
What made you choose a career in law?
As my parents would very readily tell you, I was a great talker as a child. I really enjoyed public speaking and debating, so law was a natural choice. Once I expressed an interest in the law, my parents took me to watch some High Court trials. I thought it was fascinating. I really enjoyed the law school environment and then went on to clerk at the Court of Appeal, which confirmed for me that my career should be in the law.
What do you love most about your job?
I love the client interaction. It is really satisfying to work together with a client to achieve a good outcome. I also have a great time working on tricky legal matters with the team at MinterEllisonRuddWatts. There is such a dynamic atmosphere in the firm – from the partners right down to the law clerks – and a real sense of fun and camaraderie, which is the hallmark of a group of people who love what they do.
What is going on at the firm?
MinterEllisonRuddWatts is exploring new ways to provide legal services to clients in the most efficient and cost-effective way. The firm has entered into a joint venture with Goat ventures called McCarthyFinch, which is developing really exciting applications for AI and legal services. This is definitely a space to watch. Our firm is also concentrating on diversity and flexible working to ensure we continue to attract talented people from all walks of life.
Are there any new programs and initiatives that you're particularly interested in?
On a personal level, I am a member of the NZLS Law Reform Committee which assists in drafting submissions on bills and consultation papers. It is a great way to give back to the community by providing input on the drafting of legislation, which will hopefully lead to good outcomes for New Zealanders. I am also involved in mentoring two young female lawyers. I am really keen to ensure that we foster young talent and bring young women through into leadership positions.
What was your proudest accomplishment in 2017?
2017 was a big year for me. I started at MinterEllisonRuddWatts in January 2017, got married two weeks later, renovated our kitchen and, by the end of the year, was invited to join the partnership.
What should the profession and law firms focus more on?
Law firms need to move with the times, as disruption is commonplace. We need to be looking to incorporate our talented people with technology to ensure we provide the best services for clients.
Diversity will also be important, as we need a broad range of skills to ensure that, as a profession, we continue to exceed our clients' expectations.
What's the biggest lesson you learned in the past year and what advice can you give to fellow lawyers about it?
I like the quote from Ralph Waldo Emerson: "Try the rough water as well as the smooth. Rough water can teach lessons worth knowing." Challenges are exciting as they are where you grow.
Related stories:
Here's why law firms are bound to evolve
Transformation is both a fast and a slow game