Former top-rated MP Tony Ryall talks to Hannah Norton about heading up the new public policy practice at top-tier New Zealand firm Simpson Grierson.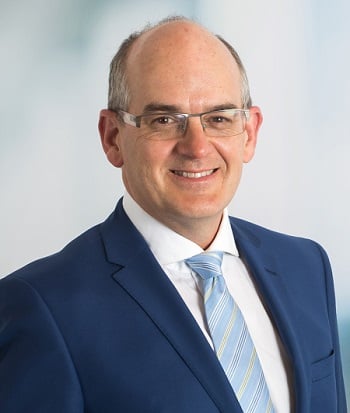 Orwell summed up the art of political language with the term 'doublespeak', and with nearly a quarter of a century in Parliament, that's almost how you expect Tony Ryall to talk.
But, the former top-rated National Party minister is quite the contrary: chipper, chatty and quite open to deviating from a list of questions sent prior to the interview.
Perhaps he is out of practice – it's his first interview since leaving Parliament.
But, one is more inclined to think he is far more relaxed in his new role as head of public policy for top-tier firm
Simpson Grierson
.
"It's a lot of fun actually. It's very good – I'm enjoying it," he tells
NZLawyer
.
During his time in the Beehive he was Minister of a raft of departments – from Health, to Justice, Housing New Zealand, to Local Government and State Services – roles which he says he also "really enjoyed".
"It was a great job in terms of having the opportunity to contribute at quite a big level and to work with a lot of really smart people.
"I'm thoroughly enjoying my new role as well, because not only do you work with a lot of smart people, you work with a lot of smart clients.
"It's a very intellectually stimulating environment."
'Intellectually stimulating' is a description apt for the legal profession, which – by its very nature – is often deemed to be filled with 'Type A' personalities.
So does Ryall think politicians might fall into that camp also?
"This is going to get me into trouble," he laughs.
"Yes, I think so. I think most people in public office are very driven, and they are driven to achieve good things and to make a difference, and certainly I can see, working [at Simpson Grierson], there are a lot of driven people who enjoy working with their clients to help them achieve things.
"So I think, from that point of view, there are a lot of similarities in the people that I have worked with."
Public policy practice
Ryall's appointment to head Simpson Grierson's public policy practice was announced in November last year with the statement that the former MP – who isn't a lawyer – would provide "strategic and operational leadership" to the firm.
He was personally head-hunted by Simpson Grierson chairman
Kevin Jaffe
.
"Tony brings to Simpson Grierson a long and impressive track record in public life" Jaffe said at the time, "and he will be a strong contributor to the firm's senior leadership team.
"This appointment is another significant initiative in the development and growth of our firm."
Ryall started in the role at the end of January this year.
"I'm here because of a strategic decision that Simpson Grierson's made about diversifying their offerings to their clients," he says.
"So the work I am doing in public policy is one part of that, and they are going to be making a number of announcements on other areas in the not-too-distance future as well."
He helps clients to develop strategy around the regulatory and legislative stakeholder issues that they face.
"This is so they can achieve their business objectives with the wider public sector."
Simpson Grierson has a lot of clients with "regulatory-facing activities".
"My role is to work with the client and their relationship partner to assist them with those issues and help them get things done."
Coming into a large law firm is quite a different culture to working in Parliament, Ryall says.
"In Government, people's motivations can be somewhat opaque. Whereas here - everyone is very supportive. So it's quite a different culture from that point of view."
Key trends
In terms of the public policy sector, Ryall believes things are trucking along as per usual.
"I don't think it's any different to previous years. I think business' interaction with the public sector carry a lot of fields and in many ways; you can see that bureaucracy doesn't understand business - and potentially vice versa. And I think that's one of the trends: it's clear that both are trying to understand each other better in order to get greater alignment, which I think is really positive – and I am enjoying being involved in some of that process as well."
That business-bureaucracy understanding is vital, he says.
"It's the only way you can get anything done, to make sure there is alignment in interests, and an understanding about what the objectives are. That's the challenge for anyone who has got a lot of regulatory facing activities is to get an understanding of what exactly is to be achieved, and what's the best way of doing it. And as I say, as long as governments make laws, there's going to be some people who have issues with it, and challenges they want dealt with."
So what is Ryall expecting the end of 2015 and start of 2016 to bring in terms of work?
"Our chairman Kevin Jaffe – who I must say I am thoroughly enjoying working with – has recently identified a number of issues… that are going to be challenges over the next while. Issues like pay equity, climate change, water are all going to be significant public policy issues in the next year."
While he doesn't want to go into specifics on current projects, he outlines some of the work he has been doing lately.
"I've been working with a number of institutions around regulatory strategies for dealing with a number of government reform programmes – like the Financial Advisors Act, the Telecommunications Act. I'm doing some work with a major exporter on export regulations and the impact from TPPA. So there's a range of areas I have been working in. And, indeed, when you are based in one of New Zealand's largest law firms, it is obvious there is going to be a huge variety of clients with an array of issues."
The Trans-Pacific Partnership Agreement (TPPA)is a free trade agreement between 12 nations, including Australia and New Zealand, which links 40% of the world's economy.
"I'm all for it. New Zealand's an export country, and we can't afford to be locked out of what is going to be one the major trade blocks for the future."
Public to private
Ryall says he is pleasantly surprised about how the knowledge and skills from his previous role have been quite transferable to his new work.
"And I think, in the future, we are going to see more and more examples of people moving in and out of public and private sectors."
"One thing I have also observed is that both are relationship businesses," he says.
"Government might look a lot like command and control, but it's actually relationships that get stuff achieved."
This job is certainly more of a nine-to-five compared to a Government position.
"I think one of my observations about the change in roles is that you do get your weekends back.
"Particularly in those public service roles, a lot of your work happens in the weekends, and it's been good to be able to have fewer calls on the weekend than in the previous role."
Having his weekends back means more times for hobbies and activities – including recreational cycling and spending time with family.
Married with two children, Ryall is currently living apart from his family, who aim to move up from Wellington to Auckland in December after the school term is up.
But he still gets to see them – he's based in the Auckland office of Simpson Grierson four days a week, and then the Wellington office for one.
So what does he enjoy most about his role?
"The new role is incredibly intellectually stimulating, because I am working with a lot of incredibly smart people and I'm working across a whole range of issues.
"I am just thoroughly enjoying being here. And as I say, you don't really have to worry about people's agendas. You're in an organisation where everyone is paddling the same way."
And did he ever consider going to law school himself?
"I did think about it at one stage, but I spoke to one of my mentors in my career about what might be best suited for pursuing a parliamentary career and they said they didn't have enough accountants in Parliament so I chose that one.
"But in my roles that I had in Government, I had a lot to do with lawyers and you learn a lot from overseeing the drafting, construction and the implementation of legislation. So that's given me quite a lot of insights into some of the challenges particularly that businesses face, because as long as governments make law, for some people, there will be regulatory issues."
And he hasn't found the public to private transition difficult in the slightest.
"I have to say, working with such a great bunch of people in such as stimulating environment – it wasn't a hard thing to do.
"I'd made up my mind that I was going to leave public service (he resigned in February last year) so I've been looking forward to the change for a while."
So has he heard of any other firms adopting similar strategies of hiring politicians?
"That's not for me to comment on," Ryall says - a hint of the politician still there.