Appointments mean the Auckland team has grown by 150% over the past two years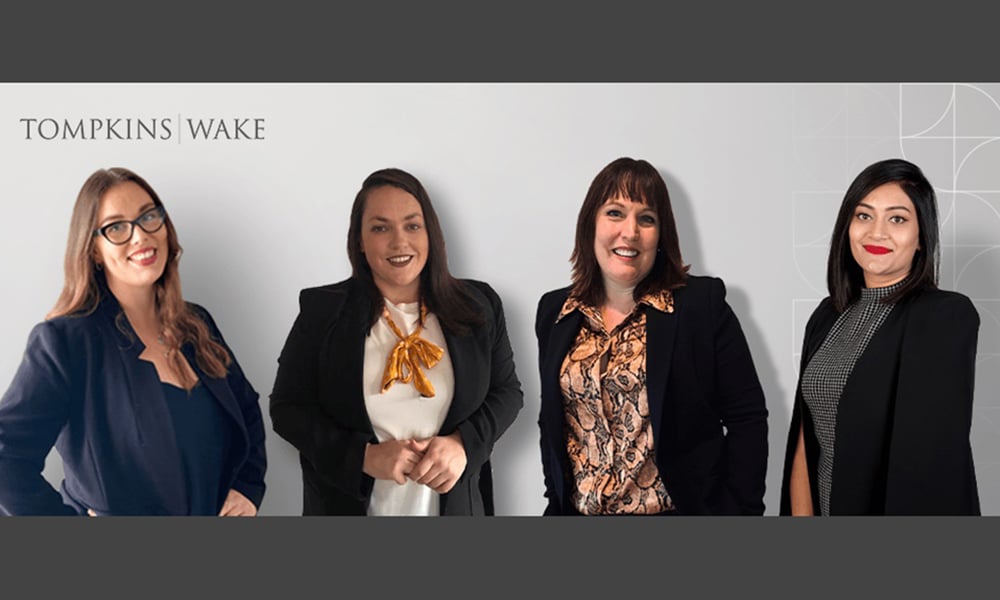 Tompkins Wake has boosted its Auckland office this month by welcoming five new team members, including a new partner.
Headlining the lateral appointments is partner Zandra Wackenier, who has joined the firm with two members of her previous team at Wynyard Wood. She brought with her senior solicitor Isabella Stevenson and executive assistant Bernadette Carroll.
The firm has also welcomed senior solicitor Annie Tavalea. Wackenier, Stevenson, Tavalea, and Carroll have all joined the firm's dispute resolution team.
Wackenier, who has more than 16 years' experience in practice, is an expert in all aspects of family law. That includes division of relationship and trust property, contracting out agreements, spousal maintenance, child support and international family law. She also has particular interest in reproductive law.
"We are all delighted to be joining the Tompkins Wake family, who have made us feel very welcome despite these strange and uncertain times. For me personally, I'm looking forward to being part of such a dynamic, progressive and compassionate partnership who not only support, but actively encourage, the overall wellness of its employees and a healthy work/life balance," Wackenier said.
Tompkins Wake has also welcomed Tabassum Rauf, who has been appointed as an associate. She brings experience in energy law. She specialises in the electricity, natural gas, and LPG sectors, including in compliance and regulatory matters in these industries. She previously worked for New Zealand's largest energy retailer.
The appointments mean the Auckland team has grown by 150% over the past two years, Tompkins Wake said.
"We know it's a challenging time for many people right now and will continue to be for some time. We're grateful that our strong team culture has seen our team rally together and get through this difficult time," CEO Jon Calder.
The firm's focus for this year and beyond is continuing to invest in increasing and building its capability to meed growing client demand, which includes attracting and retaining great people, he said.
"We've grown rapidly over the past four years – more than 20%, in fact – but we've been careful to maintain a complete focus on our culture and people, creating a great working environment and, importantly, a great life outside the firm," Calder said.
Tompkins Wake previously won the Law Firm of the Year award, while Calder was previously recognised as Managing Partner of the Year, at the New Zealand Law Awards. The firm has also been lauded in NZ Lawyer's Innovative Firms 2020.