Buddle Findlay partner, Grant Dunn, tells NZ Lawyer the secrets to his success - and outlines some key issues facing the corporate/commercial legal space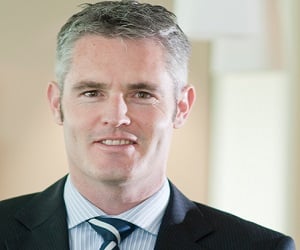 Buddle Findlay
corporate/commercial partner, Grant Dunn, has been with the firm – in his own words – "forever" and he says a dedicated work ethic is one of the key drivers behind his success as a lawyer.
"I started out as a summer clerk here in 1992/93 and then started full-time in 1994. So I'm one of your typical Buddle Findlay partners who's sort of been through the system," he says.
Dunn did leave, however, for a stint in London, where he worked at New York-based law firm Weil Gotschal & Manges as, quite possibly, the first Kiwi to ever be hired directly out of New Zealand by a US firm in the city.
"I went to work for the Americans, helping to build a business in London, which was a lot of hard work, but a lot of fun as well. I worked there for about six years and I also did a stint on secondment to Nomura, which is a big Japanese investment bank."
Since his return to New Zealand in 2004, Dunn has been involved in some serious transactions (see below) and says a dedicated work-ethic is at the heart of his success.
"I think, these days, if you're a corporate lawyer in one of these big firms, you just work incredibly hard. There's no substitute for hard work."
However, he also believes the ability to remain "personable" and relate to clients without using copious amounts of legalese is a major asset.
"I always like to come across as user-friendly and I…like to talk to people in a language that they understand," he says. "I don't use a lot of legalistic words that just aren't used in the business community; I try to speak the same language as the clients. And I guess one thing I like to do, is to put myself in the same position as the client and ask myself, 'What decision would I make if I was them?' – and then tell them that. I think people like that. It's easy to tell people what the law is, but it's actually a lot harder to go, 'You know what? I would take that risk if I was in your shoes'."
Dunn says most readers would be amazed at the number of late-night phone calls he receives from clients who are so worried about something that they can't get to sleep.
"The bed-time chats where you talk to clients who have got a big problem and they're trying to sleep and they need to talk about it late at night…I do a lot of that as well."
However, Dunn says there are a number of significant issues facing corporate lawyers working in private practice:
"The rise of the general counsels [is a big issue] and the bigger in-house legal teams. A lot of corporates – and the banks in particular – have very large legal teams. I mean, the banks probably operate the biggest law firms in the country, when you count the number of lawyers in them. And they've got vast experience at a very senior levels, so often they don't need to really go to a law firm for advice. Then again, they like to have people that they can bounce things off and especially they like to have specialist in-put. But it does put pressure on the law firms about how we're going to be relevant and how we're going to service the needs of those big clients with general counsels and in house teams."
"There's an election coming up. That's always going to be a difficult time in the corporate space; it always creates a bit of uncertainty. It creates business in terms of people getting things done, but then it tends to go quiet around the election period."
"There's also pressure on fees. You need to just be a bit more flexible and do a few more things without necessarily requiring to get paid. There's a lot of investment in clients these days to build up those sort of relationships that are going to last for a long time. And providing individual solutions – charging a rate per hour is not necessarily the way forward for a lot of people. So you just need to be a bit more flexible and user-friendly."
However, Dunn says most law firms, especially larger ones, have had a good start to the year and things are generally positive from his perspective.
"Our firm's had the busiest start to the year that it's ever had in its history, so that's been great…I have a great team around me and receive lots of support throughout all the offices of the firm and have a bunch of great clients. I am very lucky in that regard."
Some of Dunn's recent work highlights include advising:
The Mud House Wine Group on the sale of its wine brands and other assets to Accolade Wines and the sale of 400 hectares of vineyards to CK Life Sciences
PSP Investments on its acquisition of a stake of the Kaingaroa forest and partnership arrangements with Guardians of New Zealand Superannuation and Harvard University
The vendors on the sale of Unitech Industries, a producer of human and animal nutritional products, to Royal DSM
Rural supply co-operative Farmlands Trading Society on its merger with CRT
Kiwifruit post-harvest operators Aerocool and Apata on their merger
The vendors on the sale of Stockguard Laboratories and Animal Health to Virbac SA
A consortium of Goldman Sachs and Brookfield Asset Management in a competitive bid to buy a $1.3b commercial loan portfolio from Bank of Scotland International and subsequent work out of debt positions