Two lawyers formerly of a top-tier firm – one of whom was partner for around 30 years – have started their own firm.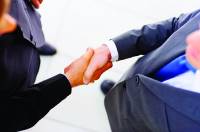 Former
Bell Gully
lawyers David Flacks and Daniel Wong have started their own specialist corporate law firm in Auckland.
Aptly named
Flacks & Wong
, the firm will draw on the pair's 50 years' top tier domestic and international experience advising listed and unlisted companies, entrepreneurs and start-ups on buying, selling and investing in businesses, raising capital in the public and private markets and on their important commercial transactions.
Opportunities
Having your own practice opens up a number of opportunities, Wong told
NZLawyer
.
"A key benefit for me is the ability to make decisions quickly and to have full oversight and control over the firm's strategy and direction.
"There is also direct correlation between individual effort and reward. It's much like any other small business – and that's how I view myself, as a small business owner."
It's not just about the difference between a small practice and a big firm for the pair.
"For us it's the challenge of a brand new practice," Wong said.
"It's a lot more work, but there's also the opportunity to really start things afresh and challenge the way you've always done things – just because that was the 'firm' way.
"A big part of that is practice management and IT, making the best use of technology and the cloud so that we can work smarter and maximise efficiencies."
Flacks was a partner at Bell Gully for nearly three decades - except for a four-year stint in the 90s when he was a member of the senior executive team, general counsel and company secretary of Carter Holt Harvey - who retired from the partnership at the end of last year.
He's also on the board of peer-to-peer lender Harmoney and of Vero Insurance - as well as being chair of the
NZX
Disciplinary Tribunal and a member of the Takeovers Panel.
Wong re-joined Bell Gully in 2011, having been at Freshfields Bruckhaus Deringer LLP in London for five years. Upon re-joining Bell Gully, Wong worked principally with Flacks for the past four years.
Wong said both Bell Gully and Freshfields had been fantastic training grounds and had enabled him to "learn a lot from a lot of different people".
The pair made the announcement that they would be setting up their own specialist corporate practice at the end of last year.
"Making the decision to set up a specialist corporate practice together was relatively easy," Wong said.
"We bring different strengths and perspectives to what we do and how we work, but above all else we have a strong track record of working well together – that's what clients see and I think a big part of why they choose us."
Challenges
As with any new business, opening up your own practice comes with some challenges too.
"It's like any new business, it's making sure you've got enough work and that you do as much as you can to promote the firm to potential clients," he said.
"At the same time, there's a challenge with our current size of working out how to cope with a sudden influx of work or a client asking more of us than we may be able to deliver."
The pair had an example of that this year when an existing client was undertaking a transaction that the firm couldn't resource on its own.
"We ended up pitching jointly with another firm; and the combination of our 'trusted adviser' status with the client and the market brand and additional resource of the other firm was a winning one.
"That's an example of trying to think a bit outside the box and using our ability to be flexible and nimble to our advantage. We're not tied to any firm structure. The same goes for alternative billing arrangements – whether that's capped fees, value-based billing, "risk-sharing" arrangements or standard hourly rates."
Linked to the resourcing challenge is the desire to grow, Wong said.
"The optimal size [of Flacks & Wong] will be larger."
A pleasant surprise
Wong has been surprised by the generosity and helpfulness from the legal profession as a whole.
"One pleasant surprise I've seen in setting up is the 'legal community as a profession' – which isn't always that visible.
"By that I mean, particularly with the launch of the website, we've had all sorts of people contacting us – some of whom we haven't dealt with for a long time, and many other lawyers and ex-colleagues – getting in touch with congratulatory wishes or comments that they really like the website or the branding."
Other specialist firms have been particularly supportive with their ideas and their time, even those who the market might perceive were our direct competitors, Wong said.
"We think that referrals due to conflict of interest will be a significant part of our workflow. Again, that's a way to make the most of our relative size."